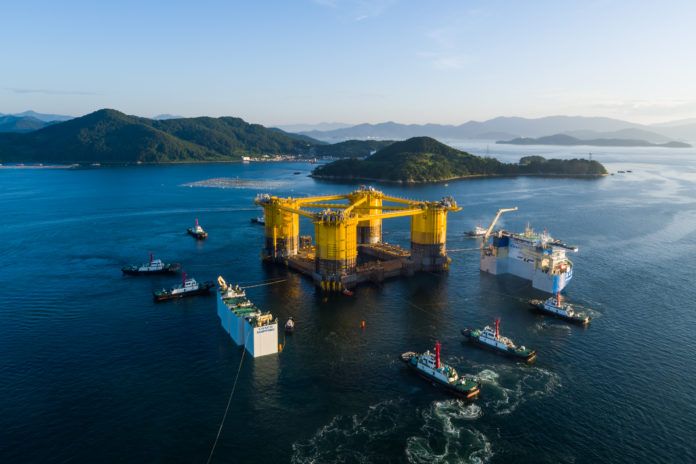 ---
HALFWAY AROUND THE WORLD
In October, Ingleside, Texas, welcomed the hull of Shell's Appomattox production platform, floating aboard a massive heavy-transport vessel, after its journey from halfway around the world. Construction of the host facility for Shell's pioneering development will be completed in Ingleside after fabrication of the hull in South Korea. Shown here is the departure from South Korea.
BEHEMOTH ON THE SEA
A deepwater oil and gas development that will become Shell's largest floating platform in the Gulf of Mexico, the sizeable host will tower 20 stories above the sea, float in 7,400 feet-deep waters (that's five Empire State Buildings), span an area greater than two football fields, and weigh more than the world's largest naval aircraft carrier (125,000 metric tons).
PROJECT ON TRACK
With the arrival of the hull in Texas, the project is more than 65% complete, and Appomattox is on track to achieve first oil by the end of the decade. The Appomattox project will consist of a semi-submersible, four-column production host platform, a subsea system featuring six drill centers, 15 producing wells, and five water injection wells.
A COMPETITIVE INVESTMENT
Delivering a safe and responsible project of this magnitude on time and under budget by more than 20% maintains Appomattox's position as an attractive and competitive project in Shell's portfolio, the company says. Appomattox will add approximately 175,000 barrels of oil equivalent per day when it reaches peak production, with a breakeven price below $50 per barrel.
FINAL DESTINATION
The Appomattox will work 80 miles offshore from Louisiana in the Norphlet formation of the Gulf, which has estimated resources exceeding 800 million barrels.
---
This article was originally published in the fourth quarter 2017 edition of 10/12 Industry Report.