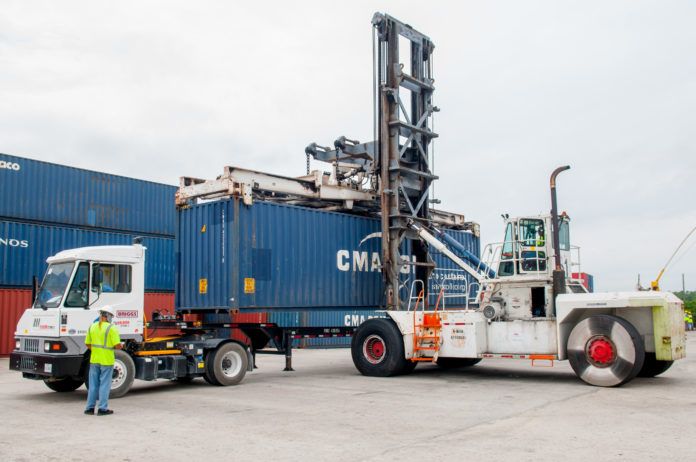 Empty shipping containers that once sat idle in Memphis are today playing a critical role in supporting Louisiana's plastic resin market. In a fortuitous arrangement involving three ports, SEACOR AMH LLC barges the containers to Baton Rouge to be loaded with resin at area plants, then continues them downriver to New Orleans for international transport.
The availability of the service is timely, since Louisiana is in the midst of a plastic resin boom. Rising U.S. energy production—much of it from inshore shale plays—is providing vast amounts of affordable feed stock for PVC and polyethylene plastic resin production.
Now in its second year, the "container-on-barge" shuttle service has expanded the transportation portfolios of many Baton Rouge-area plants. Toshiaki Ansai, vice president of planning and marketing for Shintech, says while trucking the material will remain a viable option for his company's Plaquemine plant, it's likely that driver shortages and rising wages will make barging more cost-efficient in coming years. "We've diversified our logistical options so that we don't just simply rely on traditional means of transport," Ansai says. "We want to be creative."
Shintech is the largest producer of PVC resin in the U.S. and 12th in container exports.
With the help of the shuttle service, Brandy Christian, president & CEO of the Port of New Orleans, hopes to capture a sizeable portion of new resin exports in the wake of more than $80 billion in announced petrochemical investment. Most recently, Formosa Petrochemical Corp. announced that it would construct a $9.4 billion plant in St. James Parish to support a host of plastic goods.
Christian says the container-on-barge shuttle service is easily beating projections so far. "Experts predict 400,000 TEUs of plastic resin exports from the Gulf between now and 2020, and we are ready to meet that market demand."
Bobby Landry, vice president-commercial at Port NOLA, says the container-on-barge service will keep the port ahead of an expected 25% increase in the production and export of resin over the next three to four years. "And that [projection] might be a bit conservative," Landry says. "The way that world economies are growing now, and the corresponding increase in capacity at a lot of these chemical companies, the potential for even greater volume is there," Landry says. "The goal is to get these commodities out in a quick and efficient manner so they remain cost-competitive on a worldwide basis."
NUTS AND BOLTS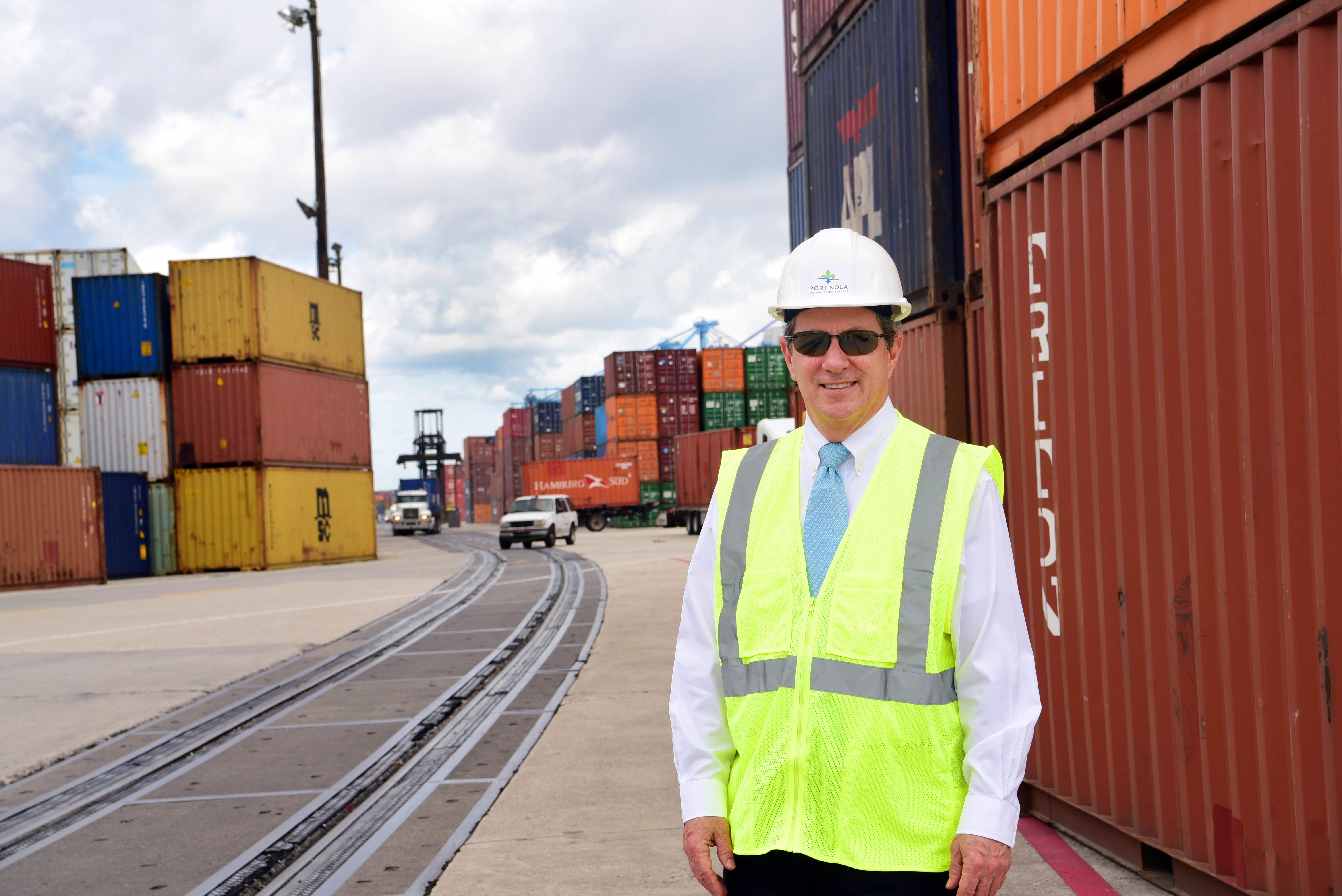 So far, the shuttle-on-barge service has been a perfect "marriage." As a major distribution hub, the Port of Memphis was awash in empty containers, while Port NOLA and the Port of Greater Baton Rouge were not. Furthermore, Baton Rouge's proximity to resin producers such as Shintech, Formosa and ExxonMobil made it an ideal location for filling the containers with product.
Initially, the shuttle service was SEACOR's idea. Richard Tuebner, a SEACOR vice president in Fort Lauderdale, says his barges are running two separate routes. "We have 20-plus barges operating in the loop from Memphis to Baton Rouge. We just continuously load empties onto the barge and they matriculate down the river." It takes the barges about a week to make the trek.
SEACOR sails twice weekly, delivering as many as 360 containers to Baton Rouge at once—or 10 barges' worth, with international exporter CMA CGM Group (its client) handling the schedule. Once the containers arrive in Baton Rouge, they are delivered to the plants to be filled with the product. The filled containers are then delivered back to the port for loading and transport to New Orleans. "We're basically taking the place of a truck," Tuebner says. "We do the inland solutions for CMA CGM."
So far, the Port of Greater Baton Rouge has moved about 18,000 containers in the past 18 months, or about 1,000 per month. "And we expect that to pick up," says Jay Hardman, executive director at the port, adding that multiple plant expansions in the area would bring with it a surge in production. "Some of them are testing the waters right now and finding this is a viable option. We're starting to see an increase, and it's dovetailing into their expansions."
Hardman plans to invest about $4 million from a Maritime Administration grant to accommodate the increase, primarily through new equipment, a laydown yard expansion and additional lighting. He also plans to run additional night shifts.
As the final leg of the river journey, a separate fleet of SEACOR barges transports the loaded containers to Port NOLA. Once there, they're offloaded and later reloaded onto a CMA CGM vessel for international export. In any two-week period, about 500 to 700 20-foot containers arrive at Port NOLA by barge. Once there, they "don't stay long at all," Port NOLA's Landry says. "That's the real benefit of it. We don't have to allocate a lot of land for it. We're talking a relatively small amount when you look at our total volume."
Port NOLA uses existing crane capacity to offload and load the containers. However, Landry notes, "We are considering the addition of a dedicated berth so the barges don't have to compete with oceangoing ships. We actually have a site identified down river from our current gantry cranes. We estimate that for about $10 million we can add two mobile cranes that can work the barges."
BEATING THE TRAFFIC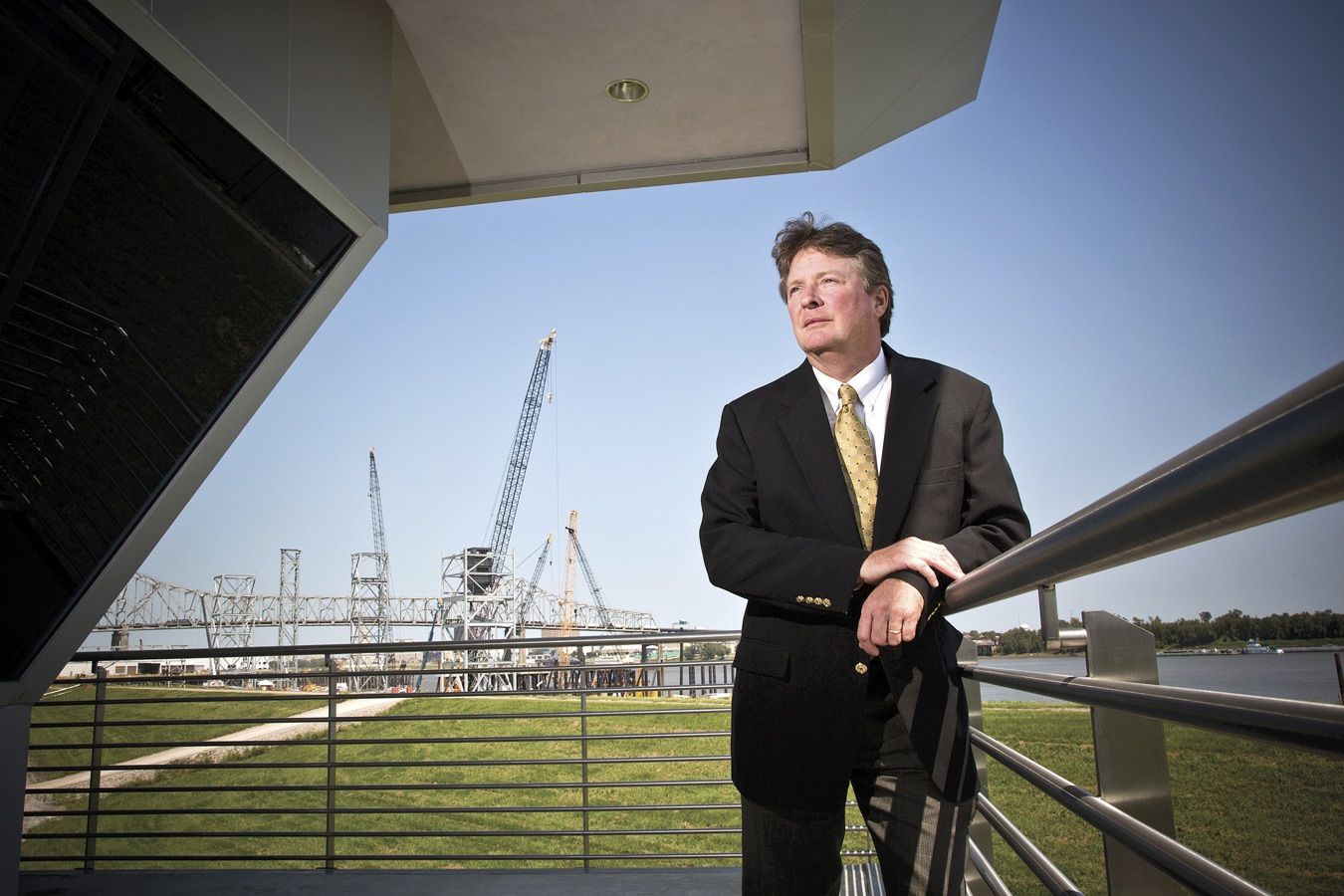 The shuttle-on-barge service is not new to Louisiana, but it had become a largely defunct concept since Hurricane Katrina. The economics of barging just weren't there, since it couldn't financially compete with trucks and rail. However, changing market dynamics in recent years, particularly a shortage in drivers and increasing wage rates, have made it more viable.  The American Trucking Association estimates the industry is about 50,000 to 60,000 drivers short nationwide.
"Putting them on barges solves three problems," Landry says. "It reduces the wear and tear on the highway, it mitigates the driver shortage issue, and it uses our greatest underutilized transportation asset—the Mississippi River."
While trucks can get product to the ports faster, barges beat them on volume. "Another benefit is congestion mitigation. Ten years ago, truckers might've been able to turn these around a lot quicker, but now with I-10 congested from 6 to 10 a.m., and the same thing in the afternoon, those times are much slower."
Still, moving product on water remains a slower prospect, although one that can be accommodated through proper scheduling.
There's an environmental advantage as well—tugs use less fuel per 10 miles than a truck or train. "Folks like Dow and Exxon are looking at it from a high level," Landry adds. "They're looking at the effects that it has on the system and the environment."
A VALUE-ADDED PROPOSITION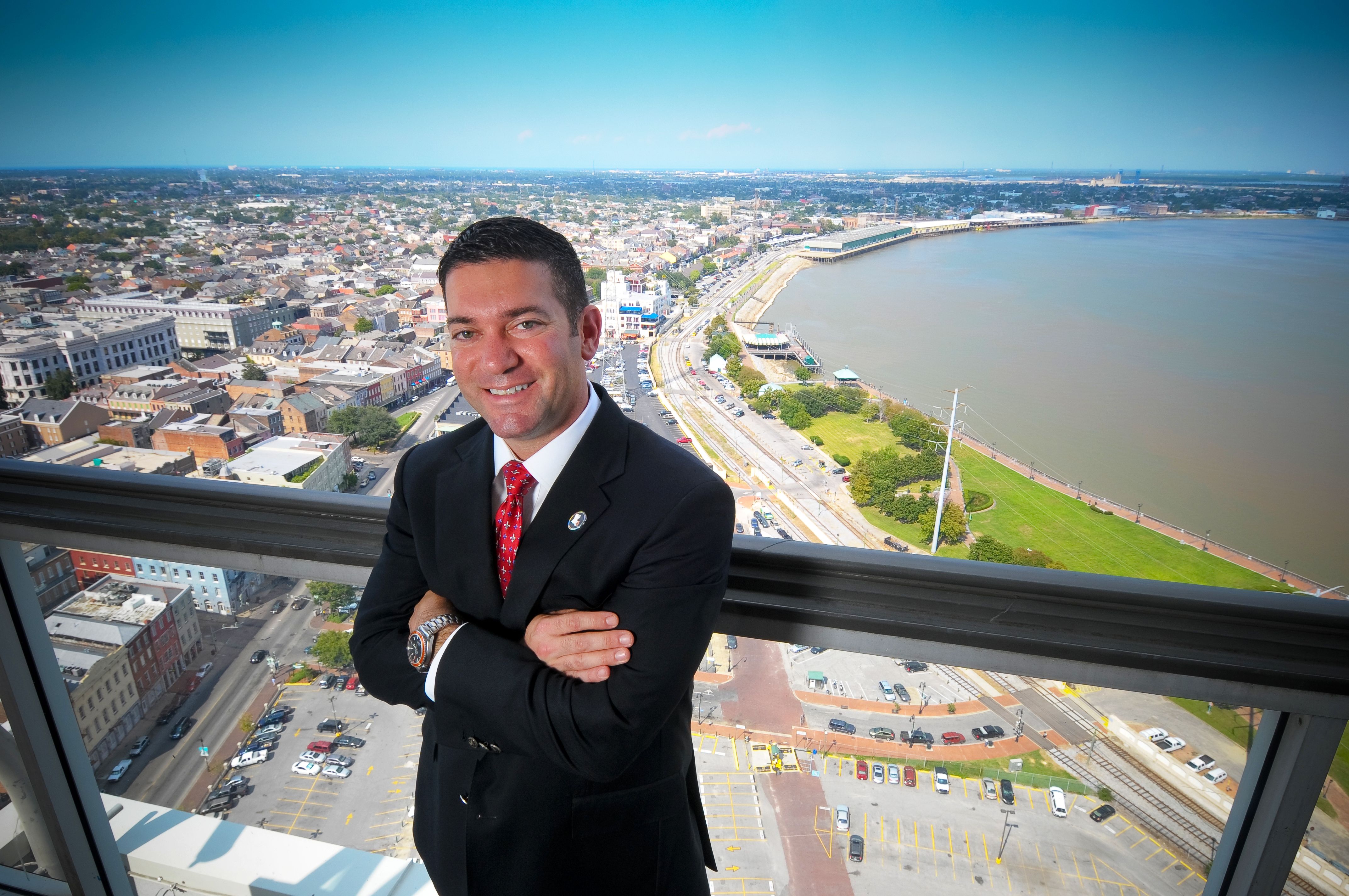 Michael Hecht, president & CEO of GNO Inc., is excited about the "value-added" potential of plastics in Louisiana as the industry grows. He says initiatives such as the container-on-barge service could ultimately lead to more downstream investment.
"As more of the raw material is produced here," he says, "the more they'll want to have their downstream customers nearby instead of exporting it elsewhere."
In recent years, Port NOLA has fundamentally changed its orientation, pivoting from a "landlord port" to an economic development organization searching for opportunities. "I think this push into plastics manufacturing is part and parcel of that new orientation," Hecht says.
Landry agrees. "These chemical plants employ a lot of people and they have to compete very hard to get them to locate here. Once they are here, we want to get every economic benefit out of those plants that we can. There's a lot of benefits to the state if we can bring that cargo here."
Landry gives credit to Louisiana Economic Development for facilitating the container-on-barge effort. "They recognized that the state gets a post-production benefit that a lot of people don't consider when they look at deals like this. It's really a great way the state is working together."
Others have come along to tap into the growing market and further support the local plastics industry. Founded in 2011, TCI Packaging packages resin into 25-kilogram bags for shipping at its Port NOLA facility at a rate of up to 2,700 bags an hour, 24 hours a day.
They are also preparing for the expected influx in product from resin manufacturers—the first phase of a new $36.5 million, 500,000-square-foot facility will grow TCI's resin bagging capacity by 180% by 2019.