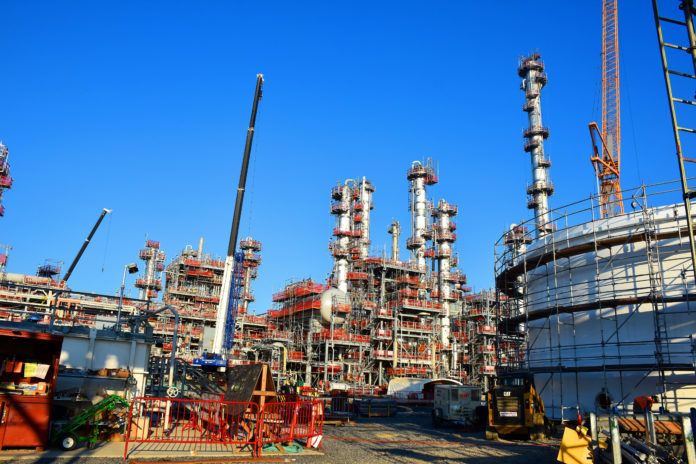 ---
IN GEISMAR
With the completion of Shell's $700 million Tiger A04 project, Geismar is now home to the largest alpha olefins producer in the world. At its Geismar Chemical Plant in south Louisiana—already the top producer in North America—the company took advantage of the latest technology and state-of-the-art equipment to execute the expansion project, adding 425,000 tons of capacity. Alpha olefins are used to produce household detergents, plastics, synthetic lubricants, and drilling fluids, among other products.
BUILT BY LOCALS
The AO4 project utilized local relationships and resources, with an emphasis on working with local contractors. Notably, the primary construction contractor (and largest contractor on the project in terms of workforce size) was Baton Rouge's Turner Industries. Lead design firm for civil/structural/MEP was Jacobs Engineering, which also has a significant presence in south Louisiana. Startup operations began in December 2018.
OVERCOMING THE FLOOD
The Tiger A04 project was recognized last year as the Excellence in Safety Best Project by ENR Texas & Louisiana. During civil construction in April 2016, workers dug down 5 feet to form the foundation. This created a "bathtub" effect for the entire site. In the months that followed, southeastern Louisiana experienced above-average rainfall that saturated the ground and prevented it from compacting. The management team worked quickly to bring in lime-stabilized dirt to reach compaction. In August 2016, the area experienced the worst flooding in its history, putting the project at risk of falling behind schedule. The management team offered employees—many of whom had lost their homes—additional weekend hours to allow them to make extra money, while also helping the project gain back lost time. Over the course of 5.4 million man-hours, crews logged an OSHA recordable incident rate of just 0.15. The safety program included a heat-stress plan that featured 14 cool-down stations across the site and a zero-incident performance and observation program.
GROWTH MARKET
Shell has earmarked the growing petrochemicals market as one of its major growth priorities as it reshapes its business. An International Energy Agency report finds that petrochemicals are set to account for more than a third of the growth in oil demand between now and 2030, and nearly half by 2050. Petrochemicals are also poised to consume an additional 56 billion cubic meters of natural gas by 2030.