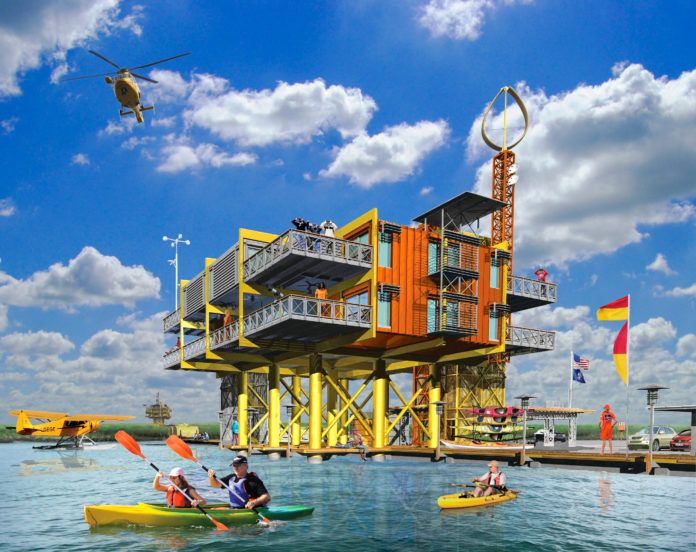 ---
THE IDEA: A Baton Rouge-based nonprofit called the Restoration Initiative in the Gulf (RIG) Foundation has gone public with a unique new coastal restoration idea: building an ecolodge at the edge of the Louisiana marsh in the shape of an offshore oil platform. The foundation announced in July the launch of a Kickstarter crowdfunding campaign to commission market analysis and develop an investor toolkit for capitalizing the facility.
THE PURPOSE: Called "The RIG," the structure would serve as a base of operations for the scientific and education communities, as well as provide an adventure/travel destination catering to the rapidly expanding marketplace of volunteer tourism.
THE DESIGN: Architecturally, The RIG is an industrial superstructure perched on the edge of the marsh, incorporating a fully appointed ecolodge designed to withstand the onslaught of a major hurricane. It is part research outpost and part sustainable boutique hotel—elevated 25 feet above the water with expansive views of the Gulf of Mexico. Three sites in Terrebonne Parish are currently under consideration.
THE WORK: The RIG experience targets "voluntourism," one of the fastest growing trends in the sustainable tourism sector, which could account for 25% of the global travel market within the next five years. In addition to offering guests access to all of the attractions, culture and beauty of Louisiana's Cajun Country, the RIG plans to provide travel packages that dedicate time to specific volunteer projects, such as planting marsh grass, beach clean-up or fish tag-and-release programs, all conducted under trained facilitators.
THE SYMBOLISM: The RIG's provocative design will leverage the power of an iconic symbol (the offshore oil platform) and imbue it with a new meaning—raising public awareness and putting a "face" on the critical partnerships that are essential to the cause of saving the coastal wetlands, organizers say.
THE CREATORS: The RIG Foundation is the brainchild of architect Robert Obier and Stephen Sessums, the director of Weights and Measures at the Louisiana Department of Agriculture. Obier has practiced architecture for over 30 years and holds a master's in industrial design from the Art Center College of Design. "Our aim is to immerse our guests in a truly genuine Louisiana experience," says Obier, "totally authentic, yet completely original and on the cutting edge of experiential travel."
---
This article was originally published in the third quarter 2017 edition of 10/12 Industry Report.