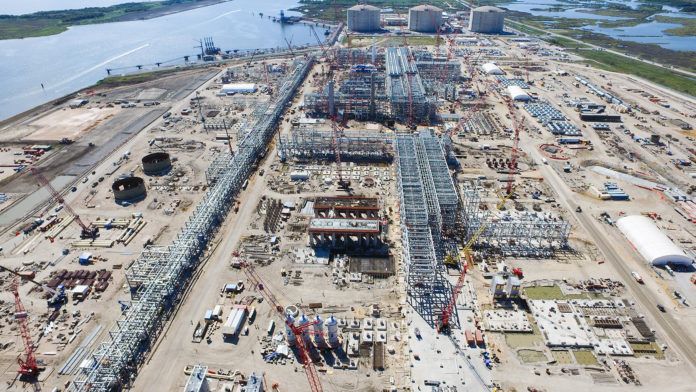 ---
Three cylindrical buildings—each larger than the Superdome—now dot the Hackberry skyline, signaling that construction on Cameron LNG is well underway.
The project—backed by San Diego-based Sempra LNG & Midstream and its partners—is one of about eight announced LNG projects in the Lake Charles area.
Construction of three liquefaction trains started at Cameron LNG about two years ago and is projected to end in 2018, said Julie Nelson, a spokeswoman for Cameron LNG. Progress has been steady, she said, with some interruptions due to heavy rains.
Nelson said more than 75 cranes are operating on the project, and that major pieces of equipment—such as air coolers, pressure vessels and compressor packages—are being received and installed. She said continued electrical work, structural steel work and piping are all part of the current phase of construction.
The project has created thousands of temporary jobs in construction, which is the sector responsible for bringing the most new jobs to the local market this past year, according to a recent report by the Louisiana Workforce Commission.
Nelson said that over 4,500 contractor construction workers—many of them craft workers recruited from this region—are working on the project. Every employee hired to work on the project receives safety training tailored to his or her position, she said.
Another phase of employment will begin when construction ends, Nelson said, and Cameron LNG is now recruiting experienced staff—such as operators, mechanical technicians and instrument techs—to begin training now.
"Our job fair in January provided us with many good local resumes, but we still have positions open which can be found through our website," she said.
The construction site sits next to Cameron LNG's existing import facility, for a combined length of about two miles, Nelson said. Cameron LNG began as an import terminal, receiving its first import in 2009. But after increased access to cheap U.S. natural gas made exporting profitable, Sempra partnered with three other companies to add liquefaction and export facilities to the Hackberry site.
A quarterly report Sempra filed with the Securities and Exchange Commission at the end of July acknowledged potential risks associated with large-scale construction projects. It said these risks include "potential for unforeseen engineering problems, substantial construction delays and increased costs." None of these issues have been reported thus far.
But a second phase of construction—which involves adding two more liquefaction trains and a tank—experienced what could prove to be a setback after one partner announced in July that it "currently does not want to invest additional capital in Cameron LNG JV with respect to the expansion," according to the July report.
Cameron LNG in May received approval from the Federal Energy Regulatory Commission to construct the additional trains, which would increase the company's capacity significantly. The company also in June received approval from the Department of Energy to export to countries that don't have free-trade agreements with the U.S.
But the report says the expansion "requires the unanimous consent of all the partners" and that failure to obtain this could cause delays.
It says that "alternatives are being developed and negotiated" among the partners, but that the final investment decision could be delayed beyond the first half of 2017.
Reprinted with permission from the American Press.
---
Originally published in the fourth quarter 2016 edition of 10/12 Industry Report.