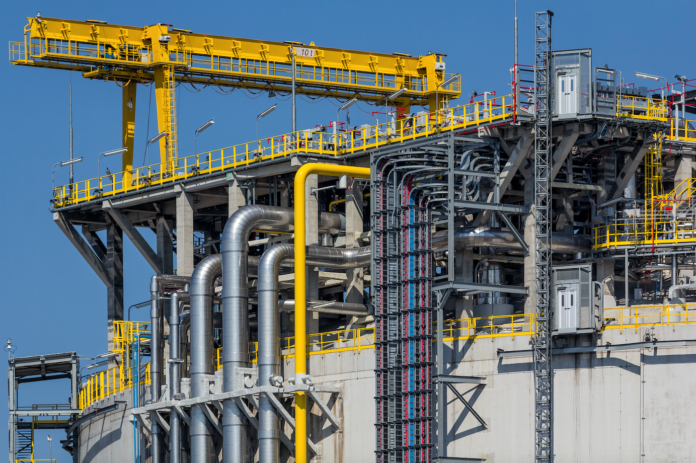 ---
Gov. John Bel Edwards and Venture Global LNG executives announced in December the company will invest $8.5 billion to develop a natural gas liquefaction facility and LNG export terminal in Plaquemines Parish. Plaquemines LNG will be Venture Global's second major natural gas liquefaction and export project in Louisiana, joining the $4.5 billion Calcasieu Pass project that was announced in Cameron Parish in December 2014 and is under development.
Plaquemines LNG will create 250 new direct jobs, and Louisiana Economic Development estimates that the project will result in an additional 728 new indirect jobs. The project also is expected to generate 2,200 construction jobs.
"GNO Inc. is thrilled to welcome Venture Global, a project representing close to 1,000 new well-paying jobs and major capital investment, to Plaquemines Parish," Greater New Orleans Inc. President and CEO Michael Hecht says. "Venture Global will strengthen our region's economy and send a strong signal that Louisiana remains one of the best choices for business because of its friendly business climate and unparalleled logistics." Hecht said the news likely represents one of the largest economic development announcements in the U.S. for 2016. In partnership with state, port and local officials, GNO Inc. helped provide support for project site location, incentives, permitting and communications.
Plaquemines LNG will be built to an export capacity of 20 million metric tons per year. The complex will be located on the west bank of the Mississippi River near Mile Marker 55, downriver of Myrtle Grove. The 632-acre site—about 30 miles south of New Orleans—includes 7,000 feet of river frontage and is owned by the Plaquemines Port Harbor and Terminal District.
LED began discussions with Venture Global about the Plaquemines Parish project after the company's announcement of the Calcasieu Pass LNG project in late 2014. The company is expected to utilize the state's Quality Jobs and Industrial Tax Exemption programs. Construction is expected to begin in 2018, once the project is authorized by the Federal Energy Regulatory Commission. Full operations are projected for 2022.
Despite a significant slump in prevailing LNG prices, LNG export projects on the Gulf Coast continue to roll forward. The Greater Lafourche Port Commission and tenant Energy World USA announced Jan. 31 the proposed development of a mid-scale LNG production and export facility at Port Fourchon. The proposed $800 million facility would produce up to 2 million tons of LNG per year for export, as well as operate a separate smaller scale liquefaction plant geared toward providing LNG to fuel offshore supply vessels (OSVs) operating in the Gulf.
In December Qatar Petroleum International Ltd. and ExxonMobil won approval from the FERC to build the $10 billion Golden Pass natural gas export plant in Sabine Pass, Texas. The agency also authorized a pipeline designed to bring 2.5 bcf/day of gas to the facility.
---
Originally published in the first quarter 2017 edition of 10/12 Industry Report.