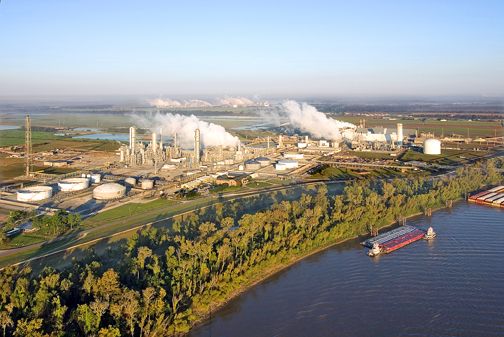 Situated midway between the state's two largest cities, St. James Parish has had a perfect vantage point to observe Baton Rouge and New Orleans as they deal with the benefits and challenges of industrial investment.
Yet St. James is not an idle bystander in south Louisiana's economic development success. In the past five years, Louisiana's second-smallest parish (in total area) has become one of the busiest areas in the state for new industrial investment.
Buoyed by favorable transport links, its location on a deepwater port, available land and industry-ready sites along the Mississippi River, St. James Parish has been a significant player in the state's industrial construction boom, with $9 billion of industrial investment under development or in the planning stage.
"St. James Parish is uniquely qualified for this type of growth," says Parish President Timmy Roussel. "With the waterway, rail and the interstate system, these companies have an ease of transportation and a variety of opportunities to get their products to and from their plant."
The largest project is China-based Yuhuang Chemical's $1.85 billion methanol manufacturing complex. The three-phase project will directly employ 400 people and create an estimated 2,300 indirect jobs across southeast Louisiana. The company broke ground on the project in late September.
Another significant project is South Louisiana Methanol (SLM), which announced in 2013 that it would invest $1.3 billion in a new methanol production facility on the banks of the Mississippi River. The project will result in 63 direct jobs, with an additional 374 indirect jobs. Construction is projected to begin in 2016. The SLM project lies across the Mississippi River from Nucor's $750 million direct reduced iron plant, the first phase of a potential five-phase $3.4 billion complex estimated to employ 1,250 people. The plant began operating in December 2013.
St. James Parish, along with St. Charles and St. John the Baptist parishes, is serviced by the Port of South Louisiana, the largest tonnage port in the Western Hemisphere. In 2014, the port handled a record-breaking 291 million tons of cargo.
"The port and St. James work well together in our mutual goal to bring investment, jobs and tax revenue to the area," says Paul Aucoin, executive director of the Port of South Louisiana. Indeed, the port and the three River Parishes work together as the River Region Economic Development Initiative to attract industry for the economic benefit of the region.
Of the three parishes, St. James retained its rural nature longest, which has worked to the parish's advantage during its recent growth, Aucoin says.
"St. James has benefited from being patient," he says. "The parish has been able to benefit from the experience of the growth of Baton Rouge and New Orleans."
One example is the parish's comprehensive plan, which guides future development in the parish. Roussel says St. James incorporated lessons learned from growth and development in other parishes into the land-use plan.
"We were able to get our land-use plan in position first so it could guide our growth and help alleviate some of the growing pains," he says. "We saw industry and residential subdivisions trying to locate next to each other, so we pulled up all our permits and used them as a guide to strategically place our industry into conformity and nonconformity areas."
St. James has not escaped all the challenges of such significant growth in industrial investment. Providing infrastructure to keep pace with economic growth and expansion has been a key challenge. St. James also is concerned about housing availability.
"With the potential [industrial] renaissance about to happen and with all the people coming in, can our roads support this? Will there be places for them to stay? Railroad crossings are going to be used for longer because of industry. There's going to be an inconvenience for our residents and our local businesses. We have to work with the appropriate agencies to address all those holdups and delays," Roussel says.
Despite the inconveniences of growth, Roussel says that St. James residents largely support the parish's economic development efforts. "Most of our residents work in industry, either in the parish or elsewhere in the region," he says, adding that the majority of industry in the parish has a 27%-38% local hiring rate.
Over the past 18 months, the parish experienced a drop in combined sales tax collections, which resulted in the parish postponing some projects and the school board dipping into its general fund surplus. Roussel says such variations are expected when major construction projects, such as Nucor's plant, are completed.
"The sales tax slide in 2014 and the beginning of 2015 scared us," Roussel says. "We're hoping last month [July] was the bottom. There's been a lack of expansions in our parish, but we're not letting that be the bell of doom. There's a gigantic renaissance that we're about to enter." Indeed, both Roussel and Aucoin say that, in addition to announced projects, they continually meet with prospects interested in the parish, with several in early stages still subject to confidentiality.
"With all these projects coming to fruition, we probably could double the parish's total assessed value of $540 million," Roussel says. "That's significant." Looking five years down the road, he says, it's realistic to predict the parish will see much more than $9 billion in capital expenditures. Already this summer, Formosa Petrochemical announced it has begun a feasibility study for a $9.4 billion ethylene manufacturing complex on the west bank of the river near the Gramercy bridge.
"These companies are serious about us, and that's exciting for St. James Parish," Roussel says.