---
Market fluctuations are an ever-present reality in the oil and gas industry, which means a company like Gulf Island Fabrication must be quick to respond to new opportunities. After all, its very existence was born out of the oil and gas downturn of the mid-1980s, when co-founders Doc Laborde and Baton Rouge catalog showroom industry magnate Huey Wilson created the Houma company to build offshore oil platforms.
Since those early days, Gulf Island—now headquartered in Houston—has become a leader in the fabrication, maintenance and servicing of structures, facilities and vessels within the energy sector and beyond. With several locations along the Gulf Coast, its craftsmen have built several "first of their kind" structures around the globe.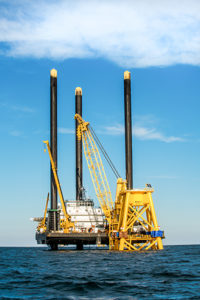 So when Gulf Island got the call from Deepwater Wind to assist with the fabrication of the jackets for the country's first offshore windfarm, it jumped at the chance. The company  had been watching the fledgling offshore wind market for years, waiting for the right opportunity. Deepwater Wind, a leading U.S. offshore wind and transmission developer, wanted to incorporate Gulf Island's offshore platform capabilities to develop its five-turbine wind farm in the Atlantic Ocean off the coast of Block Island, Rhode Island.
Roy Francis, Gulf Island's senior vice president of business development, says his company began actively pursuing wind farms earlier this decade after recognizing similarities to work it was already doing. A native of Destrehan, Francis came to work at Gulf Island more than 11 years ago.
"We knew that if the industry ever started to take off we wanted to be a part of it," he adds. "We had talked to Deepwater and provided them with budgetary pricing and talked through the constructability of it. We realized that the jackets were quite similar to the ones we were building for platforms in the Gulf."
Ultimately, it proved to be a good diversification move for Gulf Island. "We have the necessary capacity and 32 years of experience building foundations. It was a good interaction and a good customer."
The 30-megawatt wind farm came on line last fall.
Francis says the project came along at just the perfect time—the oil market downturn has significantly impacted the production of new platforms in recent years. "Our numbers are down right now like the rest of the industry."
Bill Blanchard, vice president and general manager of Gulf Island's fabrication group in Houma, says when times are good there are about 450 workers at the facility, but the oil drop hit them hard. "We probably got down to 100 and maybe 60 in the field," he adds. "We have had some relatively large layoffs, but it wasn't to the magnitude that it might have been. We were somewhat successful in placing certain personnel within our other companies."
COLLABORATIVE APPROACH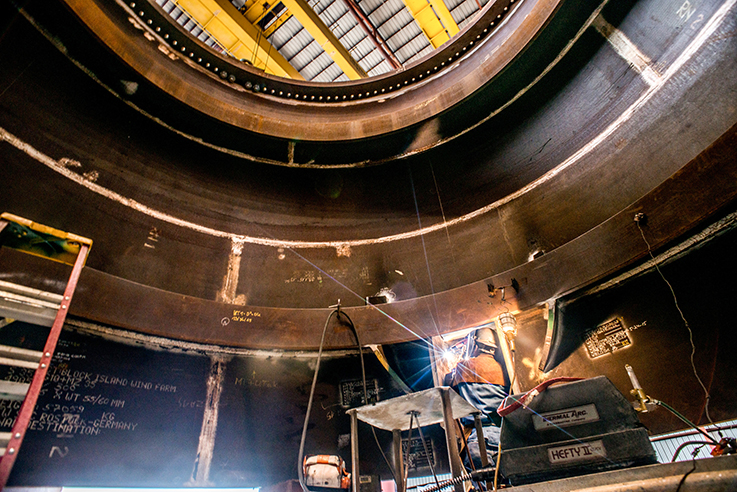 In 2015, Metairie-based Keystone Engineering handed off the Deepwater design documents to Gulf Island to begin the fabrication of the foundations, jackets and piles. A strong working relationship with Keystone was key to the project's success—the two companies have collaborated on dozens of projects for 30 years.
"Relationships such as ours are relatively common within the industry, where Keystone knows our pros and cons and strong suits, so to speak, and they are able to adapt the design to suit our facility," Blanchard says.
Throughout the design process, Keystone leaned heavily upon SACS Offshore Analysis and Design software for the design and loading analysis of the structures, while Gulf Island's Lee Barrios, senior project manager, and Richard Rieve, operations manager, participated in early constructability sessions to iron out potential issues with meeting cost and deadline targets.
Designs differed somewhat from a typical oil or gas platform, primarily because of the load exerted by the force of the massive wind turbines. "Most platforms are designed to hold a static gravity load," Blanchard says. "Conversely, wind turbine foundations are designed to support a very long vertical stick that's swaying, with a lot of horizontal and cyclical moments applied to them. So, it takes a completely different jacket stiffening style."
Jacket components were fabricated in assembly line fashion within existing facilities at the Gulf Island yard using a "core group" of workers. At peak, nearly 300 workers were involved in the fabrication of the various components, including pipefitters, welders, sandblasters, scaffold builders and painters.
"From start to finish, you've got a variety of different crafts that are all working on the project in different phases," Blanchard says. "At any given time, you might have the jacket leg components being fabricated as other components are coming out of the pipe mill. You might have piling that's being put together in a separate location, and then the braces being put together. It all gets transferred to the field, where they perform the actual assembly."
The jackets range from 93 to 108 feet tall, with each having its own complexities. "It was more of a serial manufacturing process," Blanchard says. "In general, they were identical, except for a little bit of length added on. There were five jackets, or lower foundations, and five deck sections, which were just an extension of the jacket up to a point above the water line where the mating flange to the turbine was connected."
In the end, there were 10 different component sections, two for each of the five sites. "They were mated together offshore," Blanchard adds.
HOMEGROWN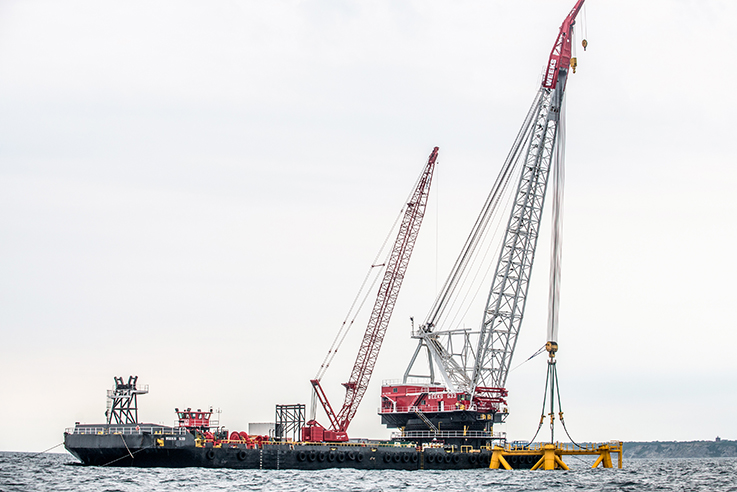 Another Louisiana company, Montco Inc. of Galliano, helped assemble the wind farm components from a liftboat after their arrival in the Atlantic. Coincidentally, Montco's boat—normally used for the decommissioning of offshore oil and gas platforms—was also fabricated by Gulf Island.
"It was definitely a step change for us from our normal oil and gas activities in the Gulf of Mexico," says Joe Orgeron, chief technology officer at Montco. Still, it wasn't the first time that Montco has worked "outside the box." Most recently, the company offered its liftboat services to a consortium of European scientists taking core samples in the Atlantic and the Gulf.
"After we were finished working for the scientists, we got picked up by Deepwater Wind," Orgeron says. "Early on, they hired us to do the site-specific cores for the locations where the wind turbines would ultimately be located."
Although another contractor was initially hired to install the foundations and upper deck, the company underestimated the heave and sway of the Atlantic, making it apparent that a liftboat would be the most reliable way to finish the assembly. "They successfully placed the jackets with no problems," Orgeron says. "The problem came when they had to hammer piles through the legs to affix and secure the jackets to the sea floor."
The "pin piles" were nearly 130 feet long.
While there are roughly a dozen liftboat companies operating in the Gulf, none has a boat the size of the one used by Montco. Liftboat "Robert" is the largest currently operating in U.S. waters. When in operation, the boat literally lifts itself out of the water using its legs as support on the ocean floor. In turn, a 500-ton crane mounted on the boat maneuvers and places the jacket components.
Due to the boat's width (137 feet) and leg length (335 feet), Montco was forced to stay in deepwater while in transit to the site, meaning it had to go around the tip of Florida and up the East Coast.
UP AND RUNNING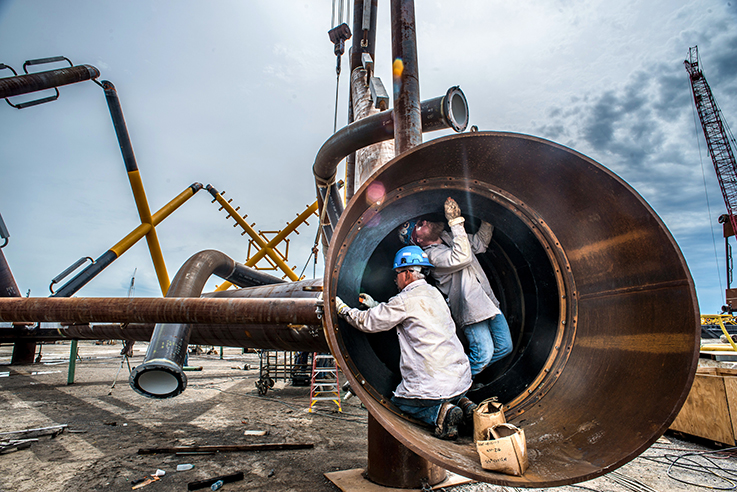 Now that the Block Island Wind Farm is operational, the potential for future offshore projects seems limitless, and as such Gulf Island and Montco hope to continue reaping the benefits. Deepwater Wind, led by a veteran team with extensive experience in developing renewable energy projects, is actively planning offshore wind projects located 15 or more miles offshore to serve multiple East Coast markets, including New York, Massachusetts, Rhode Island and New Jersey.
The company is owned principally by an entity of the D.E. Shaw group, with more than $35 billion in assets.
GE Renewable Energy supplied the five 6-megawatt Haliade wind turbines for the new Block Island wind farm. In addition to the turbines, GE Renewable Energy's offshore wind business is providing long-term services and maintenance for the project. The Block Island Wind Farm is GE Energy Financial Services' second offshore wind investment this year, building upon the company's $12 billion renewable energy investment commitments in more than 18-gigawatts of wind and solar projects.
"Our success here is a testament to the hard work of hundreds of local workers who helped build this historic project, and to the Block Islanders and the thousands more around the U.S. who've supported us every step of the way of this amazing journey," said Deepwater Wind CEO Jeffrey Grybowski in a prepared statement.
The U.S. could add as much as 86,000 megawatts of offshore wind power by 2050, according to the U.S. Department of Energy. If that happens, DOE says it could cut greenhouse gas emissions by 1.8% and support 160,000 U.S. jobs. To fuel the advancement of wind power, a coalition of northeastern U.S. governors recently announced that it would push for the extension of the 30% renewable energy investment tax credit and continue federal research and development efforts.
GULF ISLAND EYES FURTHER DIVERSIFICATION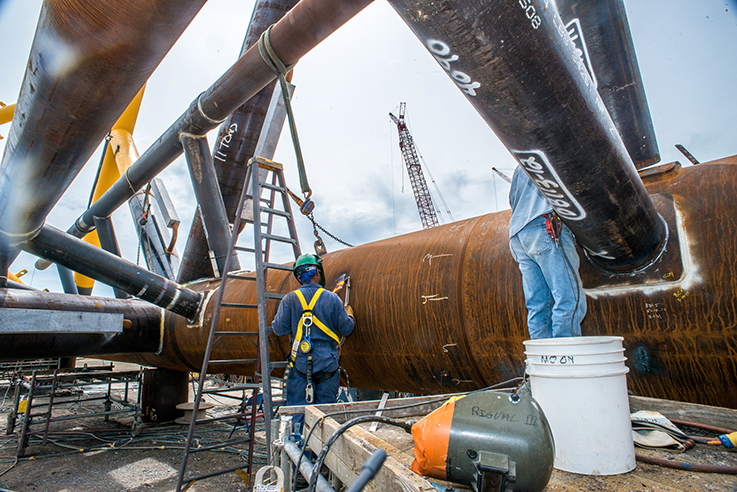 Gulf Island's Francis is quick to point out that his company's diversification is not limited to offshore wind farms. Gulf Island also operates a service company and ship yard and is expanding its portfolio of services. In the process, it will be better able to weather the ebbs and flows of the oil and gas market.
"We do everything from building inland and offshore vessels and barges and repair yards to vessels," he adds. "We have fabrication facilities and we have a company that does service work offshore or onshore (painting, blasting and coastal infrastructure work). While we've traditionally been in oil and gas, we've now diversified to build onshore modules for infrastructure."
Gulf Island recently delivered an onshore module to Trinidad and is currently working on another at its Houma fabrication facilities.
More recently, Gulf Island acquired LeeVac Shipyards, a Covington-based marine fabrication firm with shipyards in Jennings and Lake Charles. Kirk Meche, Gulf Island's president and CEO, said in a statement "the acquisition of the LeeVac assets further diversifies our business, enhances our marine fabrication and maintenance and repair capabilities, and provides our company with facilities in key strategic locations."
---
This article was originally published in the second quarter 2017 edition of 10/12 Industry Report.