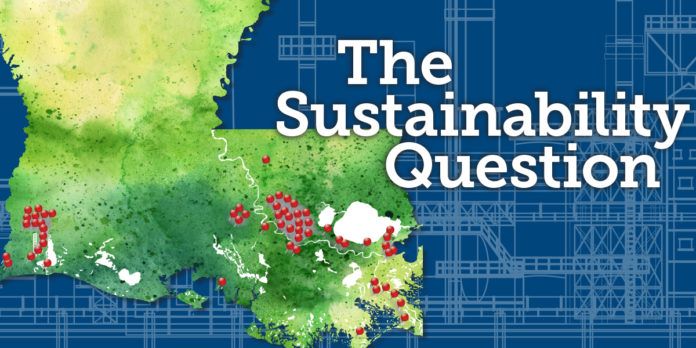 A trucker's daily bumper-to-bumper crawl on I-10 in Lake Charles and Baton Rouge has consequential impacts on commerce, to be sure, but it spotlights an even larger problem looming for the industrial sector.
While no one is wishing it away, there's growing concern about the state's ability to sustain the expected tidal wave of capital project investment beginning in the latter half of 2019 through 2022.
Louisiana appears to be beating the pants off Texas in pure investment dollars. Along the 10/12 corridor alone, some 125 projects valued at $32 billion among 12 industries have begun construction or plan to begin construction in 2019, according to data provided by Industrial Info of Sugarland, Texas.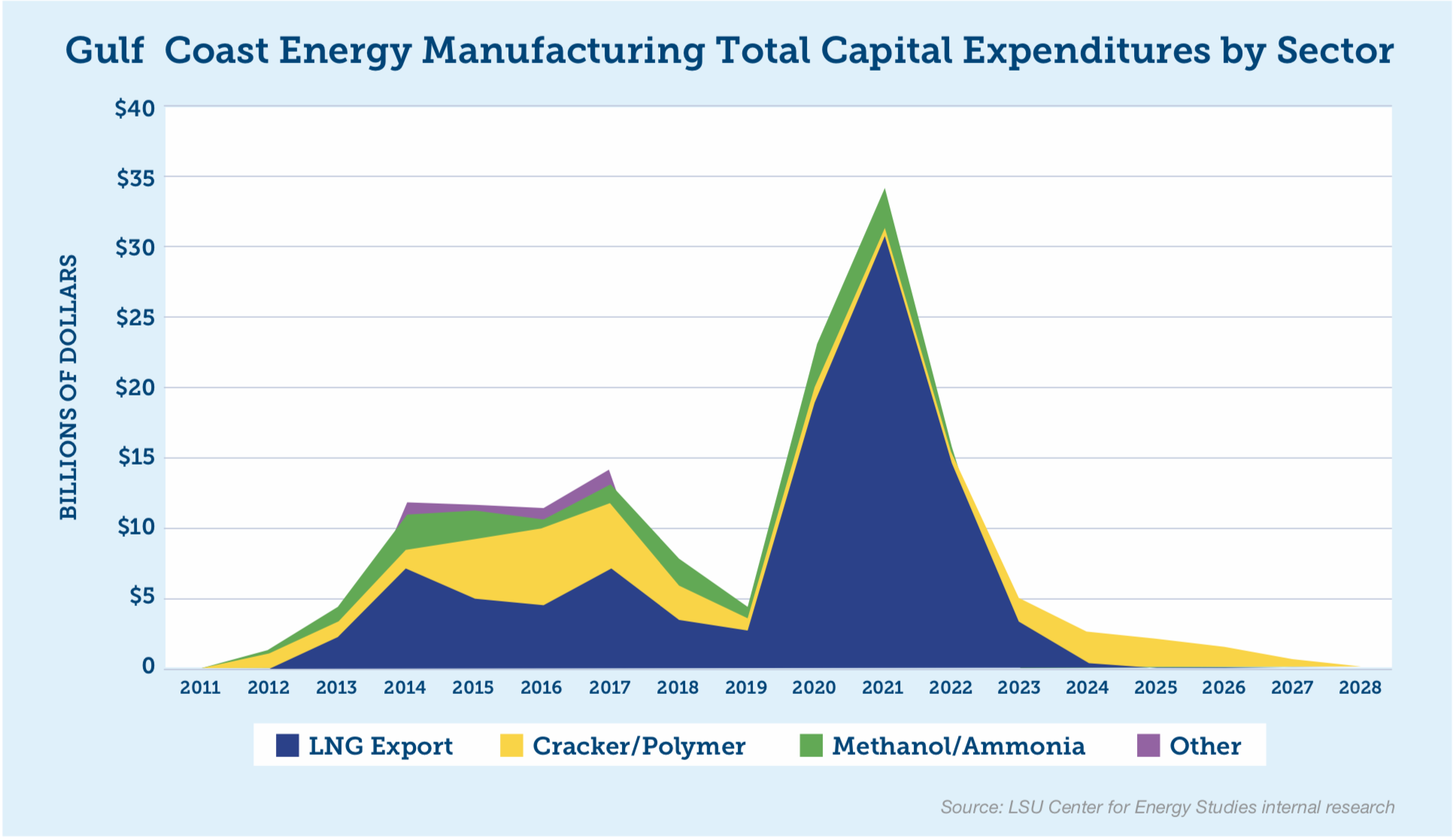 And over the course of the most recent industrial renaissance, the state has attracted about $151.7 billion in actual and projected capital investment, $100 billion of that in LNG export facilities. That comprises about 51% of all Gulf Coast chemical industry capital investments. Texas, on the other hand, accounts for 46% of all investments distributed evenly between LNG investments and non-LNG investments, or about $65 billion each.
St. James, Calcasieu and Cameron parishes are ground zero for the industrial explosion. Projects by Yuhang Chemical, Formosa, Wanhua Chemical, South Louisiana Methanol and others are expected to overlap in St. James—all in the billions of dollars. In southwest Louisiana, it's all about Liquefied Natural Gas, namely Driftwood LNG in late 2019, and possibly Lake Charles LNG, Port Arthur LNG and Golden Pass LNG not long after. This while Cameron LNG is still under construction.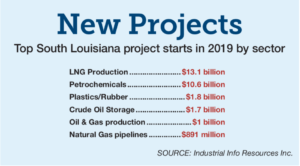 Cheap and abundant natural gas is the catalyst for the surge. Much of the supply is coming out of the Permian Basin and other shale plays, where the cost of natural gas has been incredibly low and is expected to remain that way.
While daunting, it's not the cost and size of the investments but the timing that is cause for concern, says Greg Upton, assistant professor of research at LSU's Center for Energy Studies. That's because there are some decidedly different economic variables at play, compared to the previous two booms.
"The first boom coincided with the Great Recession when labor was more mobile," Upton adds. "The second boom occurred in 2014, mainly due to capital expenditures in the refining and chemical manufacturing sector. This, coincidentally, was at the time of the oil price bust when there was a slack labor market."
Fast-forward to today, when oil prices are inching back up, natural gas is seeing steady production and Louisiana construction employment is at an all-time high at 160,000 (many working in a maintenance capacity within existing plants). The state is also at near full employment, statistically speaking, with the unemployment rate hovering around 4.7%.
"In that regard, you might actually have an unprecedented challenge," Upton says.
The entrance of LNG into the market in 2020-2022 will have the most significant impact on the local industrial landscape. If the projects converge at the same time, the cost of wages, materials and equipment will likely increase across the board. "Labor market theory tells us when we're at full employment like we are now and you have that shock (of investment), you will have a relatively larger impact on wages and less of an impact on employment," LSU's Upton says. "That's because employment is already being utilized."
The same can be said for the cost of construction and raw materials, all of which boils down to supply and demand. Upton says a best-case scenario would be for the investment to be spread out over the next three years. "I don't think we're not necessarily going to have $50 billion in investment in one year alone," he adds.

Of course, the current trade war with China is the elephant in the room. That could mean that some of the LNG projects get pushed to a later date. Eric Smith, interim director of the Tulane Energy Institute in New Orleans, sees tariffs as a huge cost concern, as LNG is largely dependent upon exotic alloy steel made in China. "Can we afford the 25 percent for a while? Sure. Was that built into the budget? Probably not."
Gulf Coast Prepares
Owners and contractors are scrambling to prepare for the next wave, as getting caught off guard could significantly impact profitability, timing and cost. Some of the major players hope to beat the odds through various innovative work practices, such as modularization, Advanced Work Packaging (AWP) and project digitization.
Modularization has become an increasingly popular means for removing some of the risk from the jobsite, lowering local manpower demand and exerting greater control over the schedule. "Anything you can do in a shop instead of the field is going to be cheaper and of a higher quality," Smith says. "It's tough to maintain quality standards when you're doing stick-built construction."
The robotization of the fabrication process is another trend. At offsite facilities, welders serve as supervisors to robotic devices that perform the welds, "because they do a better, more uniform job."
---
---
To tackle manpower challenges, many LNG owners are stretching the building schedule, as each plant will require some 4,000 to 5,000 people to construct. "At least one LNG developer has asked for a three-year extension to the approved schedule," Smith says. "This also serves the purpose of delaying start up until all of the other new capacity is absorbed into the system."
Petrochemical owners are prepping in their own way. ExxonMobil in Baton Rouge is staying ahead of its workforce needs by working collaboratively with local contractors and engineers in advance of its $500 million-plus polyolefins expansion, slated to break ground in 2020. In fact, the company has already ordered equipment and completed designs. The project is expected to peak at about 600 to 700 construction workers.

Charles Dabadie, Americas regional manufacturing manager at ExxonMobil, hopes to improve productivity and keep a finger on cost in the process. "If you go in with your eyes wide open you can manage it," he says. "We backed up and said let's start getting together early and start planning. One of the advantages to handling this is partnering with good local (construction and engineering) firms to perform some of this pre-planning, and get out in front of it."
Across the Gulf, ExxonMobil is in the middle of a $20 billion multi-plant expansion, so the Baton Rouge plant must compete against Texas and other parts of the world for projects. "I'm always competing for capital dollars, so I've got to get the best return," Dabadie says.
Hurting his chances somewhat is the interstate system running through Lake Charles and Baton Rouge. In fact, daily bottlenecks in the cities could worsen as construction ramps up. To proactively work the problem, ExxonMobil joined the Capital Region Industry for Sustainable Infrastructure Solutions, or CRISIS, "so we're not just sitting on our hands. We're part of the team," Dabadie says. "I think that's a great community effort. I think we all have to work together on our infrastructure."

Jim Newport, Wanhua Chemical's general manager in St. James Parish, says his biggest concern at the moment is the high water levels of the Mississippi River. That's because Wanhua is fabricating several modularized process units at its Yantai, China, petrochemical facility, then shipping them upriver to the site. "It will be important to plan these large module movements to avoid high Mississippi River levels," Newport says.
Wanhua expects to peak at more than 1,200 construction workers, and is working closely with its EPC partner, Fluor, to attract skilled labor. Newport expects to break ground in late 2019. "The project will utilize ship, barge, rail and roadways for both construction and operations deliveries and product transport," he says. "Modifications of existing infrastructure for all of these are included in project plans."
Feeling the Strain
There's some real industry-wide concern about the ability of local manpower to support the volume of work in the queue. Given the record number of laborers already working in the state, LSU's Upton says it's likely that fewer than half of new workers will be local residents.

Lee Jenkins, vice president at Performance Contractors in Baton Rouge, says if all of the projects become reality, manpower will almost certainly need to come from outside of Louisiana. "While we have a strong resident workforce in this area, additional manpower from outside the area will be needed to supplement local manpower," Jenkins says.
By comparison, southeast Texas faced a similar confluence of industrial work in the last five years and suffered its own manpower problems, despite its proximity to Houston. "Even a market the size of Houston couldn't support having those three projects (ExxonMobil, Enterprise, ChevronPhillips Chemical) within about five miles of each other," Jenkins says.
That means Louisiana will become a proving ground of sorts, says Greg Bowser, Louisiana Chemical Association president and CEO. "If the state can handle the manpower load—along with its other supply chain needs—it could lure even more work away from Texas in the future. We've got to demonstrate that we can manage through this because owners will be looking at that when they're making those decisions."
That includes figuring out how to attract and train more skilled laborers, whether they be Louisiana natives or Louisiana-based companies bringing workers from other states. Bowser says skilled labor availability and a strained supply chain have become prominent issues for LCA's member companies, exacerbated by up to eight planned maintenance turnarounds at various facilities in 2019.
LCA serves as a venue for owners to work together in sequencing the work so that it doesn't strain the supply chain or workforce. "We want to schedule it out a bit so they can have some spacing and more opportunities to manage it," Bowser says. LCA's Workforce Committee also works with local community colleges and Associated Builders and Contractors chapters to plan for training needs.

David Helveston, president and CEO of Associated Builders and Contractors' Pelican Chapter in Baton Rouge, says as many as 8,000 construction workers could be needed for the St. James projects alone. The parish's total population is only about 21,000. "Our members say we need to fill up every classroom and every lab, and if that means running at a deficit for the next year, run at a deficit, because the work's coming," Helveston says. "They're putting heavy pressure on us to ramp up our educational programs. They see the wave coming from Baton Rouge to New Orleans over the next couple of years and they're feeling that workforce pressure."
In fact, the contractor group is running out of training space, and plans to strengthen its partnership with Louisiana's Community and Technical Colleges system for additional classrooms and training opportunities. ABC-Pelican also runs daytime educational programs with area high schools, including a mid-afternoon welding program, as it has "maxed out" traditional nighttime training slots.
At present, nearly 3,000 are trained annually at Pelican Chapter facilities in Baton Rouge and Lake Charles. Since St. James lies squarely between Baton Rouge and New Orleans, the Pelican Chapter is also collaborating with ABC-Bayou Chapter in New Orleans to augment training and create a bigger pool of workers.
Most recently, Helveston has noticed a significant spike in demand for pipefitters. "Our members are putting a lot of pressure on us to get down into the high school level to encourage students to think about pipefitting," he adds. "Welding is the sexy thing in the area right now, but in the industrial field there's a one-for-one need for pipefitters to welders."
He credits the Louisiana Department of Education's Jump Start program for incentivizing high schools to offer meaningful career pathways.
ExxonMobil proactively tackles its workforce development needs through the North Baton Rouge Industrial Training Initiative, which it helped launch in 2012. "These are $75,000- to $125,000-a-year jobs, so if we can educate the people out there and get them the skills they need, it's a win-win for the local community," Dabadie says.
Jenkins says Performance monitors market potential to determine its workforce needs, then focuses on what it feels are the more attractive projects based upon the client, project type, schedule, contractual structure and current strategy.
Looking ahead, Performance hopes to fill a majority of its manpower needs from Louisiana. Nonetheless, the contractor has a large pool of workers to pull from, as its projects have spanned from California to Florida over the last 10 years. The contractor employs an average of 8,000 craft employees and performs about 16 million man hours of work per year.
Alasdair Cathcart, president of Bechtel's Oil, Gas and Chemicals business in Houston, says the convergence of petrochemical and LNG projects will certainly strain Gulf Coast resources, but he feels the construction industry can handle the load. He spoke in June at the Downstream 2019 conference in Houston. "I think we have a very experienced and skilled workforce," Cathcart says. "We really believe that the crafts are available, competent and committed and that we can deliver the next wave of projects in the U.S. Gulf Coast safely, ahead of schedule and under budget."
Also speaking at the conference, Samik Mukherjee, group senior vice president of projects at McDermott in Houston, says owners and contractors are working collaboratively in the face of the challenges. "It takes a collaborative approach with the customer," he says. "It's such a fluid situation, and customers are open to discussing how we can mitigate the risk."
Southwest Louisiana Benefits from Sasol's Big Wake
Southwest Louisiana is perhaps prepared better than most to handle the load. Larry DeRoussel, executive director of the Lake Area Industry Alliance in Lake Charles, says the completion of Sasol's $11 billion LCCP (Lake Charles Chemicals Project) left an abundance of contractors and suppliers in its wake. Both will be needed for the impending LNG surge.
"Many of the major contractors are now well-established with shops and offices, and there are many more suppliers and heavy equipment rental places, etc.," DeRoussel says. "All of that was brought in to support this initial surge and they're all still here. We're now well positioned to shoulder some of what we see coming. We are certainly in a better place." Lake Charles' training apparatus is also in high gear, including facilities operated by the ABC Pelican Chapter and SOWELA Technical Community College.
Jason French, vice president of government and public affairs at Tellurian Inc., isn't worried about manpower or other issues that might come up during construction of his company's $15.3 billion Driftwood LNG plant in Calcasieu Parish, breaking ground later this year. At peak, Driftwood will require some 6,500 workers.
"Bechtel has guaranteed cost, performance and schedule on the project," French says. "Our management team has a strong history of working with them and strong confidence in Bechtel to deliver on all those things. They are used to managing the workforce issues and we have confidence in their ability in what will certainly be a constrained environment."
Still, French admits the project will likely strain the local workforce. There could also be some logistical hurdles, as the site is remotely located five miles south of Carlyss in Calcasieu Parish. "There's going to be a significant local component to the workforce. But are there some constraints? Will there be competition for the workforce? Absolutely."
The timing of the Sasol completion and the impending wrap up of nearby Cameron LNG could also prove fortuitous for Tellurian, as it should free up local contractors and suppliers.
However, there are other projects waiting in the wings, namely Lake Charles LNG, Port Arthur LNG and Golden Pass, that could tap into that supply. "We believe we're at the head of the next wave," French notes, "and will benefit from that."
Driftwood's terminal and associated pipeline received all the necessary permits and in early July entered into definitive agreements with Total Delaware Inc. and Total Gas & Power North America Inc. to purchase 1 million tons per annum from the terminal.
In the meantime, the company is investing in a new half-mile road around the plant site, in conjunction with DOTD, to separate residential and construction traffic. This will allow the existing road to be dedicated to facility traffic during and after construction.
Tellurian's goal is to begin producing LNG by 2023. It will employ approximately 400 permanent workers.