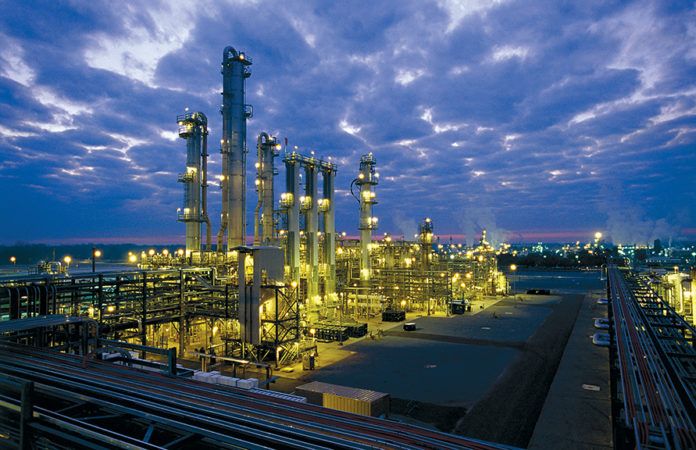 ---
An expected surge in planned maintenance turnarounds across south Louisiana and the Gulf Coast in 2017 could have a minimal impact on manpower needs—or a massive one, depending upon when and if certain capital projects are mobilized. It's all in the timing.
Industrial Information Resources, a market intelligence firm in Sugar Land, Texas, estimates turnarounds and shutdowns are expected to increase by 5.4%, to $10.43 billion across all U.S. industrial markets in 2017, with the petroleum refining industry seeing the biggest increase. Refiners are projected to increase planned maintenance spending by 38.5%, to $1.26 billion. Additionally, the chemical sector will see a 4% increase—to $1.81 billion—and the power sector a 9.3% increase, to $3.54 billion.
Deferred turnaround work is the culprit. Some 7,000 additional craftsmen might be needed to handle pent-up demand for maintenance turnarounds in the first quarter alone, according to IIR. Much of that will be felt along the Gulf Coast.

The reason for the maintenance deferrals? Before their margins fell in mid-2016, refineries were coming off a year of uninterrupted production.
"During that 12-month period, they didn't take anything down," says Tony Salemme, IIR's vice president of labor risk assessment. "They delayed and postponed all their maintenance, except, of course, for the unplanned maintenance. They now have a lot of pent-up demand for turnarounds." IIR performs direct market research and labor forecasting by surveying industrial owners about future budgets, both for capital and maintenance work.
Salemme says the level of work in the Gulf Coast region—maintenance and capital projects combined—is unprecedented. "If you look back at 2001 to 2007, we were looking at about $30 billion a year being spent in the 11 metropolitan areas of what we call the Gulf Coast. Then, that exploded to about $65 billion in 2015, and it's really climbing now." IIR predicts another 40% increase in man hours from 2016 to 2017 in the Gulf Coast region, most of which will occur in the first quarter of this year.
LOUISIANA'S HIGH GROWTH AREAS

Areas in Louisiana to see the biggest increase will be Baton Rouge and Lake Charles. In Baton Rouge, IIR is tracking maintenance turnarounds—either planned or underway—at Dow Chemical, ExxonMobil, Georgia-Pacific, Motiva Enterprises, Rubicon, Shell Chemical and Total Petrochemicals. "Throughout the year, there are some 86 unit maintenance events (across the greater Baton Rouge area)," Salemme says.
While New Orleans is expecting a similar peak in 2017, Lake Charles is the "big gorilla in the room," he adds. "We see an estimated 40% growth in man hours, both capital and maintenance, between 2016 and 2017 in Lake Charles."
While a large portion of that will be caused by the ramp-up of capital projects, those investments come at a time when some large maintenance turnarounds are also scheduled. When combined with Lake Charles' relatively small worker base, a simultaneous uptick in both capital and maintenance work could cause problems.
Dale Logan, executive director of the Southwest Louisiana Construction Users Council, says Phillips 66 and Citgo Refining in Lake Charles have significant turnarounds scheduled in the first half of the year. Once a month, SLCUC receives an 18-month look ahead from its 24 member companies.
"We're showing a peak in turnarounds this spring," Logan says. "Just among our members, the projections are for a manpower demand of 14,000 to 15,000 in March, and there were rumors of 20,000 at one time. It's not because of megaprojects. They've flat-lined for my members. The thing that's varying is the turnaround work."
Fortunately, he says, capital projects have been pushed down the calendar far enough to minimize the impact on local manpower.
While Turner Industries of Baton Rouge is the "big fish" in terms of maintenance manpower, there's plenty of other work to go around in the Lake Charles area. EXCEL Group of Baton Rouge recently announced that it had been awarded a general maintenance contract by Phillips 66 to support maintenance services for the company's Midstream Gulf Coast Division. EXCEL acquired Ron Williams Construction in Sulphur in April 2016, and the company says a previous working relationship between RWC and Phillips 66 was instrumental in the award of the contract.
In Baton Rouge, Connie Fabré, executive director of the Greater Baton Rouge Industry Alliance, says her area will see similar spikes in turnaround activity in early 2017.
"I think maintenance and turnarounds are going to be strong," Fabré says. "That's what I'm hearing." Many plants, she adds, had reached a point where it made good financial sense to perform necessary maintenance.
Fabré says the impact of maintenance employment on the Baton Rouge area should not be underestimated. "There are some 15,628 contract employees. That's a mix of maintenance and turnaround work. That's a huge job impact. Those are not fly-by-night jobs or short term."
PREPARING FOR TURNAROUNDS

IIR's Salemme offers a dire scenario for the Gulf Coast region, saying this year's upsurge in manpower demand could adversely impact productivity and overall construction costs.
"Many of the larger contractors will begin increasing wages," he says. "They did everything they could to hold off on raising wages and per diems because they wanted to capture market share and capture the bulk of the work." Salemme notes this will negatively impact some contractors' bottom lines, since many contracts were negotiated at fixed cost. "By the end of 2017," he says, "you're going to hear about contractors failing, losses on fixed costs, the inability to man jobs, wages rising and per diems rising."
Despite such drastic predictions, some contractors in south Louisiana welcome an uptick in maintenance turnarounds, saying it fills a gap caused by capital projects that have been slow to break ground. Still, just how much strain is felt by Louisiana's construction industry depends upon how well industrial owners—and contractors —have prepared to meet their manpower needs.
Danny Campbell, assistant general manager of Triad Electric & Controls in Westlake, says his company will be directly involved with the planned turnarounds at Phillips 66 and Citgo this spring, while other crews are embedded in half a dozen other area facilities performing routine maintenance. The electrical/instrumentation company maintains a 40/60 ratio of turnarounds to day-to-day maintenance contracts.

While he expects to hire an additional 200 workers for this spring's turnarounds, he says Triad can handle the additional demand, despite ongoing capital projects in the region. "They're decent-sized turnarounds, but the megaprojects that everyone's been talking about in Lake Charles—that's all slowed way down," Campbell says. "They're not really full speed ahead, as they were. I think with the timing of those megaprojects and those turnarounds, it will work out."
"We've got a pretty big database of people that come and go from project to project," he adds. "A lot of the construction workers, they go where the work is. Once we start calling, those guys will start filtering back this way. It usually works out."
Campbell says his company is consistently involved in making Associated Builders and Contractors and SOWELA Technical Community College aware of future workforce needs. "We've been talking about manpower and keeping manpower for the last six to eight years," he says. "Fortunately, some of those peaks have kind of leveled out. We've got a few resources that are turning out quite a few students. ABC has really increased the number of students they've been turning out every year. They started offering an accelerated course where they go straight through the summer."
Triad plays a leading role in guiding ABC's planning for workforce needs. "We all sit down and we review the training manpower, what they're turning out, what crafts they're training, and we've got input so they can try to increase and recruit different classes," Campbell says. "If there's a need for millwrights or pipefitters, we'll raise that need, then they'll try to recruit those crafts and train for those specific needs."
Triad also leans heavily on technology to manage internal manpower needs. Managers use the Neutron Group Control System, a cloud-based program that can be accessed remotely at all jobsites, allowing for real-time tracking of projects. By using the system, Triad can efficiently forecast manpower demand and adjust resources as needed.

Brown and Root Industrial Services CEO Andy Dupuy says his Baton Rouge-based maintenance company is ideally positioned to handle a surge in maintenance activity. The company is already experiencing an increase in demand—more than half of Brown & Root's current workload is classified as industrial maintenance, with about 20% engaged in maintenance turnarounds.
At present, Dupuy says Brown & Root can find the manpower it needs. "We've added 2,000 maintenance employees in less than a year," Dupuy says. "Maintenance has been on the uptick. Since things have been so tight, owners are shopping their maintenance contracts, so we're seeing a good bit more of that than we had in the past."
Brown & Root strives to be vertically integrated to gain a competitive advantage as a "one-stop-shop" contractor. The firm recently purchased industrial specialty contractor Petrin Corp. in Port Allen and turnaround/specialty welding/cooling tower contractor MEI in White Castle to expand its portfolio.
"We want to be a total plant services company," Dupuy says. "If a plant needs something done, or an existing operating facility needs something done, we want to be the guys to do it, from a turnaround to building scaffolding. We want to be everything to them."
Recently, Brown & Root obtained a security license to provide that service, and has managed cafeterias. "We've got one job down in Mexico where we actually run a zoo for the plant," Dupuy says, "and we have a guy that feeds an alligator."
Dupuy says owners are attracted by the economy of scale afforded by the arrangement. "For example, if you have a company that's got 9,000 employees, you're able to buy insurance much cheaper," he says. "This brings our costs down."
PLANNING IS KEY
Erskine Frison, mechanical manager at ExxonMobil's Baton Rouge Complex, isn't concerned that a worker shortage might impact Ex­xonMobil's maintenance schedule. He says that manpower concerns can be virtually eliminated through better planning and execution. After all, ExxonMobil plans up to three years ahead of most of its turnarounds.
"We rarely have to adjust the schedule based upon workforce availability," Frison says. "That speaks to our long-range planning. If you get into a situation where you have to do that, your long-range planning broke down on you."

ExxonMobil engages contractors early in the process to discuss their capabilities and resources. "We work with all of them well in advance of downtimes to help them understand our requirements from a manpower perspective," he says. "We'll have contractors—who ultimately will be supporting a turnaround two years down the line—to work collaboratively with us during the planning stage." The life cycle between turnarounds can range from two to 15 years, depending upon the unit's wear patterns, severity of the operation and various time- and risk-based factors.
Once scheduled, the turnaround's scope and timeline are mapped out by a collaborative team from ExxonMobil's engineering, operations and maintenance departments.
From his days working at a Lake Charles area refinery, SLCUC's Logan learned that early preparation is essential to a successful maintenance project, particularly as it pertains to manpower needs. "We started early—18 to 24 months out—in discussing with people their availability and whether they would have the necessary workforce," Logan says. "A lot of times we would visit with two, three or four companies. We appreciated it when they were honest with us. They were the ones that were going to have to get the fitters, boilermakers and welders."
Early planning is particularly important, Logan adds, since the financial impact of downtime can be significant, depending upon the unit or area of the plant. "When a catcracker comes down, other units just automatically come down with it, which increases the scope of work," Logan says. "All plants are different from that standpoint in how they're put together, how they're piped up and how they're wired."
While large-scale, planned turnarounds have a direct impact on an owner's bottom line, the real danger—from a financial and manpower perspective—comes from unplanned maintenance activity. IIR's Salemme says scheduled maintenance turnarounds, industrywide, comprise just 25% of maintenance downtime. "In the real world, 75 percent of maintenance downtime is unplanned turnarounds, outages and shutdowns," he says, and is therefore impossible to predict.
"You can't forecast that," he adds. "There's no planning for an unplanned event. It's usually due to an explosion, tornado, hurricane, ice, or mechanical failure, so there's no way to know. They may have to call in 100 scaffold builders. This is where the problem lies."
In such a situation, certain crafts can be hard to come by. "That's been prevalent lately. With certain crafts, they're having problems because you need them now," he says. "The thing is, they're in demand, and they travel, so when you're trying to get local scaffold builders they're gone."
To take up the slack, some industrial owners will slow down capital work and "roll" workers from a capital project into a turnaround. "That's a challenge for the owners who are trying to execute short-term projects of 15, 30 or 60 days that need manpower quickly," Salemme says. "Every day of downtime can equate to a tremendous loss in revenue."
Frison says ExxonMobil balances its manpower needs by integrating the planning processes for both maintenance and capital projects. "They work in parallel with one another, but they are integrated," he notes. "When we get into a peak period when we have significant turnaround activity, we will plan our capital project workload so that we are managing the resource balance across our entire complex."
ExxonMobil currently has about 5,500 construction workers on site—a number it has maintained, on average, since 2012 due to scheduled maintenance activity. The refinery expects that to continue through 2017.
Unplanned maintenance is rarely an issue for ExxonMobil; Frison estimates as much as 95% of his plant's maintenance work is planned.
"We focus on being effective and efficient so that independent of the market we're going to be the most competitive player out there," he says. "When the market is good we're not going to overreact one way or another; the same goes for when the market is bad."
---
Originally published in the first quarter 2017 edition of 10/12 Industry Report.