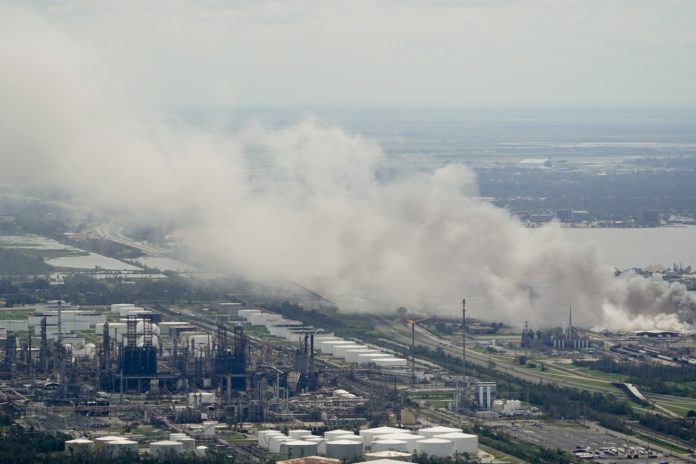 Editor's Note: This story has been updated since its original publication to reflect new information from SOWELA.
Even though the damage caused by Hurricane Laura was largely manageable in southwest Louisiana's industrial sector, normal operations probably won't resume there until mid to late October. That's because industrial plants require "dual source" power, which remains a distant dream for a majority of the region.
George Swift, president/CEO of the Southwest Louisiana Economic Development Alliance, says none of the plants can resume full operations without a dependable source of backup electricity. "If you start up one of these plants and then lose power you could have a catastrophic event," Swift says.
Fortunately, the industrial supply chain remains intact, and with the exception of a three-day fire at the BioLab chlorine plant in Westlake immediately after the hurricane, most of the damage at the area's 20 or so plants was confined to a few buildings and cooling towers.
The Port of Lake Charles had damage to some of its loaders "but they're now operational," Swift adds. "Everyone is working hard to start functioning again."
As for the Liquefied Natural Gas plants in Cameron Parish, "Cheniere LNG is back in operation, Cameron LNG in Hackberry is back in operation and Venture Global (currently under construction at the mouth of the Calcasieu River) had some damage but they're building again."
Area educational facilities, however, took a major hit. SOWELA Technical Community College, a vital local provider of industrial training, will require significant repairs before on-campus classes can resume. SOWELA's Arts and Humanities building, constructed in 2014, suffered the most damage after much of its roof was destroyed by 150-mph winds. Elsewhere on campus, the Nursing and Allied Health building sustained exterior damage, although it could be operational by year's end. Major repairs are underway at the Lake Charles campus, where several of the 13 buildings on campus sustained moderate to major roof and/or structural damage.
In a news release Sept. 15, SOWELA said it would resume classes online only on Friday, on Sept. 25 for students at its main campus in Lake Charles, and classes will resume on the same date in person and online at its Jennings and Oakdale campuses.
Swift says nearly all of the buildings at McNeese State University suffered damage, but that the university plans to resume virtual classes on Friday.
"Students who don't have access to the Internet will be able to use rooms here at the SEED (Southeast Louisiana Entrepreneurial and Economic Development) Center," Swift says. SWLA is also setting up a business recovery center at the SEED facility on Friday, where local businesses can receive assistance with SBA grants, the Louisiana Main Street Recovery grant and various other local programs.
"The SBA has disaster loans, the state has low-interest loans and grants, and we'll have people there who can offer advice and assistance," Swift says. "We are also asking our federal officials to pass Phase Four of the Cares Act so our businesses can get needed funds for survival."
Swift is optimistic that the region will rebound quickly. "Hundreds of volunteer groups have poured in to help in the short term and this is heartwarming and very much appreciated," he adds. "Our elected officials have done an excellent job in handling the emergency response."
Thousands of workers from Entergy and other power companies from numerous area states are working to restore power.