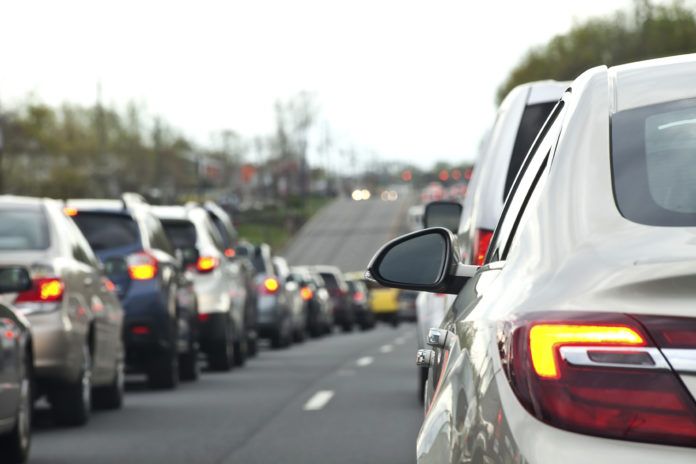 A collaborative effort among industry groups is tackling a big and seemingly eternal problem in the Baton Rouge metro area—heavy traffic congestion. Now a year old, Capital Region Industry for Sustainable Infrastructure, or CRISIS, has identified four major construction programs as the best long-term solutions, from a cost-benefit standpoint, for easing traffic flow and lowering the estimated $623 million lost annually in the area to wasted time, fuel and productivity.
Scott Kirkpatrick, executive director of CRISIS, and Jaime Setze, director of the Capital Region Planning Commission, presented their findings during the Greater Baton Rouge Industry Alliance's Contractor Safety Excellence Awards on March 15 at L'auberge Casino.
Initially, CRISIS invited elected officials and engineers from a five-parish region to participate in a roundtable discussion to identify long-term projects that would be "transformational" for the region. "We got a list of 30 to 40 projects," Kirkpatrick says. "We narrowed it down to 19, then took those projects and performed a cost-benefit analysis."
The analysis found that the most cost-efficient projects either enhance Mississippi River crossings in the area or improve commuting times to Ascension Parish. More specifically, the group proposed a new Mississippi River bridge south of Baton Rouge at a cost of up to $1.6 billion; the widening of I-10 through Baton Rouge for $350 million; enhancements to I-10 or Airline Highway along the Ascension commuter route for up to $180 million; and construction of a north bypass or inner loop (via the Baton Rouge Urban Renewal and Mobility Plan) to channel through traffic to the U.S. 190 bridge for up to $780 million.
Key metrics in the analysis included a project's projected reduction impact in regional Vehicle Hours of Travel (VHT), along with "best available" cost estimates done in conjunction with DOTD, to derive ratios of " congestion relief for the cost" for comparison. Projects were also compared based upon groupings among four different categories, such as whether they were a new Mississippi River crossing, large regional project, small regional project, or addressed the region's "urban core."
"A big part of this endeavor is taking these plans and turning them into reality, so we're actively engaged at the Legislature and local level, talking about innovative funding opportunities and how we can use revenues in the best manner," Kirkpatrick says. CRISIS has suggested that tolls could be used to pay for a portion of project costs.
Kirkpatrick doesn't think the state's current budget woes will be a hindrance to getting state support. Still, he concedes that little can be done without legislative backing. "We want the Legislature to advance these projects through the process, and obviously the revenue is a key factor in determining what we can do and when we can do it," he adds.
Not simply focusing on long-term answers, CRISIS is working with CRPC to develop a compelling plan that also incorporates short- and mid-term solutions. CRPC's Setze says his group will incorporate the CRISIS findings into a comprehensive regional plan. "We want an all-encompassing plan that's multimodal and speaks to short-, medium- and long-term needs," Setze adds. "Projects within the plan will span anywhere from five to 25 years out." He says the plan will be finalized by July 2017, when it will be vetted by the public.
Before CRISIS, industry leaders were making minimal headway in advancing solutions for ongoing traffic woes. "The Baton Rouge Area Chamber, GBRIA, and the Center for Planning and Excellence were all pursuing separate transportation initiatives," Kirkpatrick says.
Ultimately, the founding members of CRISIS hope to use the projects as a catalyst for economic stimulus. For years, industrial owners along the river corridor have cited traffic congestion as a barrier to workforce recruitment and economic expansion.
The complete report on the CRISIS analysis can be viewed at trafficcrisis.com.
---
Originally published in the second quarter 2016 edition of 10/12 Industry Report.