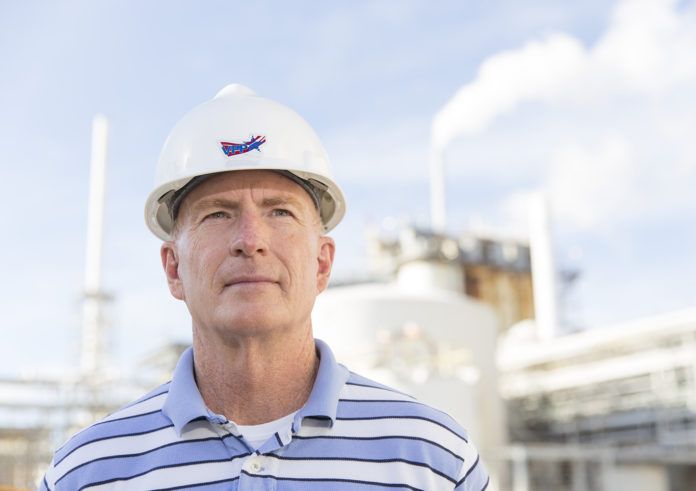 ---
Name: David Rentrop
Position: Operations Director
Company: W.R. Grace, Lake Charles Plant
Age: 60
Hometown: Lake Charles
Education: B.S., Chemical Engineering, Louisiana Tech University
Where did your career start, and how did you get to where you are today?
Following graduation from Louisiana Tech in 1978, I worked as a process engineer at what was then the Citgo polyethylene plant. In 1982, Citgo discontinued all chemical operations. On April 1, 1982, I started working at Grace as a process engineer. Over the next 34 years, I had the opportunity to learn about plant operations, leading up to plant management starting in 2005. I've been very fortunate at Grace. I've always been surrounded by a very talented and dedicated team.
What are your responsibilities at W.R. Grace?
It starts with environment, health and safety. Once the culture of any organization embraces EHS as a value as opposed to a priority—priorities may change, but values do not—results are sustainable.
Another key responsibility is building a highly talented group that thrives in a team environment. Ultimately, this will drive the performance that delivers on manufacturing KPIs: EHS, quality, production, reliability and financial.
What are some of the biggest challenges that come with working in your industry?
The challenges change over time. At this point in time, the industrial expansion in Louisiana is unprecedented. In southwest Louisiana alone, the investment for projects exceeds $100 billion, which strains the talent pool of operators and journeymen craftsmen.
The tax structure in the state seems to be in flux. Collectively, we need to determine affordable spend levels by government so that business growth continues at a healthy pace.
What do you see for the future of your industry?
The next three to five years will be highly competitive. At the plant level, this will translate into increased focus on the metrics that drive operational excellence. As important as process control technology has been, I think it will become even more critical to help drive optimization of processes.
What are your next goals both professionally and personally?
I'm retiring in the first quarter of 2017. My professional goal is to execute a smooth transition with my successor. That process started at the beginning of this year. My personal goals are to continue exercising daily, wake surf more (which means I need my wife to agree to drive the boat) and spend more time with family.
What is your most satisfying professional accomplishment?
Building the current leadership team at the site stands out to me. I would also include being part of the team that achieved OSHA Star status in 2005.
What is your favorite way to spend your time?
I ride a spinning bike six days a week and work out three times a week. I do this in an attempt to keep up with younger friends and family when we wake surf. Wake surfing is my passion.
What is an item on your "bucket list"?
My wife Emily and I want to visit 10 national parks in 10 years. We went to Yellowstone and Grand Tetons this year and will visit Glacier in 2017. I'd like to watch the San Francisco Giants play in eight cities and meet Willie Mays.
What is your go-to spot?
We wake surf on the Calcasieu River, but I've always considered the beaches of 30A (between Destin and Panama City) our go-to spot.
---
Originally published in the fourth quarter 2016 edition of 10/12 Industry Report.