The industrial market is changing, and some Louisianans are finding opportunities in that change. Economic volatility, environmental mandates, geopolitics and a variety of other factors are prompting them—and the companies that serve them—to innovate and adapt in order to survive.
But while innovation is necessary for long-term growth, taking it from conception to reality remains a stumbling block for many industrial owners. They're simply unwilling to take the financial risk, despite any potential market share that might be gained. 
For their part, state and federal entities have tried to spur things along. The U.S. Economic Development Administration's $1 billion Build Back Better Challenge recently sought to promote "next generation" manufacturing, biotechnology and clean energy, and with some local success. 
GNO Inc. and a consortium of academic and other entities landed $50 million of it to create a roadmap for decarbonizing Louisiana's manufacturing sector. Additionally, the Port of South Louisiana is developing e-methanol bunkering, and other state ports are enhancing their cybersecurity with federal money.
For those companies along the 10/12 corridor who take the leap into innovation, their reasons are as varied as the products they produce and services that they offer. They're investing in greener ways to manufacture their products, incorporating data analytics and AI into their processes, and incorporating the use of alternative fuels, along with other initiatives. Ultimately, they all share a common thread: a culture of change and resiliency. 
In the following pages, 10/12 Industry Report highlights a few of these game changers who are seeking to transform the rules, and by doing so hope to gain a competitive advantage. 
MARITIME PARTNERS LLC, Metairie
THE INNOVATION: Hydrogen-Fueled Towboat
Maritime Partners saw an opportunity in 2018. An impending federal mandate requiring that all inland towboats be inspected annually by the U.S. Coast Guard—via the new Subchapter M requirement—meant that many of the nation's aging inland vessels wouldn't pass inspection.

That prompted the Metairie-based company to initiate a $500 million construction program in 2018 to build 158 new vessels across nine shipyards—its largest-ever investment. The eight-year-old company already owns some 1,600 tugboats and barges that it leases to operators up and down the Mississippi River and the length of the Intracoastal Waterway. 
At the same time, founders Bick Brooks and Austin Sperry saw a chance to break new ground in the alternative fuels space, since marine transportation companies were actively exploring a range of greener power and propulsion solutions to help reduce vessel emissions. "They are true believers in the energy transition," says Beau Berthelot, vice president of business development for Maritime Partners, "and they were actively looking at the viability of a variety of alternative fuels."
Maritime considered three primary criteria when evaluating these "future fuel" options: significant emissions benefits, cost competitiveness and strong performance. The end of their journey will come in 2023 with the launch of a new, more environmentally friendly towboat: Hydrogen One. The vessel will be the first of its kind to run on emissions-reducing methanol-to-hydrogen generator technology. While hydrogen requires too much space as a fuel on its own, the technology enables ship operators to transport methanol, then convert it to hydrogen within a generator.

Designed by Seattle-based Elliott Bay Design Group, the towboat is currently being constructed at Intracoastal Iron Works in Bourg, Louisiana. Other key partners include technology providers e1 Marine in Bend, Oregon, and multinational engineering firm ABB. Once completed, the vessel will be operated by American Commercial Barge Line of Jeffersonville, Indiana. 
"Essentially, a mix of methanol and deionized water will go into the reformer, which will in turn extract the hydrogen and send it to the fuel cell," Berthelot says. "A chemical reaction will then generate electricity that will either be stored in a battery or used to turn propellers." The technology comes with some obvious environmental benefits. Methanol has no diesel particulate matter, and since there's no internal combustion, the process doesn't produce nitrous oxide. 
Another advantage: Methanol can be stored much like a conventional fuel because it is stable at normal atmospheric pressures and temperatures. While pure hydrogen can be difficult to carry in the quantities necessary, methanol is readily available and routinely carried on U.S. inland waterways; therefore, it can be bunkered from a truck or terminal through a hose, and doesn't require any special permitting, unlike hydrogen, ammonia, or other alternative fuels. 
Maritime Partners feels Hydrogen One will be a game changer, and it couldn't come at a better time. The Port of South Louisiana and Port NOLA are both actively pursuing the development of alternative fuel bunkering stations.
CF INDUSTRIES, Donaldsonville
THE INNOVATION: Green Ammonia Technology
Over the last year, CF Industries has unveiled a cadre of carbon-reducing projects at its Donaldsonville plant. The investments should put a serious dent in its industrial carbon emissions and go a long way toward meeting corporate goals of reducing emissions by 25 percent in 2030 and achieving net-zero by 2050.

It's a bold but necessary move by the facility, which is currently one the largest ammonia manufacturing complexes in the world. The production of ammonia can produce significant quantities of CO2. 
The first project out of the gate, to be completed in 2023, will become the first commercial-scale green ammonia production facility in North America. Once operational, a 20MW alkaline water electrolysis plant will produce green hydrogen that will be integrated into the plant's existing ammonia synthesis loop. It will produce some 20,000 tons of green ammonia a year.
Another $198.5 million is being spent to construct a CO2 compression and dehydration unit at the plant that could potentially sequester about 2 million tons a year and enable the production of more than 1 million tons of low-carbon blue ammonia annually. "It will give us an opportunity to evaluate this technology and determine its scalability as we move forward," says Morris Johnson, general manager at the Donaldsonville plant. 

But the biggest splash came in August when CF Industries announced a proposed $2 billion greenfield blue ammonia production facility, also to be built in Ascension Parish. The export-oriented project would be developed jointly by CF Industries and Mitsui & Co. Ltd. of Japan. By employing carbon capture and sequestration, the ammonia production process within the new facility would result in significantly lower carbon emissions than conventional ammonia processes, qualifying it as a "blue" process. 
"This new greenfield ammonia capacity would leverage carbon capture and sequestration similar to what we'll be doing in our existing plant," Johnson says. "We're expecting an FID (final investment decision) in 2023, with construction to be completed in 2027."
Johnson is excited about the future potential of the ammonia market. Energy-intensive industries such as marine shipping and power generation are looking to ammonia as a potential source for clean energy because of its hydrogen content. The maritime industry, in fact, has established some rather aggressive goals for reducing emissions. 
"Ammonia is one part nitrogen and three parts hydrogen, so it's a very efficient way to transport hydrogen," Johnson says. "Hydrogen itself must be stored at much lower temperatures, so ammonia could be used to transport it, then could be disassociated on the receiving end. It could also be used as a fuel itself.
"Being the world's largest producer of ammonia, we intend to be at the forefront of that demand," Johnson says.
Additionally, hydrogen will need to meet 20 percent of the world's energy needs by 2050; it's currently supplying less than 1 percent. "The scale of the need is daunting," Johnson says, "but being the largest producer of ammonia and hydrogen, we feel like we have the expertise, logistics, experience and scale to be the logical leader in this space."
SASOL, Lake Charles
THE INNOVATION: Using AI Technology to Detect Inefficiencies
Andre Bonton, Sasol's vice president of technical services, is excited about the potential of AI and advanced analytics at the company's Lake Charles Chemical Complex. For the first time in the chemical space, Sasol will be deploying AI-driven technology in its ethylene unit to detect inefficiencies and help map out a game plan for reducing emissions.

Theycompay plans to use the resulting algorithms to measure and monitor existing data sources, then identify opportunities to reduce CO2 emissions and improve energy efficiency. Sasol chose "emissions.AI," a program produced by UK-based data analytics experts OPEX, to perform the work, marking the first time the company has used the technology outside of an oil and gas facility.  
Bonton has prior experience with the analytics side of the business and recognized the potential of AI at his plant. 

"While OPEX had more exposure in the oil and gas space and had yet to apply the technology in the chemical space, I felt that we could make it work," he adds. "It was clear that they could use the information we have here at our site to run the necessary algorithms, advanced analytics and AI to find out if there were opportunities for us to operate more efficiently and reduce our carbon footprint."
Upon completion of the process, Sasol plans to make tangible decisions that will improve its overall CO2 emissions—whether through operational changes or equipment modifications—in line with plans to reduce greenhouse gas emissions by 30 percent, globally, by 2030. 
It's currently in the early stages of the process, which will likely be expanded to other units following the pilot program. "There isn't a lot of prep work required, since much of the data was already available," he adds. "It's just matter of retrieving the right data, running an analysis, and providing feedback. Our folks on the ground will work with them, hand-in-hand, and once we have tangible information we'll make concrete decisions on actions that need to take place."
The initial pilot project will be conducted within the plant's ethylene unit, which is a recognized source of carbon emissions. Additionally, Sasol will deploy two of its technology engineers in the unit to facilitate the day-to-day process, and a senior manager will act as the liaison with OPEX.

Sasol will provide the data in a secured platform, then OPEX will in turn perform the analysis, using their proprietary technology to identify inefficiencies and create a plan for improving their overall emissions profile. 
"In our discussions with OPEX, we began with the end in mind so that they understood what we wanted to get out of it," Bonton says. "I don't want to overpromise, but I think it's a good opportunity to use innovation to identify ways that we can start making improvements. 
"What excited me most about AI is that we're learning from our past, and the fact that we can learn from what we've already done. It affords us an opportunity to really capture the essence of what we've done and make improvements to the way we do things in the future. Above all else, we want to start moving the needle toward our emissions reduction goals."
CGI TECHNOLOGIES & SOLUTIONS, Lafayette
THE INNOVATION: Unique P3 Partnership in the IT Space
Since 2014, CGI Technologies & Solutions' research and technology innovations lab in Lafayette has advanced cutting-edge IT technologies such as cybersecurity, data analytics and visualization to enable digital transformations for its clients. 
That's of particular interest to oil, gas and petrochemical owners, as the industry increasingly moves toward smarter, more data-driven decision making. As a corporation, CGI has developed strong relationships with industry as it provides U.S. producers with innovative and flexible solutions for making cost-effective business decisions. 
CGI also supports many of the oil and gas "majors" with cybersecurity development and implementation, as well as performs incident response exercises.

"We also do work in the government space that could ultimately streamline the permitting process," says Wil LaBar, who leads the Montreal-based company's program strategy from his office in Lafayette. "For example, we're working with the Department of the Interior as they look at their data sources around land rights and grants in order to modernize data exchange processes across different parts of the agency." 
CGI came to Lafayette as part of a unique public-private partnership  with Louisiana Economic Development, Lafayette Economic Development and the University of Louisiana at Lafayette. The goal: Curtail the outmigration of the university's graduates.
For its part, CGI committed to hiring 400 employees within four years. Today, that number has grown to more than 700, with plans to add another 100 at CGI's Onshore IT Center in ULL's Research Park. "There were a lot of graduating students who couldn't find employment in the tech sector, despite ULL having one of the finest computer science programs in the country," LaBar says. "A lot of them were leaving the state."

Today, many of CGI's new hires are ULL students with undergraduate or graduate degrees, while others come from nontraditional backgrounds. "In August, we completed the first-ever software development apprenticeship program in the state's history," he adds. "The apprentices come from nontraditional backgrounds and receive external training through a nonprofit partner. For 12 months, they go through on-the-job training and learn the trade of becoming a software developer."
To spur further development, the state awarded $4.5 million to ULL to triple the number of computer science graduates. It ultimately led to a new Informatics concentration, which CGI helped create. "We've been in the classroom with them over the last eight years," LaBar says. "Last year, we mentored more than 40 students through the program. In the process, we're giving them real-world problems, they're using technology that our customers and our team use, and they build a product at the end of the semester."
CGI and its employees are also strong promoters of STEM fields in the Lafayette area. Last summer, CGI volunteers sponsored a one-day STEM camp in partnership with LAGCOE. "Through our 'STEM@CGI' program, we have interacted with numerous schools in the region," LeBar says. "We're introducing and inspiring students who are typically underrepresented. That's important to oil and gas because all of these skillsets are needed."
ORIGIN MATERIALS, Geismar
THE INNOVATION: Carbon-Negative Production of PET
Origin Materials' new $750 million "Origin 2" biomass manufacturing facility in Ascension Parish will go beyond mere carbon neutrality. In fact, the owners expect the plant to be carbon-negative once operational in mid-2025.

To make that happen, they'll utilize sustainable wood residue to produce plant-based polyethylene terephthalate (PET), which will then be used in the manufacture of packaging, textiles, apparel and other applications. Hydrothermal carbon, which can be used in fuel pellets, also will be produced at the site. 
The plant's completion will mark the culmination of a multiyear journey that began when co-founders John Bissel and Ryan Smith were chemical engineering students at UC-Davis in 2008. That's when they won the EPA's People, Property and the Planet (P3) design competition for their proposed technology. Using the $75,000 in award money, they launched the company later that year. Success, however, would not come until several years later, and only after they had honed their business acumen and found the necessary capital to meet their objectives.  
Bissel admits to being profoundly naïve in the early days of his company. If investors don't understand the industry they're not going to invest," he adds. "We eventually found the right people who understood the problem we were solving, understand the technology and the mission. Over time, we were able to find patient, thoughtful investors and that helped us to become successful."

While Origin's technology has dramatically changed in the last 14 years, the mission is the same. The company researched other technologies and ultimately selected one "that we thought had legs and met the same objectives." From there, they adapted the technology to meet their needs, then developed a strong in-house technology development group comprised of former engineers from ExxonMobil, Phillip 66, Dow and Dupont. 
"We have one of the best research and development facilities in the chemicals industry," he adds. "Over time, we've refined our view of what makes technology successful in this industry and what doesn't. You tend to learn things more deeply when you're an entrepreneur."
When scouting a location for the plant, Bissel was immediately attracted to the existing industrial infrastructure already in place in Louisiana. "The easiest place for us to locate is at the intersection of forest products and chemical world," he says. "We use feed stock form the forest products industry, but the rest of our infrastructure looks much like the chemical industry. Having access to an ethylene and hydrogen pipeline and relatively short distances form sawmills and pulp mills … that was the Goldilocks spot."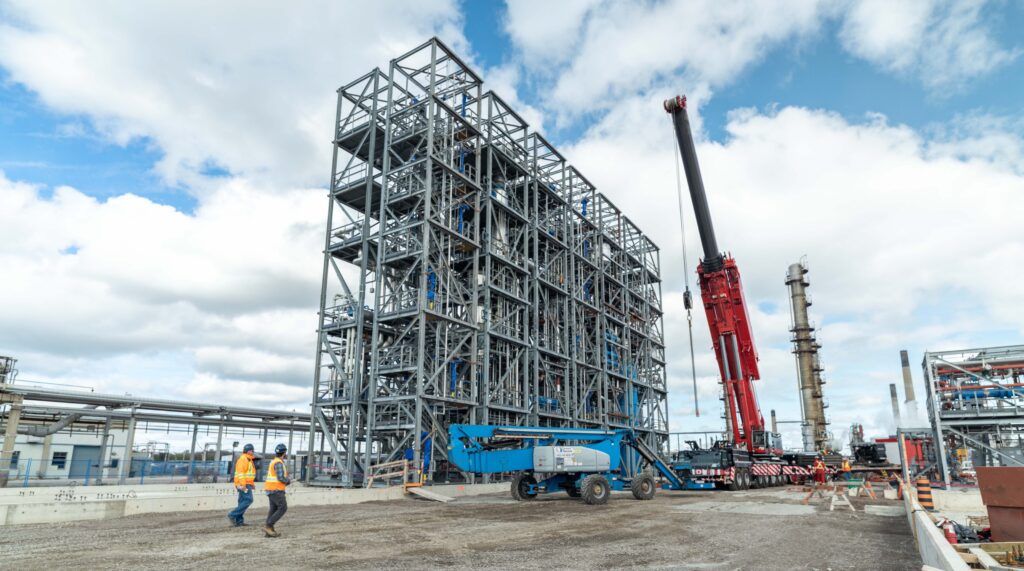 The customers, as well as the necessary skilled labor force, were needed nearby as well. "When you're a company of 250 people and you need to train up to 200 people to work at a site, that's a big undertaking. So having a lot of people in the area that are already highly skilled is important. The corridor between Baton Rouge and New Orleans is one of the most highly skilled corridors on the planet—from an operating and construction perspective."
Made with renewable feedstocks from Louisiana timber mills and forests, Origin's patented technology platform is designed to reduce the carbon emitted during the production of widely used products ranging from food and beverage containers to parts for the automotive industry. The plant will be located on an LED Certified Site—the 150-acre Parks Geismar site in Ascension Parish—signifying that it has been deemed development-ready after an extensive review. 
The company expects construction to begin in mid-2023 and for the plant to be mechanically completed and operational by mid-2025.
Origin has partnered with leading consumer brands including Danone, Nestlé Waters and PepsiCo in its creation of recyclable, plant-based PET plastic consumer products, as well as Ford Motor Co. and global chemical companies. This largest-of-its-kind Geismar-based facility will join the company's network of locations, including its West Sacramento-based pilot facility and its Ontario, Canada-based production site, which is currently under construction. 
"The demand for 'net zero'-enabling materials is extremely strong, and we believe this plant will be instrumental in addressing demand for our products in the U.S. and internationally," Bissell says.