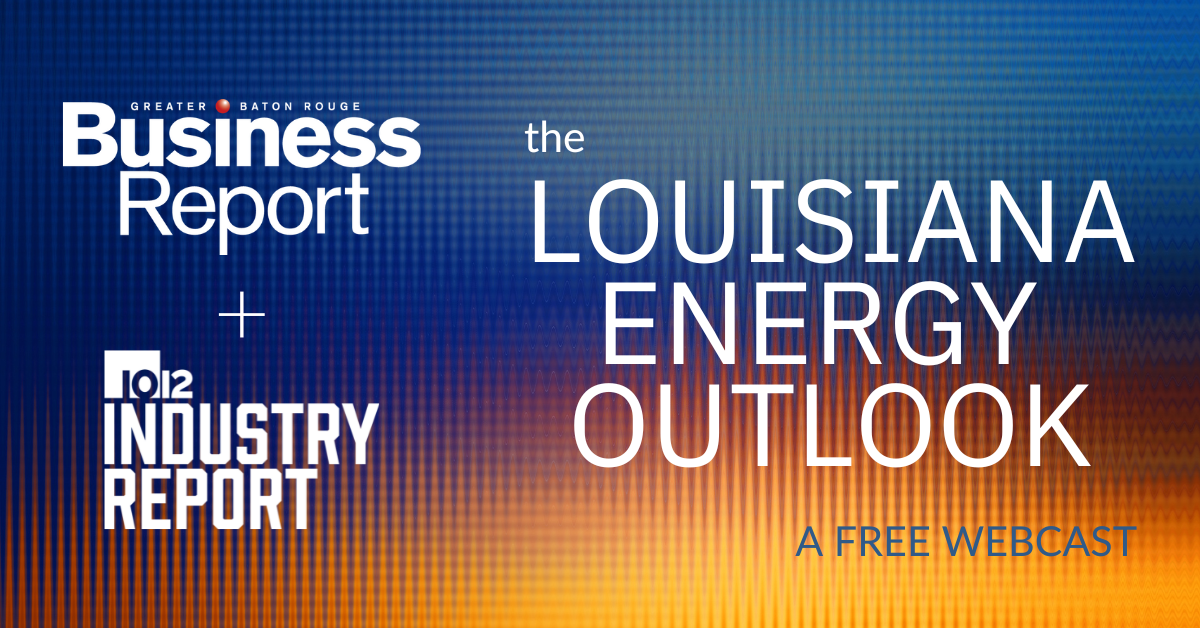 Louisiana's energy industry is in the midst of a fundamental transformation.
The Louisiana Energy Outlook, presented by 10/12 Industry Report and Baton Rouge Business Report, will explore emerging trends for 2023: Energy transformation, oil and gas production, mergers and acquisitions, oilfield service diversification, innovation and digitalization, workforce challenges and more.
Panelists for the free webcast include ExxonMobil Baton Rouge Refinery Manager Dave Oldreive; Amy Chronis, U.S. Energy & Chemicals Leader and Houston Managing Partner for Deloitte LLP; and Louisiana energy consultant David Dismukes, former executive director of the LSU Center for Energy Studies. The virtual event is scheduled for 11 a.m. March 27. Register here.
The virtual event is sponsored by Alliance Safety Council and Bradley Murchison.
Meet the panel

Dave Oldreive
ExxonMobil Baton Rouge Refinery Manager
Dave Oldreive is ExxonMobil's Baton Rouge Refinery Manager, An energy industry veteran of nearly three decades, he joined ExxonMobil Asia Pacific Pte. Ltd as the business team manager for the Pulau Ayer Chawan (PAC) Refinery in Singapore. In August 2013, the mechanical engineer by training relocated to California as Technical Manager at the Torrance Refinery.  In September 2014, Dave returned to Strathcona Refinery as the Operations Manager and became the Refinery Manager in 2016, a position he held until February 2021, when he began his current assignment. He serves on the Baton Rouge Chamber Board of Directors and the Louisiana Mid-Continent Oil and Gas Association Board of Directors. He also leads the North Baton Rouge Industrial Training Initiative Advisory Group and is a member of the SafeBR coalition.

Amy Chronis
U.S. Energy & Chemicals Leader and Houston Managing Partner, Deloitte LLP
Amy Chronis is Vice Chair and U.S. Energy & Chemicals Leader and the Managing Partner for Deloitte's Houston practice. She has more than 30 years of experience serving public and private enterprises from emerging businesses to Fortune 500 companies, with a focus on the energy, chemicals, technology, and manufacturing industries. Amy served as Deloitte's US lead relationship partner for one of the world's largest integrated oil and gas companies, as well as other Houston enterprises. In addition to her Houston practice leadership role, she is the US lead relationship partner for several international Energy & Chemicals companies. She has named to the Houston Business Journal's Women Who Mean Business list, is an inductee to the Greater Houston Women's Chamber of Commerce Hall of Fame, recipient of the 2020 HBJ Most Admired CEO award, one of HART Energy's 25 Most Influential Women in Energy in 2022, and named as 2022 Humanitarian of the Year by the Latino Learning Center.

David Dismukes
Louisiana Energy Consultant
David Dismukes is an expert in the analysis of economic, statistical, and public policy issues in energy and regulated industries. He served as the executive director and professor at the LSU Center for Energy Studies through 2022, and was a professor in the Department of Environmental Sciences in the LSU College of the Coast & Environment. Over the past 34 years, he has participated in over 300 regulatory proceedings in 27 states and has prepared expert witness testimony, reports, and affidavits. He has testified before the Federal Energy Regulatory Commission, both houses of the U.S. Congress and various state legislatures. He has led a number of research efforts on topics associated with many aspects of the energy industry, including offshore and onshore oil and gas E&P activities; the restructuring of natural gas and electric power markets; economic and policy issues related to renewable energy generation and market design; the regulation and performance of electric and natural gas utilities, and the economic impacts of energy industry infrastructure development along the Gulf Coast.