R&H Quality Refractory Services is based in Westlake in southwest Louisiana, which is in the midst of a major industrial construction boom that one might think would be a huge boon to the company's bottom line. But owner Mark Hanudel says it hasn't worked out that way.
"Unfortunately, a lot of the new work is being done by out-of-state contractors," he says. "We do maintenance, but we haven't done very much new construction here. It's been disappointing."
Fortunately, R&H doesn't rely solely on local work. Thanks to a recent referral, the company was able to solve a technical problem for a new customer in Texas.
"We've done a few jobs over there now, and they've worked out well for us," Hanudel says. "We're not doing much new construction work in Lake Charles. We're doing new construction work in Texas, which is kind of ironic."
About 20% of R&H's business in 2018 was being done outside the state, he says. The company wasn't doing as much out-of-state work the previous year, but it has a long history of venturing outside Louisiana to states such as Texas, Colorado, and Illinois. R&H has even done consulting in Great Britain and South Africa.
The company often sends Louisiana-based contract workers to their out-of-state projects. That helps R&H keep them working, building long-term relationships that boost productivity and help the company win numerous safety and quality awards, Hanudel says. And those workers return to Louisiana to spend their paychecks.
South Louisiana has many industrial companies that do significant amounts of work outside the state. That's good news for them, as it helps them grow their revenue and diversify their customer base. It also bodes well for the region's economy, as long as the companies are seeking that work because they want to, not because they have to.
Chasing Texas
In a given year, The Newtron Group generally does between 25% and 50% of its work outside the state, says John Schempf, the company's president. While its headquarters is in Baton Rouge, Newtron also has offices in Texas and California.
Geographic diversity helps the Newtron companies ride out the ups and downs of any particular market. When one is down, another might be up.
As a national contractor, Newtron sends workers all over the country, which has provided opportunities for many of them to grow their careers as the company grows. And Newtron manages and supports its far-flung operations from Baton Rouge.
"Even though we've expanded our footprint into other states, the vast majority of our employees are based here in Louisiana," Schempf says. "We employ a lot of high-wage earners here in Louisiana."
Among other business lines, Lafayette-based Dupré Logistics provides transport for the midstream energy and chemical sectors. Of the revenue derived from those sectors, about 40% is earned outside Louisiana, and that proportion is growing, says Dale Owens, who directs operations for Dupré's dedicated division.
"I wouldn't be surprised if that number gets closer to 50-50 over the next year or two," he says.
Dupré does almost all of its crude oil transport business in Texas, serving the state's shale plays. When the price of oil dipped below $60 a barrel, that work slowed dramatically. It's starting to pick up again, Owens says, although companies are still cautious about new capital investments.
When asked to compare Louisiana's business climate to other states his company works in, Owens says the environment here is "really strong." But as a trucking company, Dupré would certainly like to see the local transportation infrastructure improved, he says.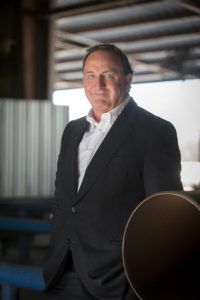 Baton Rouge-based Excel, an industrial construction firm, was doing about 80% of its work in Louisiana and about 20% outside the state 15 or 20 years ago, says CEO David Roberts. These days, those proportions are reversed.
"When one market is down a little bit, another market might be up a little bit," he says. "Diversity is very good for my company."
Most of the company's growth for the past several years has been serving the chemical industry, though oil refineries are starting to spend money for the first time in a while. Excel is working on a project in New Mexico, the entire Gulf coast is "pretty active," and the company has an operation in the Caribbean, Roberts says.
And of course, Texas is huge, often attracting projects that might otherwise have gone to Louisiana. From education to infrastructure to business climate, it's hard for Louisiana to compete with its western neighbor, Roberts says. "Texas beats [Louisiana] hands-down every time," he says.
Baton Rouge's ISC, an industrial electrical, instrumentation, and controls company, does about 30% of its work out of state, says Kyle Zeringue, the company's vice president.
"That number continues to grow," he says. "We've done work all over the country, and there are opportunities to do other kinds of work throughout the country, but I think by far we're seeing the most volume in Texas."
Zeringue also sees growth potential in Louisiana. But he says a number of big projects that might have been built here have either been put on hold or built in Texas instead, thanks to uncertainty created by recent changes in Louisiana's industrial tax exemption program, commonly known as ITEP.
Addressing uncertainty
The Capital Region's industrial construction companies are some of the best in the world and are in high demand nationwide, which is a benefit for south Louisiana's economy, says Baton Rouge Area Chamber CEO Adam Knapp. When a local company does business outside the region or state, they bring new wealth home, he says.
But ideally, officials would like companies to also have lots of work close to home. David Helveston, CEO of Associated Builders and Contractors-Pelican Chapter, says he has been frustrated to see so many member companies chasing work in Texas where the business climate is more conducive to growth. Since Gov. John Bel Edwards changed the ITEP program in 2016, allowing local taxing authorities a say in whether the benefit will be awarded, "we have seen that pipeline of potential projects has really dried up."
But Louisiana Economic Development Secretary Don Pierson finds Helveston's suggestion "baffling," pointing to a $9.4 billion Formosa plant announced for St. James Parish and the ongoing industrial expansion in the Lake Charles area as examples.
"We're in this extraordinary period of capital investment throughout much of south Louisiana," Pierson says. "We think there's a robust pipeline of work."