---
Just off the Zachary Taylor Parkway in Greensburg, sitting on 60 acres amidst the gentle hills, pasture land and piney forests of rural St. Helena Parish, you'll find one of the region's fastest growing and most successful businesses.
From its 300,000-square-foot facility, Southland Steel Fabricators, a family-owned and -operated industrial steel fabrication company, serves the refining, power and chemical markets, among others, along the Gulf Coast, throughout the United States and, on occasion, overseas.
Established in 1986 by Joseph Lombardo, who had worked in the steel industry for many years, Southland Steel offers a full spectrum of products and services related to the steel fabrication industry, from 3-D modeling to steel fabrication to fireproofing. The company combines top-of-the-line CNC equipment, a dedication to customer service, and an outstanding record for quality and safety.
FROM SWEEPING TO LEADING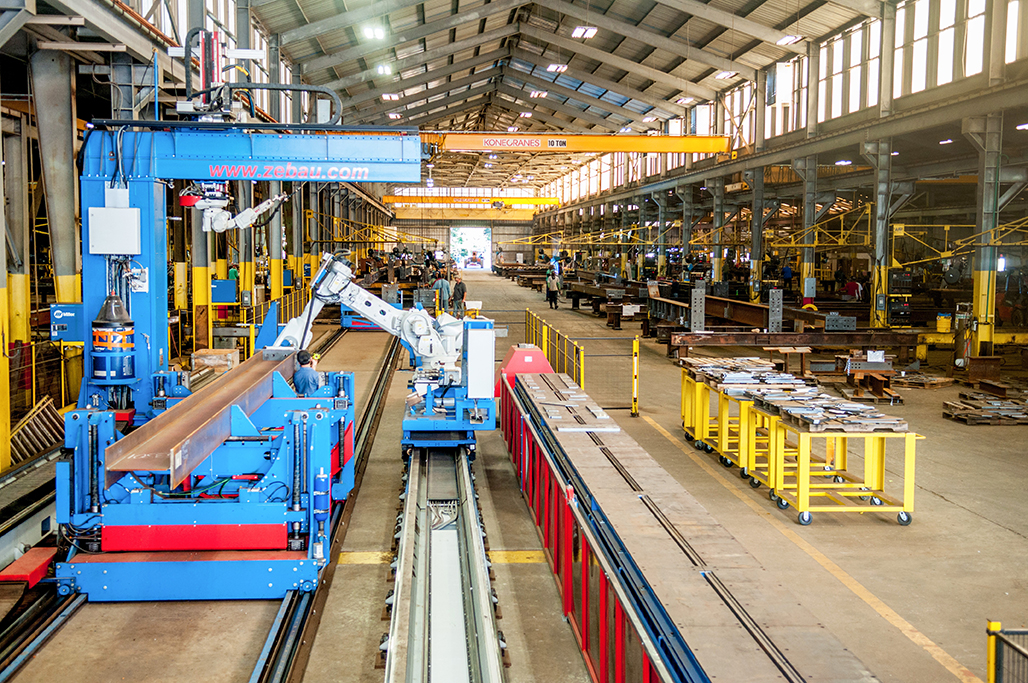 From the beginning, Southland Steel has been a family affair. When he was 14 years old, Joey Lombardo started working summers for the company his father founded. After finishing high school, he took on a project management role. He moved up the managerial ladder, serving as general manager and vice president before taking over as president of Southland Steel about three years ago. Lombardo also bought out his father's ownership of the company.
"I grew up in the shop," Lombardo says. "My first job was sweeping the floor. That gave me a good perspective."
Under the younger Lombardo's leadership, Southland Steel has experienced tremendous growth. In 2000, Southland Steel had annual revenue of about $3 million to $5 million. In the last three years, the company's annual revenue has increased to around $50 million to $55 million. With a staff of 225 people, Southland Steel is the largest private-sector employer in St. Helena Parish.
"Our growth has been steady," Lombardo says. "We do more in a month now than we used to do in a year."
Some of Southland's recent projects include a $29 million, 10,152-ton project for phases 1 and 2 of Sasol's new North American chemicals complex in Westlake; a $42.8 million, 12,738-ton project for an OL3 expansion for Formosa Plastics in Baton Rouge; and a $21.2 million, 4,488-ton Freeport LNG project for CB&I.
Southland's growth can be attributed, in part, to the multitude of in-house services the company offers, including detailing using Design Data SDS/2 3-D modeling software, connection design with PE Stamp, and a complex coating facility with cryogenic, intumescent and cementitious fireproofing certifications.
In fact, Southland is the only steel fabricator in the United States certified to apply fireproofing in-house. About 40 of the company's employees work solely on these complex coatings, which are applied in a 20,000-square-foot, climate-controlled facility. This enables Southland to reduce costs and consolidate a project's supply chain, greatly benefiting its customers.
"What's unique about Southland is we do fireproofing in-house," Lombardo emphasizes. "We were having to sub that work out, but three or four years ago, we decided it was something we could try to do. We had to commit to it and get people certified, but we saw it as an advantage. It's worked out well, and now we've grown it into a sizeable part of our business."
TECHNOLOGY AND LEADERSHIP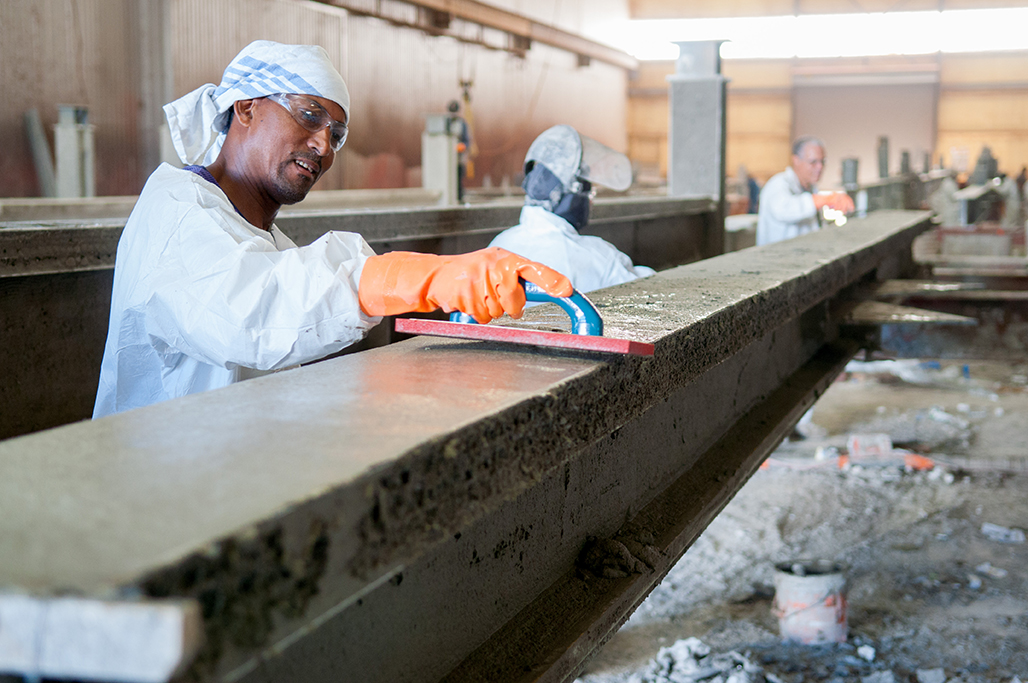 As with most industries, technology has greatly changed how the steel industry operates, and Southland has been progressive at incorporating technology into its fabrication operations.
For example, Southland partnered with Austrian-based company Zeman to build the first robotic assembly system in the United States designed particularly for the structural steel industry. The system, which became operational in fall 2016, already has improved worker safety, enhanced fabrication quality and increased Southland's production capacity—without replacing any employees.
Southland also is collaborating on building the first robotic part-sorting system in the world designed for the structural steel fabrication industry. With the use of RFID technology, Southland is creating a smart factory, in which every detail of a part's status is tracked in real time.
"Things have changed quite a bit for us. When I first took over, our machines were not automated and robotics were not even thought of," Lombardo says. "The hydraulic punch was an awesome thing, but automatic material handling was more common in Europe. Now, we load material on one of the largest automated lines."
Southland is quality-certified by the American Institute of Steel Construction (AISC) for fabrication, as well as the American Welding Society (AWS) and the Canadian Welding Bureau (CWB). The company's fabrication capacity exceeds 30,000 tons annually.
"They are one of the faster growing companies in the region in the past few years," says Adam Knapp, president and CEO of the Baton Rouge Area Chamber. "That's in large part because of the leadership at the company. Joey has had quite an impressive track record since he took it on."
According to Knapp, the market in which Southland does business has also contributed to the company's growth. "They have an ability to access clients that are part of manufacturing along the Gulf Coast, and Southland's leadership has been smart about taking advantage of that opportunity."
Not every endeavor has worked out for Southland, however.
"During the 2010-2011 downturn in our industry, we ventured into commercial work more than we had in the past," Lombardo says. "That was a mistake. I learned that commercial work is not my forte. It's not our niche. We're more about relationships."
Indeed, Lombardo says the relationships Southland has with its employees, its customers and its community tie directly to the philosophy of hard work and ethical business practices on which his father founded the company and distinguish Southland from the competition.
"We've grown a lot more than other fabricators in our area. We're still a family-owned business, while a lot of our competition has been swallowed up by investment companies," he says. "We've got a bunch of good people who work for us, and we hire great people. I'm most proud of that."
HANDS-ON APPROACH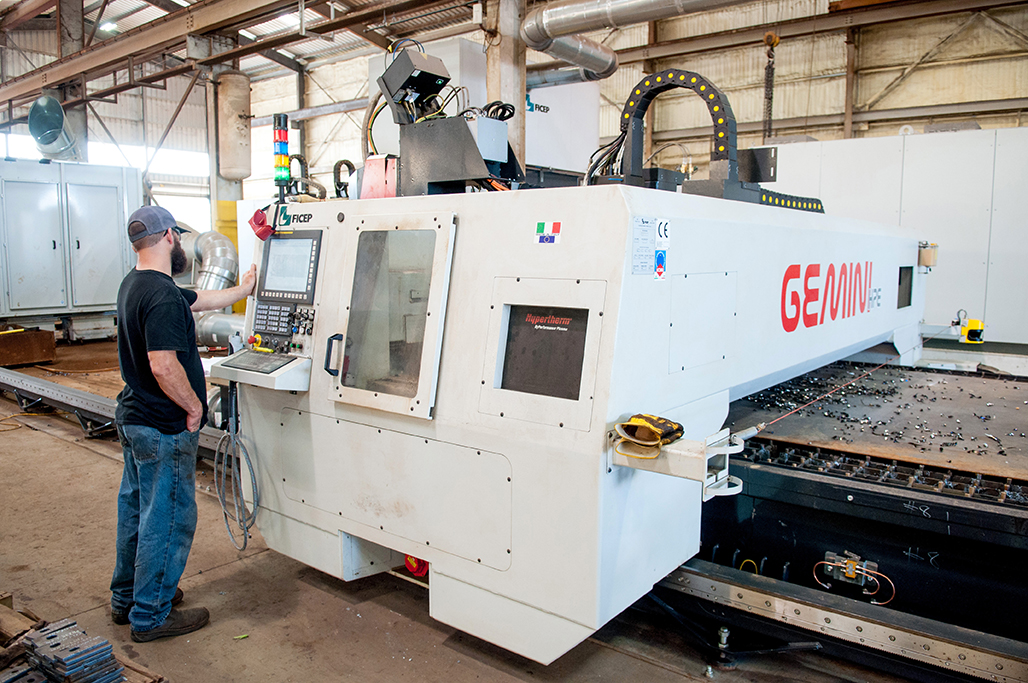 Some of Southland's current employees worked for the company when Lombardo was first learning the ropes. "I work with people who first taught me how to read blueprints," he says. "We have a large variety of people working here. One of the things I like about our business is I get to be involved with and talk to everyone working here, from skilled labor to the janitor sweeping the floor like I used to."
This hands-on approach is pervasive throughout Southland's management team. For example, Lombardo says, "When the robotic equipment came in, we were all out there helping to install it."
Similarly, Southland has built well-established relationships with its customers. "Even though we're a big company now, we respond quickly to our clients," he says. "Our direct management is involved a lot more than other companies that have more of a hierarchy. Our vice president works day to day with our customers."
Southland is deeply rooted in the local community and values its role in the region's workforce development, Lombardo notes.
"We've got a lot invested here in the town. It would be hard to walk away from it," he says. "We employ a lot of people, including entry-level helpers and skilled workers, and we do a lot of training. We also work with local high schools. We do have people who eventually move on to working in the field, so we see ourselves as a big trainer in the region."
Adds Knapp: "The commitment of buying into the community is so valuable. A lot of people have been impressed with their focus on safety, workforce training, vocational training and a commitment locally to their people. Southland's success has been great for the [Greensburg] community and the rural community."
Lombardo says Southland's growth is not finished yet.
"We still see a lot of opportunities for improvement, so we're always investing back into the company," he says. "We're nimble on our feet for our size, so we hope we can continue to grow."
---
This article was originally published in the third quarter 2017 edition of 10/12 Industry Report.