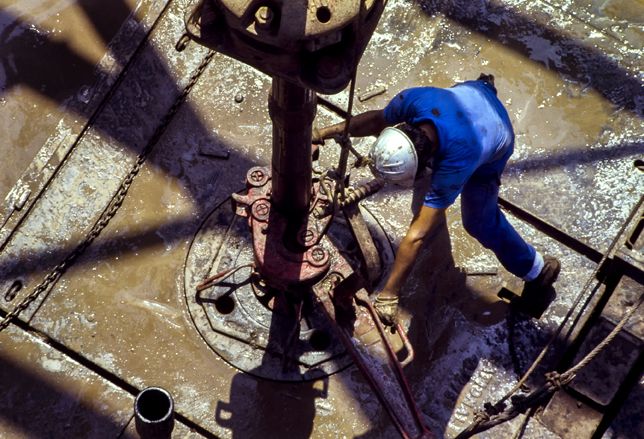 ---
The oil industry is fighting a generation gap.
Already contending with a global price slump, U.S. explorers are also grappling with the demographic hangover of the last great industry downturn in the 1980s, when scores of drillers went out of business. That rout drove a generation away from the business, leaving a shortage of workers in their late 30s to 50s today just as companies try to replace the baby boomers who make up much of senior management.
What the industry calls the Great Crew Change—the looming retirement of thousands of older workers—has companies trying to plug the gap by training younger employees, recruiting outside the industry and enticing veterans to hang on longer. It's also forced drillers into a delicate balancing act amid the current downturn, as they lay off thousands but try to hold on to hard-to-replace scientists and engineers.
"Everybody that's going through the process of downsizing their business right now is faced with this extra complication," said Bob Sullivan, a management consultant for New York-based AlixPartners. "Decisions that get made right now on how you right-size the company are going to have a huge impact when the market turns."
Employers have spent years trying to prepare. Baker Hughes Inc., the oilfield services company, runs a mentoring program for young engineers. Exxon Mobil Corp. has spent about $2.6 million on workforce training initiatives in the Gulf Coast over the last decade, Bill Holbrook, a company spokesman, said. It's also sponsored ad campaigns to entice more Americans into engineering careers.
Houston-based Apache Corp. has been bracing for the Great Crew Change for 15 years, Chief Executive Officer John Christmann said by phone. The driller has asked some senior staff to extend their careers past retirement age. It also runs a three-year professional development program for new hires designed to cement their ties to the business. About half the company's technical staff are 36 or younger; another third are over 50.
"There's a big gap from 1985 to 2000 when not very many people entered this business," said Christmann, 50. While Apache is prepared for the transition, the industry as a whole is "reeling a little bit because we don't have a lot of those managers," he said.
The wave of retirements comes as the oil sector is already bleeding talent. Worldwide, oil and natural gas companies have cut more than 350,000 jobs since crude prices started to fall in 2014, according to a May report by Houston-based consultant Graves & Co.
Hiring Needs
The oil, natural gas and petrochemical industries employed 1.4 million people last year, according to the American Petroleum Institute. Those companies will need to hire almost 30,000 workers annually over the next two decades to replace departing and retiring employees, the trade group said in March.
The challenge is partly the residue of the industry meltdown in the 1980s, when a glut of oil sent prices tumbling below $20, about where they stayed on average for the next 15 years. More than 6,000 U.S. companies disappeared. By the early '90s, oil looked like a lousy career path for new graduates in the cohort known as Generation X — roughly, those born between the mid-1960s and mid-1980s.
"There was a fairly significant amount of time when there wasn't nearly as much recruiting as there should have been," said Robert Gruman, a partner at PricewaterhouseCoopers who advises companies on hiring. Now, "there is a gap in leadership and management ranks across the industry as people retire," he said.
The biggest area of concern is in the 45- to 55-year-old age bracket, said Bill Ebanks, co-head of the oil, gas and chemicals practice at AlixPartners. Layoffs in the late '80s forced many young engineering graduates to flock to other industries including automotive and aerospace, he said.
"I see a lot of angst and hand-wringing right now among companies really struggling with what to do with their workforce in that age group," Ebanks said in an interview. "Those people would be in the prime of their careers and they'd be in key managerial and supervisory roles."
Companies today are trying to be more judicious with layoffs, consultants said, keeping on seasoned technical employees who may be hard to replace even if their paychecks are among the biggest.
Newfield Exploration Co., a driller based in The Woodlands, Texas, is down about 450 positions since 2012. Still, "we've been very careful at trying not to cut too much of our technical talent," said Cindy Hassler, a spokeswoman. "We still have significant operations and you are going to have to have talent to operate those when things turn around."
Next Generation
Millennial-age workers have also benefited. Companies have expanded benefits thought to attract younger employees, offering more flexible work schedules, on-site gyms or stripped-down medical plans with lower premiums. Apache runs a Young Professionals' Network with networking and educational opportunities for employees.
"We're spending time with employees earlier in their careers and mapping out their plans," said CEO Christmann. "We're trying to fit their career aspirations with the company's aspirations."
At the other end of the spectrum are staff like Dave Monk, Apache's 61-year-old director of geophysics.
Over a 36-year career, Monk has traveled the world helping companies vet petroleum reserves from Suriname to the North Sea. Now, training the next generation is a big part of his job as well.
Until last year, Monk oversaw a team of more than a dozen scientists. He relinquished day-to-day leadership in August but still travels the globe working particularly knotty geological challenges along with younger colleagues.
"I'm trying to pass along some of the knowledge that I've gained over the years," said Monk, who joined Apache in 2000. "Right now, there just aren't enough people in that demographic who are ready to step in."
Used with permission of Bloomberg LP. Copyright© 2016. All rights reserved.
---