There is no questioning industry's large footprint in Louisiana, especially in the Greater Baton Rouge area. However, depending on a person's background, he or she might remain completely unaware of the true abundance of opportunities for success and the impact industry has on the economy, local businesses and communities.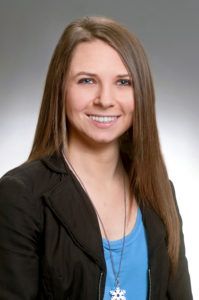 I was one of these people. Born and raised in Baton Rouge, a central hub for major industry, I grew up unaware of the reach these industrial-looking facilities had or the opportunities they provided so many.
I attended a college-prep high school, a school that implanted in my brain that my only option after graduation was to pursue a university degree, which I did. I went to LSU and obtained a bachelor's degree in Mass Communications.
I was fortunate to find a job opening with the Greater Baton Rouge Industry Alliance (GBRIA) as a communications manager upon graduating. Here, I learned so much about what our state has to offer that so many people like me, including my peers, remain unaware of.
Connie Fabre, GBRIA's Executive Director, has been making presentations about the billions of dollars planned for investment locally and says there is over $130 billion being planned in the state right now just in construction of industrial facilities, and in the Baton Rouge area, ExxonMobil, Formosa, Methanex, Shintech, Wanhua and YCI Methanol have over $16 billion of investment in the works.
Fortunately, to meet this great need, some communities have begun to embrace career and technical training as more high schools implement craft training programs into their curricula.
Some parishes have their own dedicated Career and Technical training centers where students can graduate with a technical certificate.
Organizations such as GBRIA strongly encourage students across the state, especially high school students, to take advantage of this training in order to meet the demand of future industrial investment. One of the most fascinating aspects of industry careers is their versatile start. There are numerous training and degree programs available that allow people to obtain a stable, high-paying job.
In order to give you an inside view into some of the jobs in industry, I interviewed a few people and here are their stories:
BRYAN KNOST

Bryan Knost, general manager of Construction, Maintenance and Turnaround at Jacobs, trained his way up to the top.
From Denham Springs, Knost worked in a fabrication shop his father ran while in high school. Following graduation, he worked as a helper at Rubicon. Knost would continue to change jobs, unsure of his goal until his father encouraged him to develop a personal plan. Knost decided to become a pipefitter and eventually, a project manager.
Knost received training and became a pipefitter at the age of 20; had his first foreman job at 21; then his first superintendent job at 24. He then worked as a recruiter for Jacobs, which allowed him to take advantage of travel opportunities. Knost also trained through the Associated Builders and Contractors Training Center, where he received  certification in estimating.
This gave him the opportunity to work in Jacobs' Quality and Operations Division, where he got his first operations job managing several sites.
After a few years in this position, Knost worked some large projects that helped him gain exposure and experience that ultimately positioned him for his current job as General Manager of CMT, where he now runs the Southeast Division of Jacobs Field Services.
Knost lives in Baton Rouge with his wife and three children. He calls his experience an amazing journey and advises others who "get presented with an opportunity, even remotely interesting, to try and accomplish it."
JENNIFER STRONG

Of course, industry also has opportunities for college graduates. Jennifer Strong works as the site logistics and integration leader at Olin, Louisiana Operations.
Strong worked two jobs, participated in sports and played in the school orchestra in high school. She continued her resilient work ethic by pursuing a degree in chemical engineering with a minor in biochemistry from the Colorado School of Mines.
After obtaining her degree, Strong moved to the Gulf Coast to work hands-on in a chemical manufacturing plant.
She has worked on the Gulf Coast for nine years, taking new jobs and expanding her knowledge throughout that time.
Strong also represents Olin on the Baton Rouge Area Chamber Board of Directors.
With the quality of life her career offers, she enjoys traveling with her husband throughout the year. The couple recently welcomed a baby boy.
As she and her husband begin their family, Strong says that having a good work/life balance is important. She commends her employer for offering good quality of life outside of the job.
"I have been grateful for all of the opportunities I've had in Louisiana," Strong says, "and will continue to set high goals for myself around career progression."
Read more profiles of industry success in my full column at 1012industryreport.com.
Jessica Pranjic is the manager of communications and workforce development at the Greater Baton Rouge Industry Alliance. She facilitates GBRIA's Membership & Public Affairs Committee and manages the organization's surveys.