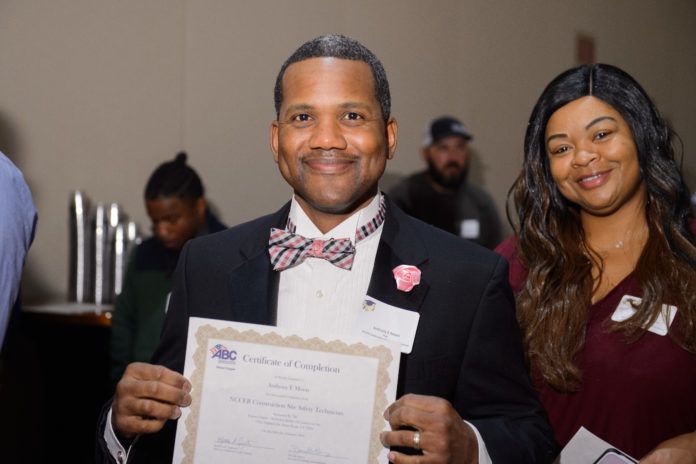 Some 155 students graduated last week from the Pelican Chapter of the Associated Builders and Contractors Baton Rouge Training Center after completing craft training programs in electrical, heavy equipment, millwright, mobile crane, instrumentation, pipefitting, project supervision, site safety and welding.
"ABC Pelican educates our craft students so that they become a meaningful addition to the skilled workforce, and these graduates are on a pathway toward a long-term career," says David Helveston, president and CEO of the organization. "I applaud the persistence, work and long hours that these graduates have devoted to developing an invaluable skill set."
Sharon Ramsey, 62, is graduating in instrumentation. The New Orleans native traveled 120 miles each day, two days a week, after work, for the past three semesters to complete her education. Ramsey, who was sponsored by Jacobs Field Services, said she enjoyed the education, friendships formed, challenges encountered and whole atmosphere at the training center.
Prior to ABC, Ramsey worked in vocations such as nursing and accounting. After Hurricane Katrina, she volunteered with People Building Communities to help rebuild her hometown. Through her volunteer efforts, Ramsey joined ABC, and because one of her goals is to help others "level up" through continued education, she jumped on the opportunity to learn a new skill set. While she is "not done yet," Ramsey considers herself part of the construction industry and a role model for women in the field.
"I tell them don't be intimidated," Ramsey says. "If this was available when I was younger, I would have taken this route" because "this industry is so big right now."

Alvin Allen, 32, just completed two years of the pipefitting program, and will be representing ABC Pelican at the ABC National Craft Competition this spring. The St. Francisville native became a student after he learned his employer, Jacobs Field Services, would sponsor him. "I like to build things and pipefitting sparked my interest," Allen says.
Allen—who attended night classes after a full day of work—says the instructors taught him how to better himself as an employee. "[They] taught me how to perfect my fabricating skills," he says. "In the field, you don't have the time to perfect those skills."
Th education, he says, was worth the sacrifice. Says Allen: "I did it and I didn't give up."