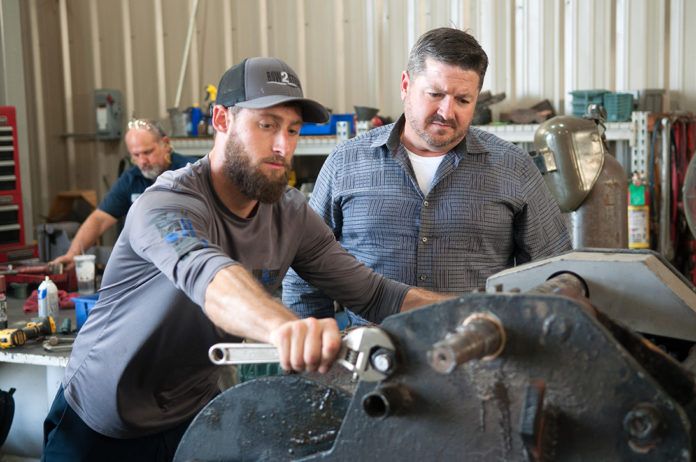 From 2015 to 2017, the direness of the employment situation played out in broad swaths across south Louisiana. Houma, Thibodaux, Lafayette and other oil and gas communities suffered sharp increases in unemployment, with rates almost doubling.
As for Houma, it lost some 17,500 jobs, a decline of 17.5%. That was three times worse than the U.S. employment decline during the Great Recession of 2008-09, according to economist Loren Scott of Loren C. Scott & Associates in Baton Rouge.
The hammer fell on a number of companies in the aftermath, resulting in sizeable layoffs at Edison Chouest Offshore, Morrison Energy, Baker Hughes and Hercules Offshore Inc., among others. National Oilwell Varco in Houma and CCHI Aviation in Galliano shuttered their facilities entirely. Fabrication yards once filled and backlogged became ghost towns.
"When you drive through the east side of Houma, you'll see the impacts … boarded up buildings and lots of 'for sale' signs," says Lori LeBlanc, executive director of the Gulf Economic Survival Team, an offshore oil advocacy group. "The downturn in offshore has had a significant impact on our economy."
Those left behind are surviving by embracing a new reality, either shifting to brown water work, moving to the inland shale plays or diversifying into entirely different markets.
Many south Louisiana oil patch companies followed their owner-clients to the shale plays and/or broadened their client base. Danos in the community of Gray is a case in point, as the company made a radical shift from offshore to inshore and grew its business in the process. In just the past six months, the company's employment numbers have increased from 2,000 to 3,000. It's also in acquisition mode, having recently purchased Shamrock Energy Solutions in Houma.
Gulf Island Fabrication Inc. was once almost entirely focused on fabricating components for tension-leg platforms, or TLPs. Today, the company supports fabrication, shipbuilding and services divisions. The company's shipbuilding unit has the largest backlog of work, enough to take it through 2020 and 2021. The firm has two new contracts to build car ferries for two state departments of transportation and is working on three Regional Research Class Vessels for Oregon State University. It also has two contracts to build military sealift command ships for the U.S. Navy, with options for five more.
Crosby Tugs purchased 10 dredges so it could tap into the growing coastal restoration market. The company lost about a third of its workforce after 2014; today, it employs about 1,100 employees at offices in Galliano and Houma. "Things are changing and you have to change with the changes," President Cory Kief says. "Once you get afraid of changing, it's going to pass you up and you're gone. If you don't want to accept that, well then you're not going to last long."