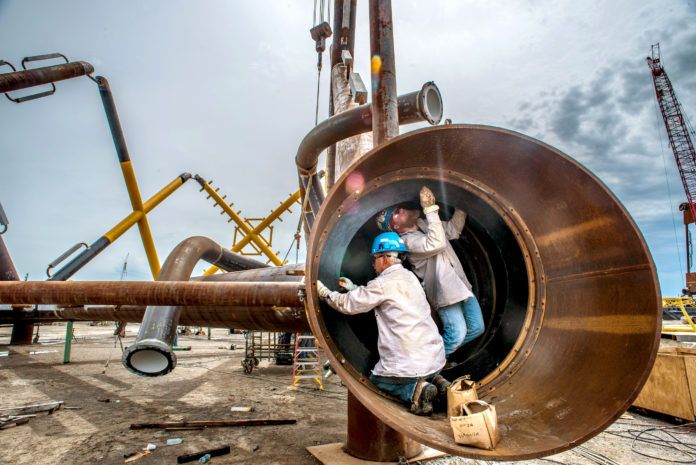 In June Intermarine LLC transported four coke drums on the MV Ocean Freedom from Gijon, Spain, to New Orleans. The cargo was transported for forwarder Agility Project Logistics with end clients Phillips 66 and Wood Group Mustang.
HEAVY LOAD
The coke drums measure 34.4 x 8  x 8.2 meters (112 x 26.2 x 27 feet) and weigh 333 metric tons each. The MV Ocean Freedom was selected due to the vessel's ability to move items via single crane lift and/or tandem lift. The holds of this vessel also allowed for below deck stowage, providing further protection of the cargo.
CUSTOM SOLUTION
"This project is a perfect example of what Intermarine does best—we have the tools, skills and personnel to create custom solutions and safely transport challenging cargoes," said Justin Miller, commercial manager – U.S. Flag Services. "Our WorldWide, Technical and U.S. Flag departments worked seamlessly to deliver on our word and provide all parties with the safe transportation of their cargo."
DELICATE TRANSFER
The coke drums were discharged directly to barges in New Orleans. Double banking required precision as Intermarine was responsible for arranging the barge location and crane outreach and placing the units in the perfect position on board the barge.
WHAT IS A COKE DRUM?
Coking is a refinery unit operation that upgrades material called "bottoms" from the atmospheric or vacuum distillation column into higher-value products and, as the name implies, produces petroleum coke. Coking occurs at pressures slightly higher than atmospheric and at temperatures greater than 900 degrees that thermally crack the feedstock into products such as naphtha and distillate, leaving behind petroleum coke. Coke drums are the large reactors used to hold the heated feedstock while the cracking takes place. Coke is deposited in the coke drum as a solid.
ABOUT INTERMARINE
Intermarine calls itself "the global leader in the transport of project, breakbulk and heavylift cargo." Founded in 1990, the company controls an international fleet of more than 50 vessels with lifting capacity up to 1,400 metric tons. Intermarine provides ocean transportation and marine logistics services with regular sailings in the Americas, West Africa, Europe, Asia and the Middle East. The company operates the largest U.S. flag heavylift fleet and controls Industrial Terminals (Houston), the busiest project cargo terminal in the United States.