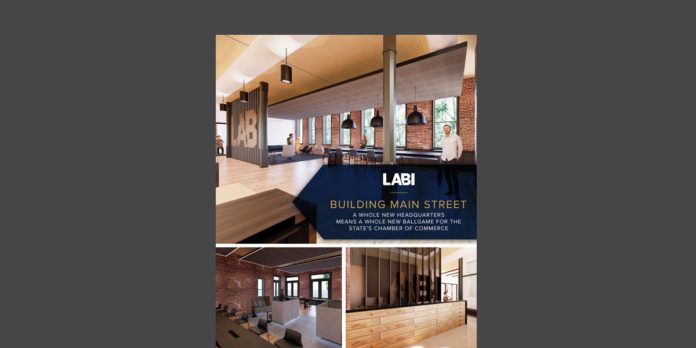 For nearly 45 years, the Louisiana Association of Business and Industry has served as the connector between its 2,200 members and the state leaders crafting policy that affects them. And now, in the spring of 2020, LABI will serve as the physical connector—not only members to policy makers, but members to members.
In a deal that closed in July of 2017, LABI sold the 30,000-square-foot building on Valley Creek Drive in Baton Rouge that housed its statewide headquarters since 1983, and shortly thereafter purchased the downtown Baton Rouge building at 500 Main Street from the Commercial Properties Realty Trust, which it began renovating in September.
LABI has spent the last year gathering input and developing a plan for what will become LABI's Center for Free Enterprise; a new facility that will be a center of gravity for the statewide business community and instill a new era of collaboration, professional development and civic engagement for our members. A committee of LABI members
selected the architecture firm of Eskew Dumez Ripple to design the renovation, with Faulk and Meek as contractor to perform the work.
"500 Main Street is a game-changer for LABI as a member organization as well as our efforts to promote free enterprise in Louisiana," LABI President & CEO Stephen Waguespack said, speaking at the 500 Main Street WallBreaking in September. "Not only will we be steps from the State Capitol, allowing our policy experts and members better access to decision makers throughout the executive and legislative branch, but this space will truly serve as a gathering place for the more than 2,200 businesses we represent across the state. With this facility, we will introduce regular programming to bring our members continuing education opportunities, policy discussions, guest speakers, networking events and our investors will have a welcoming place to conduct their own business while in Baton Rouge. In short, this collaborative space will become one of the best state chamber facilities in the country and modernize how Louisiana's business community can collaborate with partners across the state. Our members have long wanted a space to help them feed off the energy and ideas of their colleagues from all parts of Louisiana, and this facility will soon provide that gathering spot on a daily basis. This evolution of our facilities is critical as we move our organization forward and continue to advocate for reforms for the betterment of Louisiana."
Click the viewer below to read more about LABI's 500 Main Street.