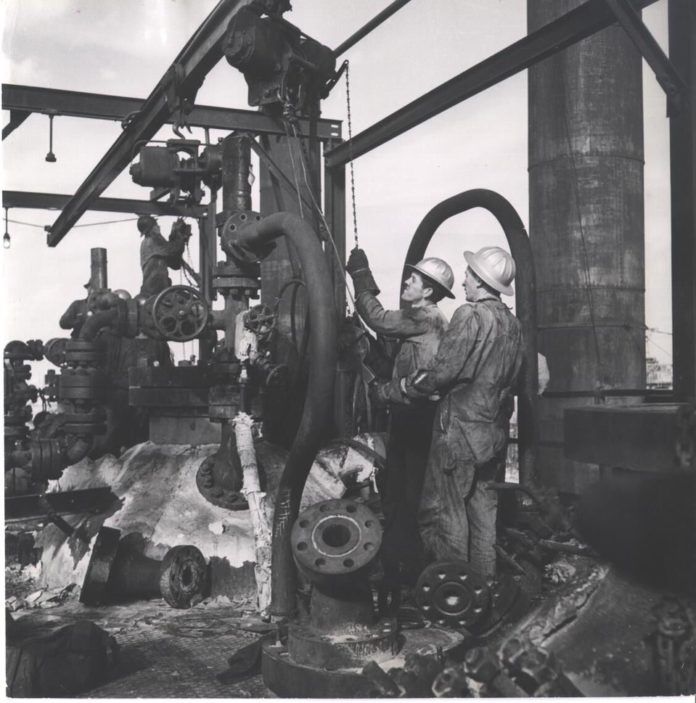 Sponsored by


Oil and gas play a profound role in Louisiana's economy. Throughout the decades, ExxonMobil has devoted a great deal of energy toward building a brighter future, not only expanding its operations to create jobs, but also investing millions of dollars and thousands of volunteer hours each year in education, job training and more. As ExxonMobil celebrates its 110th anniversary in Baton Rouge, let's take a look back at the impact that it has made in the region over the years.
It's remarkable what a little energy can do.
• In 1909, after Baton Rouge's cotton industry was left reeling from a boll weevil

devastation, the community was eager for new business. It welcomed the construction of the Standard Oil Company of Louisiana's (STANOCOLA) refinery on 225 acres of cotton fields just north of the city. Using mule-driven machinery and local labor, the first few units were built in just months and were processing 1,800 barrels of crude per day by November 1909, with 1,000 employees onsite.
•

By 1929, the Baton Rouge Refinery was the largest of its kind in the world. During World War II, Baton Rouge became the "Cradle of the Synthetic Rubber Industry," supplying each soldier with the 32 pounds of synthetic rubber gear needed in the war effort. The refinery's first female chemists, operators, lab techs and mechanical drafters were some of the 1,000 employees who joined the refinery's evolving workforce.

• By the late 1950s, business was booming. Toy manufacturer Wham-O made an arrangement for the Baton Rouge chemical plant to provide the GREX resin as the durable plastics for hula hoop production. At its peak, Wham-O produced 20,000 hoops a day.

The Baton Rouge refinery ushered in new technology with the first analog computer in the research labs in the late 1950s and the first in-plant telephone system in 1961. In 1968, engineers integrated cutting-edge IBM computer-controlled gasoline and lube blending operations.
•

The 1970s and '80s saw huge leaps in both technology and safety. In 1972, the Louisiana Legislature created the Louisiana Offshore Oil Port, or LOOP—a floating single-point mooring system tied into a pipeline big enough to drive a small car through. Today, almost 15% of U.S. crude passes through LOOP. ExxonMobil also led the way in controlling emissions by installing the nation's first wet gas scrubber.
• In 2010, HULA—one of the largest hydrotreaters in the world—began operation, delivering 90,000 barrels per day of diesel with low concentrations of sulfur. The North Baton Rouge Industrial Training Initiative program opened its doors, spearheaded by ExxonMobil in an effort to better connect community members to industry jobs. Since its

inception, ExxonMobil has led collaboration among industry, contractor firms and Baton Rouge Community College to assist plant neighbors in acquiring the skills needed to compete for industrial jobs. The program's fifth cohort began in January 2019 with a record-breaking 800 applicants and a quadrupled class size of 260.
• Even after 110 years in the Capital Region, ExxonMobil Baton Rouge continues to grow. In March, ExxonMobil announced plans to invest more than $500 million to construct a new polypropylene unit in Baton Rouge that will increase polypropylene capacity by up to 450,000 tons per year. Polypropylene is a versatile material that can be used for car parts, recyclables, and food packaging. Construction on the unit is slated to start in 2019, and startup is expected in 2021. The investment is projected to create up to 600 jobs during construction and 65 permanent jobs upon completion.
Click here to learn more about ExxonMobil Baton Rouge area operations.