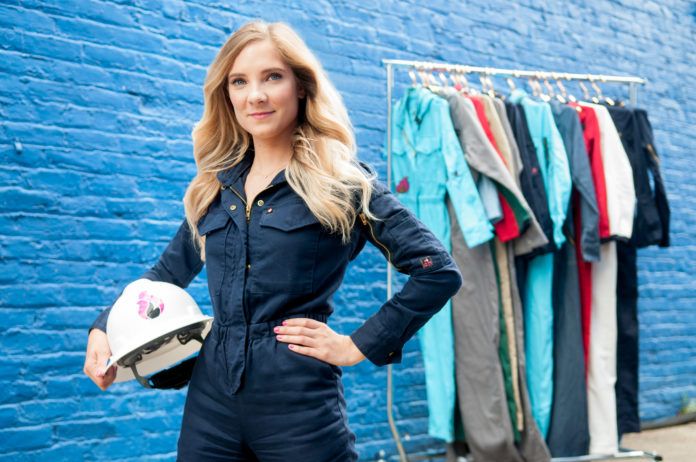 In 2010, Jaime Glas was in the midst of a petroleum engineering internship with Chevron in Bakersfield, California, when a pesky workplace challenge planted the seed for a business idea.
Glas, then an LSU engineering student, was learning the ropes of a domestic drilling operation at Chevron's Bakersfield site. Much of her work took place in an office, but because she was around outdoor drills in the Kern River Oil Field, she had to also don regulation safety gear.
In fact, the U.S. Occupational Safety and Health Administration had by then expanded regulations concerning FRCs, or fire-resistant clothing. The new requirement mandated that all personnel involved in oil and gas well drilling, servicing and production-related operations wear FRCs on the job, and that included Glas.
Glas requested the only size that came close to her frame, a men's extra small. When one wasn't available, she was issued the only remaining option: a men's extra large.
"The legs were like clown pants," says Glas, who is 5-foot-3 and 105 pounds. "They were anything but safe, and I remember telling my mother that night on the phone, 'There's got to be a better option for women.' "

That option never came. Even after Glas began working as a full-time engineer and had access to smaller sizes of regulation FRCs, she still found them uncomfortable and ill-fitting.
"Even when you could get them small, they were cut to fit men, not women," she says. "In a field where women just want to do their job and without distraction, it would have been nice to be comfortable in what you have to wear."
The market seemed ripe for an FRC manufacturer specializing in women's coveralls, shirts, pants and other items, believed Glas. After all, other fields—particularly medicine—had seen their workplace clothing adjust with better gender balance.
"There are about 300,000 women now in the U.S. working in upstream oil and gas, and all of them have at least one pair of FRCs," Glas says. "And about 10% of them have to wear FRCs every day."
In her spare time, Glas began researching safety codes for clothing and how a company would begin to manufacture regulation items for women. She bought code books and learned the ins and outs of OSHA standards. She researched manufacturers and she met with pattern makers. She named the venture and squirreled away savings to finance it.
After working on the concept after hours for a few years, Glas quit her job last fall and launched a new company specializing in the FRCs designed for women. The company, now named HauteWork, offers nine products, including coveralls, overalls, shirts and pants in several different colors.
The clothing comes in 10 sizes for women, including six regular and four plus, or curvy, sizes. They are 100% American-made, Glas says, and meet the standards of Category 2 Personal Protection Equipment, or PPE.

"Our main driver is to create safe clothing that fits women in a way that makes them feel comfortable on the job," Glas says. "There is no reason why women shouldn't be able to wear something safe that also looks and feels good. It'll only increase their productivity."
Earlier this year, Glas signed on to work with the Louisiana Business and Technology Center, the small business incubator in the LSU Innovation Park. She's hired a couple of employees and has lined up deals with at least five companies to outfit their female workers. Details like color and placement of pockets can be tweaked for each site.
Glas is also selling the clothing through direct online sales and through grassroots means, including trunk shows in Houston and other places that feature large numbers of women who need workplace FRCs. Just like mainstream clothing trunk shows, HauteWork's will take place in homes of willing women, at bars and other locations.
Between January of this year, when she officially launched, and April, Glas sold 600 units, with sales doubling each month. Her manufacturing process, which she established through trial and error throughout 2017, includes working with an Alabama manufacturer that produces garments in a 72-hour window. That means HauteWork holds no inventory.
While Glas seems well on her way, getting to this point hasn't been easy.
"This has been a bigger challenge than anything I've ever done," says Glas, 29. "There's not a textbook for this, and it's been a very big challenge every step of the way."
One challenge came in naming the company. Glas originally called the venture Hot Stuff Safety Wear, but found it made some people uncomfortable. Women struggling to establish agency in a field of engineering firmly dominated by men don't want to be singled out for wearing safety gear named Hot Stuff, despite its fire-retardant double entendre. Moreover, a male executive suggested to Glas that he was uncomfortable recommending safety wear to female employees that was called Hot Stuff.
"After thinking about it, I didn't really think the problem was going to go away," Glas says. "It was one of the issues that I discussed with advisors at LBTC and we decided the right move was to change the name."
Hot Stuff became HauteWork in May.
Glas has been approached several times about partnering with larger fire-resistant clothing manufacturers, but so far, she's held off. The company remains self-financed. Glas says she has several other ideas she wants to bring to the marketplace, including a line of FRCs for pregnant women.
"Nothing has really been done in this field," Glas says. "So there are lots of opportunities."