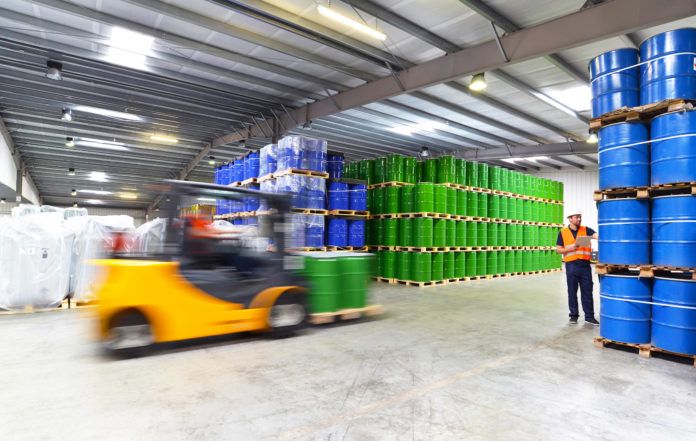 At its core, the success of the manpower-strapped Occupational Safety and Health Administration is measured by one overriding calculus: the number of citations issued in the field. That's motivation enough for many inspectors to search for the "low-hanging fruit" during random or scheduled visits.
Most OSHA citations can be easily avoided with a few inexpensive changes, says Paul Andersen, a former inspector and now a senior safety advisor for OSHA Compliance Services LLC. He addressed the American Society of Safety Professionals in New Orleans in June.
Andersen says knowledge is power when it comes to OSHA standards. "No matter the business, an owner should be intimately familiar with the applicable standards, and take the necessary steps to comply," he adds. "If you're running a business and you can't afford to do these basic things, you should not be in business. We're talking a few dollars to provide safety to your workers."
Bear Process Safety President and CEO Adam Beary of Baton Rouge says many citations in the industrial space are issued for not having proper documentation, whether it be to support operating procedures, process changes, Process Hazard Analysis (PHA) or mechanical integrity.
In each of those areas, an owner can either design the risk out of the system or implement safety procedures to prevent an occurrence. In its role, Bear Process Safety reviews plant processes with operators and engineers to determine the potential for risk and help them design and implement the necessary protocol.
To assist owners in identifying pitfalls, Beary and Andersen outlined 20 common OSHA citations and some simple steps to ensure compliance:
Fire Extinguishers
Another common citation: fire extinguishers not being properly identified. The OSHA standard reads, "The employer shall provide portable fire extinguishers and shall mount, locate and identify them so that they are readily accessible to employees without subjecting the employees to possible injury."
Additionally, fire extinguishers should not be mounted higher than 60 inches above the floor and should display an annual inspection tag. Andersen says fire extinguisher inspections should be an easy thing to track. "Most of the vendors put you on the schedule for 11 and a half months. Then they come out to your facility and inspect all your fire extinguishers at once."
Management of Change
All process changes require documentation that has been approved by the owner of that process. "Included in that should be a startup date and a Pre-startup Safety Review date," Beary adds. "That all needs to be signed and dated, confirming everything was completed on that day and that it's in service."
Many times, the final signature and date are omitted. "That's a super easy thing for OSHA to find."
Annual Approval of Operating Procedures
All operating procedures should be approved annually, stating that they are accurate and up to date. Some companies develop a list that can be easily signed by the "owner" of the procedure every year. "The standard doesn't say you have to review your procedures annually," Beary says. "Instead, it reads, 'The employer shall certify annually that these operating procedures are current and accurate.' That means every 365 days. If you sign it on June 5, then by June 4 the following year you better have signed it again."
The document also needs to be readily accessible.
Temporary Changes
Owners frequently neglect to document temporary changes. "Let's say you have a leaking pipe, and you put a clamp on it," Beary says. "You are supposed to write a temporary operating procedure and review it." There also needs to be a process in place for determining when a temporary change becomes permanent.
Mechanical Integrity
Make sure that employees are familiar with their equipment's inspection requirements, and that everything is documented.
That means there should be an established inspection and testing protocol, Beary says, "and you should be able to prove that your testing process is adequate. In some facilities, there's not a single thing written down about the proper timeframe for inspections." 
Fall Protection
Fall protection must be followed by anyone working from an elevated position. No exceptions.
First Aid Kits
As a quick fix for one potential compliance issue, Andersen suggests removing all oral medications or sprays from first aid kits. "If you have orals, you'll need to have a note from the doctor for everyone in that facility, or confirm somehow that the employees at the facility will not have a problem taking those orals. You start putting those extra things in there, especially with an expired date, you'll get cited."
The OSHA standard reads, "There shall be adequate first-aid materials, approved by the consulting physician, readily available for employees on every job." The regulation notes First Aid supplies should be kept "in a sanitary and usable condition," inspected frequently (no time period specified) and replenished as necessary.
Permits
Equipment permits should be posted in a conspicuous place. For example, the standard for pressure vessels and air tanks reads, "The permit shall be posted under glass in a conspicuous place on or near the air tank or in a weatherproof container secured to the unit, and shall be available at all times to any qualified inspector."
Andersen says this is a common citation. "I would go to a business and the permit would be in a desk drawer. That's a citation."
Stairways
Inadequate, partial or missing railings on stairways or steps is an immediate citation.
Personal Protection Equipment (PPE)
The OSHA Standard reads, "An employer shall ensure that all required safety devices and safeguards, whether employer or employee provided, including personal protective equipment for the eyes, face, head, hand, foot and extremities (limbs), protective clothing, respiratory protection, protective shields and barriers comply with the applicable standards and are maintained in a safe, sanitary condition."
Furthermore, "The employer shall provide training to each employee who is required to use PPE. Each such employee shall be trained to know the proper care, maintenance, useful life and disposal of the PPE."
Eyewash Stations
The standard for eyewash stations closely follows American National Standards Institute (ANSI) requirements: "Where the eyes or body of any person may be exposed to injurious corrosive materials, suitable facilities for quick drenching or flushing of the eyes and body shall be provided within the work area for immediate emergency use."
Monthly inspections of the station are required, including a flow rate test. They should also be within a reasonable distance from the work area. "You have to use tepid water, so the water can't be too hot or too cold," Andersen says.
One common trip up: The addition of new equipment might impact your compliance with the eyewash station requirement.
Other Equipment
There are many other pieces of equipment that require training, all of which should be documented. And, most likely, OSHA will want to see your training records. "If you're operating equipment and conducting training, you need to know the standard so you're documenting that training in accordance with regulations," Andersen says.
Improper Use of Equipment
The inappropriate, or unsafe, use of equipment is an immediate citation. As for forklifts, the standard reads, "Loads shall be so balanced, braced or secured as to prevent tipping and falling. Only stable or safety arranged loads shall be handled."
Hard Hats
Not only must hard hats be worn, they must be undamaged and in good working order. 
Electrical Panels
Nothing can block an electrical panel. When opening the panel, the corresponding menu should match with the circuit breakers. And, of course, missing breakers are taboo. "All electrical citations could potentially be issued as 'serious,'" Andersen says.
Extension Cords
Frayed and unprotected extension cords are an immediate citation. Cord strain relief is also required. The OSHA standard reads, "Flexible cords and cables shall be connected to devices and fittings so that strain relief is provided, which will prevent pull from being directly transmitted to joints or terminal screws." That's because a damaged cord could eventually result in a deadly electrical shock.
Inspectors also look for improper usage, such as "where cords are run through holes in walls, ceilings or floors; run through doorways, windows or similar openings; attached to building surfaces; or concealed behind building walls, ceilings or floors."
Toeboards
Toe boards—small vertical barriers  attached to a raised floor or platform—must be used where necessary and at a minimum height of 4 inches.
Equipment Should be Properly Secured
All equipment should be properly secured. "For example, if you can push against the drill press with two fingers and it rocks, that's a citation. They're supposed to be bolted, so they would be bolted or mounted to prevent from rocking." Additionally, all cylinders should be properly strapped and secured.
For any and all OSHA standards, Andersen points to a simple solution to ensuring compliance:  "Create a study guide with all of the standards and then match those to a checklist when you do your program inspections. That's how you get into compliance."
Beary agrees but recommends that plants seek an outside consultant given the ever-changing safety landscape. "The individual plants are so isolated. If you don't have consultants trying to keep you abreast of what's going on, you could get tripped up during the next inspection."
Power Industrial Trucks (Forklifts)
Having no seat belt or failing to wear a seat belt when operating a forklift can be a citation. Regulations also state that equipment operators should perform a daily, documented inspection of the equipment.
Per the OSHA standard, "Drivers shall check the vehicle (pre-use inspection) at the beginning of each shift, and if it is found to be unsafe, the matter shall be reported immediately to a foreman or mechanic, and the vehicle shall not be put in service again until it has been made safe." Documentation should be readily available proving that the operator has been trained and that the forklift has been inspected.
Ladders
Ladders cannot be painted. "One guy painted his ladder so nobody would take it," Andersen says. "That's a problem." Improper usage is another common issue. For example, a folding ladder cannot be used in a leaning position. Ladders must also be inspected and free of debris, and the inspection is to be documented. Labels should be readable and the ladder in good condition, with no damage.