The proposed Permian Global Access Pipeline from West Texas to Lake Charles is taking another step forward.
The San Angelo Standard-Times reports landowners along a 626-mile swath of Texas and Louisiana began receiving letters last month from Houston-based Tellurian Inc. regarding the project.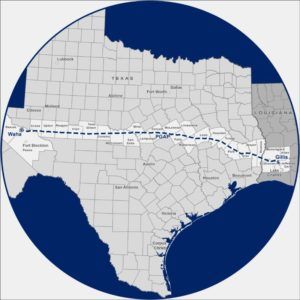 The pipeline is being engineered to transport 2-billion cubic-feet of natural gas per day from West Texas to the Lake Charles area by late 2023 or early 2024.
Joi Lecznar, Tellurian's vice president for public affairs and communication, tells the San Angelo Standard-Times the concept was proposed in 2017 as part of the company's wider strategy to form a $7 billion pipeline network along with the proposed Driftwood Liquified Natural Gas Terminal in Louisiana.
According to initial regulatory filings, the proposed route would require 253-miles of new right-of-way while using 373-miles of adjacent existing right-of-way corridors. As the newspaper reports, it begins at the Waha Gas Hub in northern Pecos County and crosses 22 Texas counties before reaching Louisiana.
Along the entire length, the proposed route would cut through 257-miles of open land, 137-miles of agricultural land, 80-miles of developed land, 151-miles of forest and 1-mile of open water.