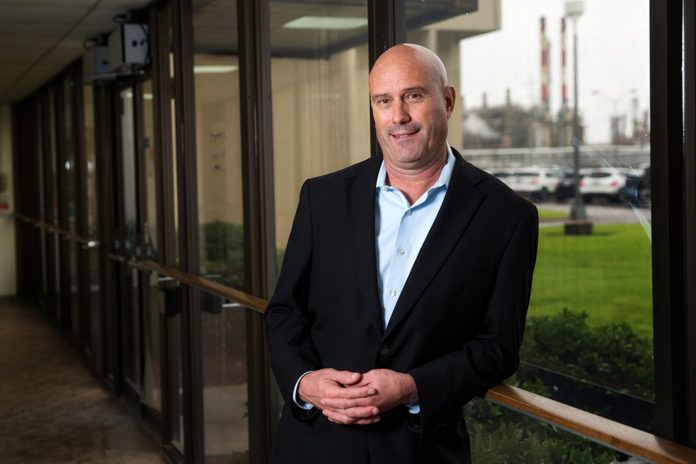 ---
Position: Vice president and site director, St. Charles operations
Company: The Dow Chemical Company
What they do: Dow's St. Charles operations comprises a 2,000-acre petrochemical manufacturing complex in Hahnville owned by Union Carbide Corporation, a Dow subsidiary. The more than 1,000 Dow employees and 1,500 contractors who work there make products that end up in plastics, insecticides, films and fabrics, antifreeze, jet fuel, brake fluid, paints and adhesives, textiles, lubricants, pharmaceuticals, medical supplies, personal care products, toothpaste, shampoos, soaps, cleaning agents, detergents, fabric softeners, animal feed supplements and more.
Career: Chavez interned at Dow while attending New Mexico State University. Three decades later, he's still with the company. He started his career as a research engineer in Freeport, Texas, in 1988 before moving into manufacturing in 1990. In 2002, he was named director of engineering for the Gulf Coast Region. In 2004, he became director of engineering for Europe, the Middle East and Africa. He returned to Freeport in 2006 as the global business manufacturing director for specialty plastics, and was named global business manufacturing director for the epoxy business in 2010. In 2012, he became responsible care leader and associate site director for Texas operations, before assuming his current role in 2014.
---
THE CHALLENGE
Chavez had just started his new job as global leader for Dow's global epoxy business when four people were seriously injured during a major turnaround. It was his job to figure out what went wrong before the plant could be fully operational again. "You're new to your job, you don't know the people very well, you certainly don't know the technologies and the culture, and you don't even know who to turn to," he recalls. "Before you put people back into that plant, you have to learn what happened. And, how do I eliminate those root causes, so this never happens again."
THE RESOLUTION
Chavez got personally involved in the investigation, and brought in a group of people he knew well to help. He explained to the employees why the process was necessary and reassured them he would be fair. "They knew I wasn't just going to believe the leader, or the middle managers, or the frontline leaders," he says. "I was going to get to the root cause with an independent team." As it turned out, the incident was caused almost entirely by human error.
"There were systematic failures in our leadership that led to a culture that allowed the behavior," he says. People had been taking shortcuts, and as a consequence, a number of them were let go. The good news is that the culture got fixed. "It's one of the best-running plants we have in The Dow Chemical Company these days," he says. "They stepped up."
THE TAKEAWAY
"As a leader, you need to be willing to make the tough decisions, once you understand the cause," Chavez says. He could have kept the investigation at arm's length, but it was important that he get personally involved. Bringing in people he knew and trusted also was crucial, as was explaining the "why" to his workers. "When you have a situation like this, your personal engagement is what makes the difference," he says. "Even though they didn't know me very well, and I didn't know them very well, there was a sense of calm that I was there involved on a daily basis until we got to a resolution."
---
This article was originally published in the third quarter 2017 edition of 10/12 Industry Report.