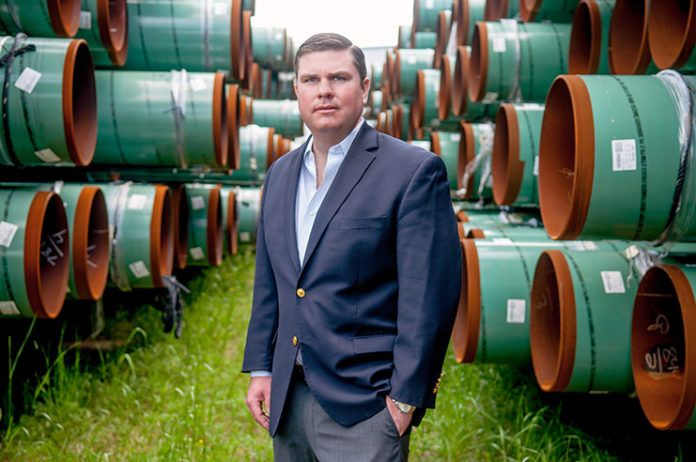 ---
As the second phase of the contentious Bayou Bridge pipeline awaits permit approval from state and federal agencies, the entirety of the pipe has already been produced. Stupp Corp. has more than 117 miles of the custom-ordered pipe, equating to 30,000 pipe tons, sitting at its Baton Rouge facilities, ready to go once the project gets the green light.
Not without its detractors, the $670 million pipeline would transport an estimated 280,000 barrels of crude oil a day between hubs in Nederland, Texas, and St. James Parish once completed and operational. Bayou Bridge is jointly owned by subsidiaries of Phillips 66 Partners, Energy Transfer Partners and Sunoco Logistics Partners.
The first leg of the pipeline, connecting Nederland to facilities and refineries in Lake Charles, was completed in 2016, while the second, lengthier phase will continue the pipeline eastward to St. James Parish. In the process, the pipeline would cross 11 southern Louisiana parishes as well as the Atchafalaya Basin. The owners estimate the project would provide $17.6 million in sales tax revenue, $750 million in total infrastructure investment and $1.8 million in property taxes during the first year of service.
"The pipe will be ready to go once they tell us to start doing the load-outs," says Chip McAlpin, Stupp's vice president of corporate strategy and development. "One of the benefits of some of the reduced capacity or utilization in the pipeline industry right now is that we're not as full, from a yard standpoint, as we have been in previous years, so we have existing space to store the pipe."
Energy Transfer Partners spokesperson Vicki Anderson Granado says starting early with the pipe milling was necessary to keep the project on schedule. "I guess you could say that it's a little bit of a risk, but your infrastructure projects in this country would lag greatly if you waited until all of the permits were done before you started the milling process." Besides, she adds, the 24-inch-diameter pipe could be used on other projects in a worst-case scenario.
Ultimately, 12 permanent jobs would be created by the pipeline, bringing ETP's total employment in the state to 765. Nationwide, the company maintains about 71,000 miles of pipeline, transporting natural gas and crude oil.
REGULATORY LIMBO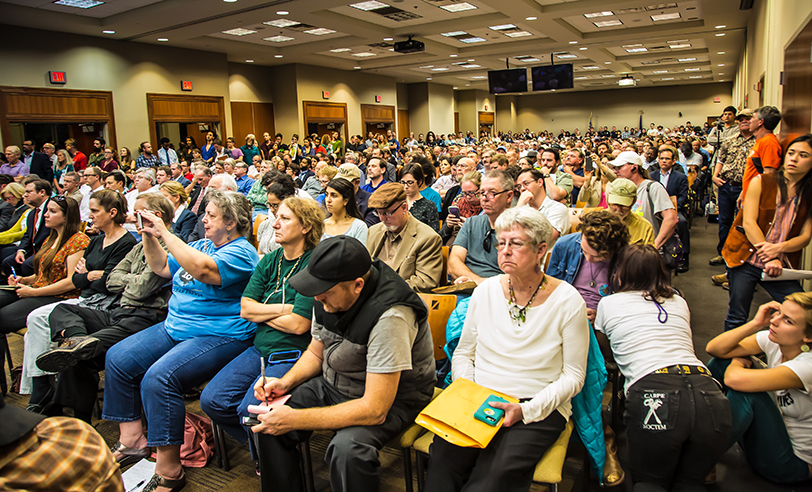 Until the regulatory permitting process is complete, ETP is unable to provide a timeline for construction. While the Louisiana Department of Natural Resources granted a coastal use permit in early April, go-aheads are still needed from the Louisiana Department of Environmental Quality and U.S. Army Corps of Engineers before construction can begin.
"The public hearing phases are over, so now the regulatory agencies are taking all of the environmental information that we've submitted, as well as our permit application, and reviewing all of the public comments," Granado says.
Some of the more vocal comments have come from environmental groups such as the Louisiana Bucket Brigade, Atchafalaya Basin Keepers and the Louisiana Crawfish Producers Association. The groups claim the pipeline would cause irreparable damage to the state's wetlands. In a statement released in January, they argued that oil companies "have done irreparable damage to our homeland, our wetlands, our coast and the Atchafalaya Basin."
"These companies can very clearly afford to do things by the book, yet because of lack of enforcement of our environmental laws we are paying the bitter consequences, and so will many generations to come," the statement reads. Furthermore, the groups claim that the U.S. Army Corps of Engineers is inadequately equipped to review permits for compliance, and that any permits should be postponed until the industry is properly regulated.
Of course, oil and gas producers take a different stance. "Pipelines are the safest way to transport any product, whether it's water, carbon dioxide, natural gas, etc.," says Gifford Briggs, who was acting president of the Louisiana Oil and Gas Association as this article was prepared. "The impact to the environment is significantly less, and the impact on individuals and their safety is much improved, than many other modes of transportation. That's why Louisiana, which is extremely heavy in industrial, and oil and gas, has so many pipelines—because we must move so much product and we must do it in the best manner possible. That's why pipelines make the most sense.
"There's a place for trucking, there's a place for rail and there's a place for pipelines, and often in Louisiana pipelines make the most sense."
While the state already has a significant infrastructure of pipelines in place, Briggs says there's still not enough to support future industrial expansions. "When we're adding $100 billion in new facilities and plants that need natural gas and are going to create new products and ship those products, you're going to need additional infrastructure," he adds. "In the process, we're able to use the best technology available to put new pipelines in the ground with higher capacities and less environmental impact. That's something we should celebrate."
For ETP, the proposed route for Bayou Bridge is already in place. "Still, it's never set in stone, so there may be a tweak here and there [to the final route]," Granado says. Even though the pipeline materials are finished, the company has yet to announce a contractor to install the pipeline and associated facilities. "Until we get approval and we're able to move forward and get into the execution stage, that's not something that we can talk about."
IN THE NICK OF TIME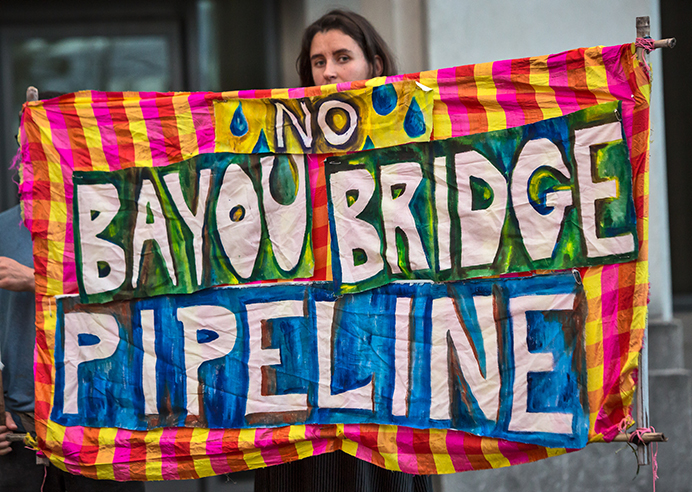 McAlpin says the Bayou Bridge project helped avoid hundreds of layoffs by providing a large, sustaining project that carried his company through a particularly low production period.
"This project allowed us to save about 250 jobs," he adds. "That is a huge economic impact for us, being able to keep those folks employed. The order sizes that exist in the market right now are small and it's hard to ramp up your manpower for those. We need a large base load to have the crews in place, and then we can take on additional work in smaller sizes and keep the assets utilized and employees in place."
Without Bayou Bridge, McAlpin feels certain that the layoffs would have continued through early 2017.
Stupp began production of the pipe in early September and completed the process in mid-November. "We have two pipe manufacturing plants on this campus, and our sister company next door, Stupp Coatings, applied the corrosion coating that goes on the exterior of the pipe," he adds. A fusion-bonded, anti-corrosion coating was applied to all of the pipe, with some sections also receiving abrasion resistance or a concrete coating. By applying additional weight, the concrete coating will allow ETP to sink the pipe in water environments, while the abrasion resistance provides an extra layer of durability to the pipe's exterior.
Stupp—a custom manufacturer that produces pipe for specific orders—follows stringent standards in the production of its pipe materials, driven primarily by federal and state statutes. McAlpin says that ETP goes a step further, and has some of the more stringent specifications in the business. "They have their own specifications that go above and beyond the basic standards," he adds. "Furthermore, each pipeline project will usually have its own unique set of specifications in terms of the manufacture and testing of the pipe that directly apply to the intended use, service and application of the pipeline."
Stupp buys the lion's share of its pipe steel from domestic sources, such as U.S. Steel, ArcelorMittal USA and Steel Dynamics Inc.
After Bayou Bridge clears the regulatory hurdles, placement of the pipeline will begin in multiple locations. "Pipelines aren't necessarily built in a linear fashion," ETP's Granado explains. "They're built in spreads, and there are perhaps multiple spreads under construction at one time."
Once operational, the pipeline will be monitored 24 hours a day through control centers operated by ETP. "We have centers in San Antonio, Houston, Sugar Land, and one in the Northeast," she adds. "They monitor the pipeline on a continuous basis. If there's a change in pressure on a pipe, or a change in temperature, that is detected immediately. During such an occurrence, we would remotely shut a valve to isolate that particular section of pipe."
Still, for environmental groups those assurances fall on deaf ears. Protests are being orchestrated by a variety of groups opposed to the pipeline, including one held in late March by the Louisiana Bucket Brigade outside the New Orleans office of the Louisiana Department of Natural Resources. The group focused on recent "accidents" near the proposed route of the pipeline.
"Over 12,000 gallons of crude oil were spilled during an accident at a tank farm in St. James Parish, with the Plaines All American Pipeline Co. reporting as 'unknown' the amount that went into ditches in the area. Across the state, in Lake Charles, six days of flaring from area chemical plants and the CITGO Refinery resulted in dangerous chemicals released into the air," it said.
"People in Louisiana—and especially in Lake Charles and St. James—already bear an unfair burden of pollution," said Anne Rolfes, founding director of the Louisiana Bucket Brigade. "This pipeline destroys wetlands, threatens our drinking water and puts us at risk for more pollution."
The group promised that additional protests would follow, aimed at stopping the pipeline.
---
This article was originally published in the second quarter 2017 edition of 10/12 Industry Report.