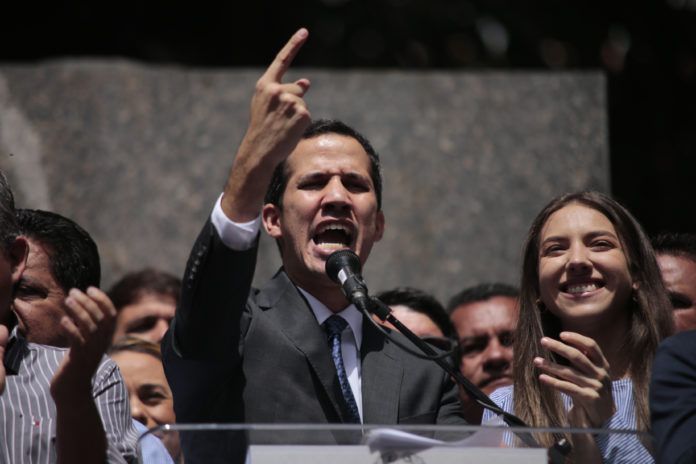 The Citgo refinery on the banks of the Calcasieu Ship Channel in Lake Charles is in the crosshairs of Venezuela's dueling presidents.
As Bloomberg reports, the Houston-based refiner helps bankroll the government of Nicolas Maduro, whom the U.S. government no longer recognizes as the country's rightful leader. Acting Venezualian president Juan Guaido has said he's ready to name a new board for the oil company, replacing executives appointed by Maduro. Guaido also said he plans to dismiss Manuel Quevedo, the oil minister and president of Petroleos de Venezuela SA, the state-run oil company.
In a competing news conference in Caracas, Maduro vowed to defend Citgo. According to Bloomberg, his government has used the company as collateral for debts issued by PDVSA, including a $1.5 billion loan from Rosneft that's backed by a 49.9% stake in the U.S. refiner. Reuters notes that Citgo is a subsidiary of Petroleos de Venezuela, or PDVSA—and is the largest importer of Venezuelan crude, but it has not been able to send its revenues, in the form of dividends, to Venezuela due to U.S. sanctions.
The U.S. is focused on disconnecting Maduro from sources of revenue and channeling those resources to Guaido. In the U.S., Citgo's three Gulf Coast refineries have the capacity to process about 760,000 barrels of oil a day. The Lake Charles facility in Louisiana is PDVSA's largest refinery outside of Venezuela.
A spokeswoman at Citgo says executives are not being made available for interviews at this time.
Reuters reports the $10 billion U.S. refining arm Citgo Petroleum is Venezuela's most important foreign asset. The company is preparing a legal strategy to block efforts for its board to be removed and its revenues diverted to an opposition government, sources close to the talks told the news agency.
U.S. refiners currently import about 500,000 barrels of oil daily from Venezuela. Much of the demand comes from complex refiners on the Gulf Coast using the crude to make high-margin products like diesel.
Built in 1944, Citgo's Lake Charles Refinery is the sixth-largest refining facility in the United States. Strategically located on 2,000 acres along the banks of the Calcasieu Ship Channel, the complex manufactures transportation fuels and petrochemicals, including gasoline, jet fuel, diesel, propane, sulphur and petroleum coke. As the largest of the three CITGO refineries, the Lake Charles Refinery consists of a modern, deep-conversion facility with a crude oil refining capacity of 425,000 barrels per day. The facility employs approximately 1,000 regular full-time employees in southwest Louisiana.