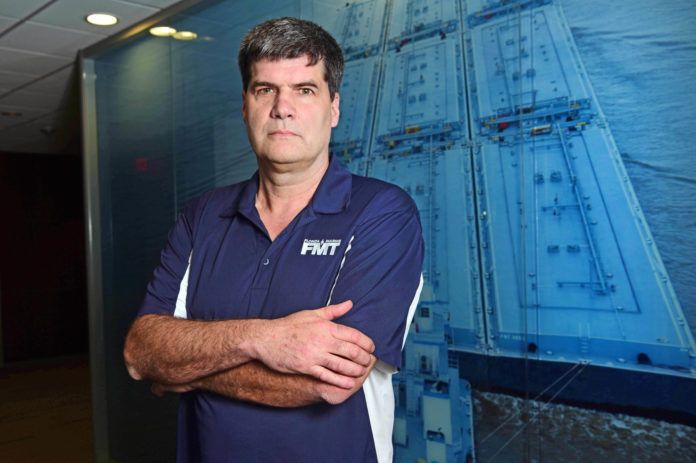 ---
The route map for the Mandeville-based Florida Marine Transporters resembles a vast, geographic circulatory system that begins at the mouth of the Mississippi River and goes as far north as Minneapolis.
There's hardly a major inland waterway east of the Continental Divide that the maker, manager and operator of towboats and barges doesn't traverse. Along the way, it touches rivers with names such as the Ohio, Arkansas, Allegheny, Missouri and Cumberland, among others, as its transports a range of petrochemicals, chemicals, liquefied petroleum gas, crude oil, agricultural liquids and dry cargo.
FMT Owner Dennis Pasentine is heavily engaged in the day-to-day operations of his business, arriving at the office every morning at 5 a.m. A fisherman at heart, he watches storms closely, and frequently  drops in on the operations center within the company's relatively new digs off Causeway Boulevard. While there, he reviews the positions of boats, how much fuel they're burning and how many miles they've made.
He has developed a sixth sense over the years. "If a boat is not performing how he thinks it should, he'll ask about it," says Brent Ice, Florida Marine's executive vice president and general manager.
Pasentine makes sure there's a good mix of new technology and old-fashioned knowhow on hand. While FMT uses the latest in monitoring and tracking equipment, the company also uses "old school" methodology, including wall boards with tracking data written in dry erase marker. "You have to check off that you've done your job so everyone in the room can see that the customer has been notified, docks have been notified and the boat knows their orders," Ice says.
The company also makes a point of hiring homegrown people with backgrounds in industry. There are former employees of Shell and ExxonMobil, among others. Ice, in fact, worked in Marathon's Marine Group for 10 years prior to coming on board.
Pasentine encourages a familial atmosphere, and even brings his Dobermans to the office. His oldest son, Dennis Jr., is the current president of the company, while next in line is John, who is the Dry Division general manager. Dennis Sr. handles the liquids side of the business.
A Mississippi native, he formed Florida Marine Transporters in 1994 after purchasing a small company, two boats and seven barges in Pensacola, Florida. He then moved to the New Orleans area, but kept the name, and by 1998 had begun one of the largest double-hulled tank barge construction projects in the U.S. At the time, most vessels were single-hulled, but he knew it wouldn't be long before the Coast Guard changed the requirement. Today, FMT owns 250 of the barges, many constructed at the nearby Trinity Industries shipyard (now Arcosa Marine Products) in Madisonville.
Not long after, FMT came close to breaking another record, contracting with a shipbuilder in Panama City to build nearly 70 new towboats. At the time, industry wasn't paying much attention to the age and condition of tugboats in the river. Today, that's all changed. Industrial owners are implementing maximum age requirements on the boats coming to their dock, as an estimated 75% of the boats are 25 years or older.
By the time that happened, FMT was already way ahead of the game.
Tackling innovation
Florida Marine Transporters has become the second largest inland transporter by capacity, utilizing its fleet of 30,000-barrel barges to move gasoline, diesel, crude oil and feedstocks, smaller 10,000-barrel varieties to move chemicals, and hopper barges for dry cargo.
The company's business model is unique to the industry, as it owns some 90% of its boats and barges, and continues to grow its holdings. It also boasts one of the youngest fleets in the industry. "We have 90 boats and 250 liquid barges that move gasoline, diesel, crude oil and feed stocks. We also have 300 dry hopper barges. We're moving a lot of sand, we're moving petroleum coke, and we're moving chemical rock for some of the utility plants," Ice says.
About 700 of its 900 employees are on boats, while the remaining 200 are either "shore-side"—employees purposefully positioned throughout the country or in their corporate office. For those on the crews, it's a uniquely grueling schedule. Employees there work six-hour shifts, four weeks on and two weeks off.  "We try to position people, so if we would have an incident where a crew change is needed, which could be for a variety of reasons, we can accommodate them."
Ice credits FMT's rapid growth to the owner's intuitive approach to tackling new endeavors. The highly cyclical nature of the work—much of it tied directly to the oil and gas market—practically mandates resilience, so the company must be willing to try new things.
The company is currently eyeing the possibility of tackling "blue water" oceangoing work from the Gulf Coast up the East Coast to New York. It's also researching more environmentally friendly modes of transportation, such as LNG-powered tugboats. That would truly be innovative, as no inland tugboats currently run on LNG.
Ice feels the company has the expertise and the opportunity, along with potential partners in the oil and gas industry, to make it work. "Innovation is nothing new. Over the years, we've diversified throughout the company's history," he adds. "When we first started, it was just liquid products. Then we started moving into chemicals, then asphalt, then the dry cargoes."
Designing for the Future
In 2009, FMT opened its own shipyard in Harvey, where it performs most of its own repairs, and in 2017 achieved a major milestone by launching its first new boat from there.
Jeff Brumfield, FMT's director of vessel construction and engineering, designed the 120-foot vessel. "In-house building is much better because we have made many strides in the process, including quality control and expenditure of the buildout," he says.
Brumfield has guided the design of FMT's fleet since 2003, coming aboard after working 18 years for ExxonMobil. He has designed some 95 boats since then. "We have several designs," he says. "We'll build four, five or 10 or 20 of that design with different sizes and powers. I'm working on about four right now."
Looking ahead, he says the incorporation of emissions friendly engines will be his greatest design challenge. "That changes the design of the boats because of what you have to do to the exhaust system," he says. "It impacts the entire size of the boat."
Looming large for all inland companies is the implementation of Subchapter M by the U.S. Coast Guard. In a nutshell, as of June 2018 all vessels must now be Coast Guard inspected. For FMT, that means 25% of its fleet will be inspected this year, and the remainder over a four-year period.
A third-party organization performs the inspections.
Chad Hidalgo, FMT safety manager, says the new regulation has prompted FMT to move to a new learning management system to keep up with the process. Hidago works closely with compliance to ensure policies and procedures are updated,and is responsible for the training curriculum.
Since safety is vitally important to the petrochemical, oil and gas industries, FMT closely mirrors its policies after those of its customers. "We work for the Exxons, Shells, Chevrons, etc.," he says. "They all have different things that they want. That raises the bar, because we've got to go to the highest standard with every one of them."
To that end, FMT operates its own training facility in Mandeville, and regularly updates its training matrix. "We break it up throughout the year, and by position. Our wheelmen have certain things that they're trained on; our tanker men have certain things; deck hands and engineers, and so on."