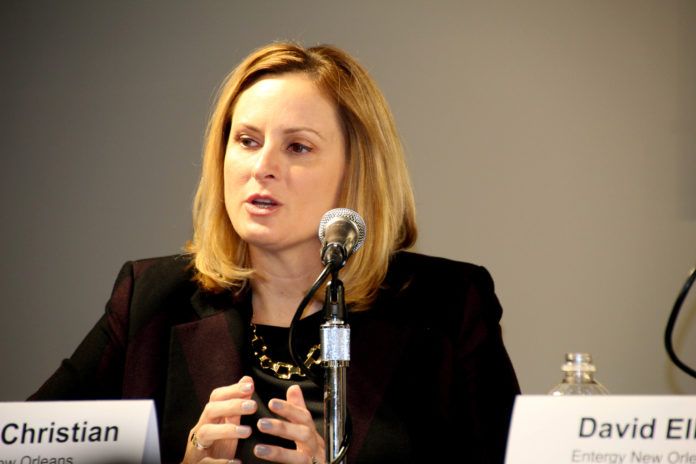 The Port of New Orleans will play a considerable role in the regional economic landscape in 2020, says Port NOLA President Brandy Christian, as petrochemical and energy companies increasingly turn their attention to exports.
That puts infrastructure development at the top of the port's wish list.
Christian was one of nine panelists taking part last week in a 2020 economic forum sponsored by The Times-Picayune/New Orleans Advocate. Other industry-specific themes were the region's ongoing worker shortage crisis and a push toward sustainable business practices.
"The manufacturing that's coming out of the petrochemical industry is phenomenal," Christian says. "It's growing and fueling Port NOLA's container business, which grew 12 percent last year." In response, the port invested heavily in that segment, including the $23.4 million purchase of two new 100-foot gauge container gantry cranes in early 2019. There are also plans for a second $1 billion-plus container terminal in St. Bernard Parish.
Christian says the New Orleans area's ability to "seamlessly export product" will be a major factor in attracting industrial investment in 2020. "I don't want to understate the (infrastructure) challenges," she says. "We have more opportunity and more need for capital resources than we have cash."
Current growth, she adds, is outpacing the ability of infrastructure to support it. "While we obviously invest in the terminals and the waterside part of the business, infrastructure is also about highways and rail access. (Louisiana Department of Transportation & Development) Secretary Shawn Wilson says very openly that we can't built roads fast enough.
"There is also a shortage in the trucking industry, in terms of labor and employment. Our best opportunity to lure business into New Orleans is by having a strong transportation system."
Calling all Workers

Also at the forum, Katie LeGardeur, market manager at JPMorgan Chase & Co. in New Orleans, noted she has a "generally positive" outlook for 2020, but that workforce challenges will be a continuing problem. "It's a common theme across the board, although there's a definite concentration in the industrial market," she says. "We have a large population that is displaced because there aren't as many jobs in the energy market, so we need to set up an apparatus to transfer those skills.
"It's all right here. We have the people, we have the need and we have the skills. There's an opportunity in water, industrial construction, technology, etc. and we're actively investing in that."
Anne Teague Landis, CEO at Landis Construction Co. LLC in New Orleans, says attracting younger workers is a vital part of any workforce development plan, as Baby Boomers are retiring in greater numbers. "We're bringing it to their attention that construction is a viable livelihood," Landis says.
Nonetheless, the influx of younger workers will bring its own challenges, as many will require help with their "soft skills."
"What we're seeing is a need for people to take their noses out of their iPads, off of their computer screens, and we're retraining them to understand that personal connections, sitting down and working things out, is equally important," Landis says.

Entergy New Orleans LLC President and CEO David Ellis, also a panelist, says the company  will intensify its focus on sustainability initiatives in 2020, as it modernizes its infrastructure and supports the proliferation of "smart cities."
"At the core of this is our commitment to sustainability and the environment," Ellis says. "We're committed to reducing our company's carbon footprint by 30 percent (below 2000 levels) by 2030."