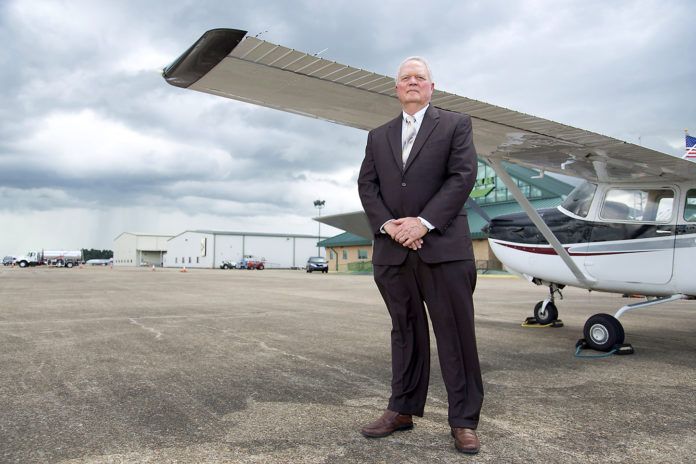 ---
From the ashes of the oil bust in the mid-1980s, Chennault International Airport was born, more than 30 years after the shuttering of the Air Force base there in 1963. Cobbled together from pieces of land leased to the state, parish, city and school board, the sprawling airport outside of Lake Charles and its growing portfolio of tenants quickly became a catalyst for industrial development and job creation.
A 10,700-foot runway, taxiway and associated aircraft aprons provide its backbone, spanning some 60 acres of concrete, 17 inches thick, and complemented by 1.5 million square feet of hangar, office and warehouse space. Literally anything can land there, from air or space—the runways were once used as the backup landing site for NASA's space shuttle program.
Chennault is backed by strong community support. Local voters recently approved a 10-year property tax for economic development by a 2-to-1 margin. This can in no small way be attributed to a well-executed public relations effort, complemented by such popular local events as the Chennault International Air Show, held each spring.
George Swift, executive director of the Southwest Louisiana Economic Development Alliance in Lake Charles, says attracting potential business to the airpark has never been difficult. "They have certified sites, access to runways and are the geographic center between Mexico, Canada and the U.S.," Swift says. "More importantly, they have a willingness to work with industry and to make things happen."
Added to that is an estimated total economic impact of $6 billion since Chennault's founding.
Job creation remains the 1,300-acre airport's overriding goal, says Chennault Executive Director Randy Robb. "Our role is to create jobs and to level the ups and downs of the petrochemical industry," Robb says. "We have some 1,500 people out here now. We would like to double that."
Robb's job creation target undoubtedly took a hit with the June announcement that one of Chennault's primary tenants—AAR Aircraft Services Inc., an aircraft maintenance, repair and overhaul (MRO) provider—would lay off virtually all of its 150 employees and essentially shutter its operations, just a year after opening the airport's largest hangar.
AAR's financial troubles were exacerbated by recent tax increases placed on business by state government. "AAR's profits were already thin, then you throw in a sales tax when you're making 6 cents on the dollar, it just didn't make sense anymore," Robb says.
Expansion ahead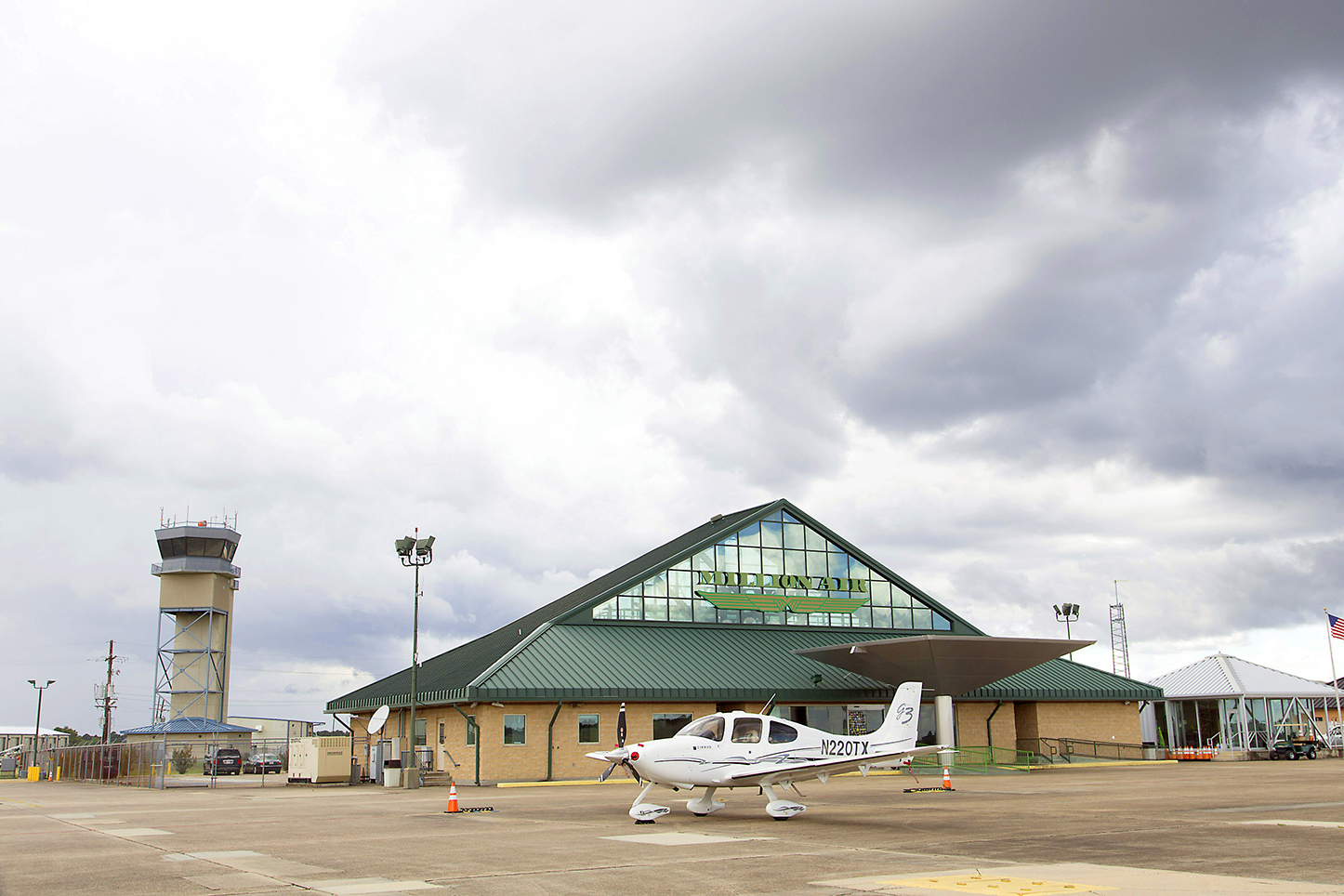 In a more upbeat development, Chennault hired CSRS, a Baton Rouge-based engineering and planning firm, to attract potential developers for a new project that would increase the airport's cargo-handling capacity. The proposed $257 million expansion would include construction of an air cargo facility on 220 acres now occupied by an adjacent golf course.
The plan is to secure a developer and start the project within a year, and will also include two 150,000-square-foot rail-served warehouses, four 75,000-square-foot aircraft hangars, a 200,000-square-foot light industrial park, a 250,000-square-foot business park, cargo-handling equipment, and roads and rail infrastructure.
Chennault also hopes to tap into the growing national demand for certified sites. The airport's 343-acre Chennault Southwest property was one of the first of its kind to be certified under Louisiana Economic Development's Certified Sites program. Certification means the site has met stringent criteria from the state, including extensive examination and documentation of the property's suitability for economic development projects. Essentially, the designation means it's shovel-ready for development.
On the runway
Over the years, a diverse group of tenants has found its way to Chennault, for equally varied purposes. Naturally, aircraft-centered companies make up the park's primary tenants. Northrop Grumman Corp. opened shop there nearly 25 years ago as an MRO facility, and in the last year and a half has added 200 employees to boost total employment to 850.
"Our workload has been growing," says Michael Flatt, site director for Northrop Grumman. "We currently have more than 100 open requisitions for more employees, primarily because of new work with existing contracts."
Northrop Grumman's clients are largely military in nature, as they annually maintain up to 10 Joint Surveillance Target Attack Radar Systems (Joint STARS) and 14 KC-10 Extender aircraft, both for the U.S. Air Force. The Joint STARS is a ground surveillance, battle management, and command and control aircraft, while the KC-10 Extender is an aerial refueling tanker aircraft.
The global security giant has also funneled more money into its facilities to support the expected work increase. "We recently purchased CNC (computer numerically controlled) machines for our fabrication center, which enable us to automatically mill large parts," Flatt says. The CNC system is highly automated and relies upon computer-aided design (CAD) and computer-aided manufacturing (CAM) programs.
While Northrop Grumman enjoys Chennault's unrestricted airspace and lengthy runway, which support any size aircraft, Flatt says they're particularly excited about the airpark's plans to widen its existing taxiway, which would effectively create a second runway.
Since 2005, Chennault's other aircraft-focused tenant—a fixed base operator called Million Air—has benefited from the airport's central location to provide a re-fueling point for commercial, private and military aircraft. As such, the tenant has indirectly acted as a catalyst for area industrial expansions, as it has served as a stopping off point for executives flying in on corporate jets to visit area sites, such as the $2 billion Sasol chemical complex in Westlake.
Joe Torres, general manager at the facility, says Million Air was initially attracted by Chennault's long runway and existing available facilities when it set up shop there 11 years ago. "We get a lot of military coming in," Torres says. "As they traverse the U.S., this is one of their favorite re-fueling destinations because of the atmosphere we provide and the good service. We also operate a flight school, and we're strategically placed so they can fly in, re-fuel and rest. They also use our flight planning bay to plan their next trip."
One of 10 franchises owned by Freeman Holdings Group, Million Air employs about 15 workers at Chennault.
More than aircraft

Aviation mechanic training takes place right next door at SOWELA Technical Community College, which has long been a Chennault partner in attracting sophisticated technology industries. SOWELA, in fact, is set to open a new $20 million, 67,000-square-foot regional training facility at Chennault late this year—largely due to the need for skilled laborers at the new Sasol plant and other area industrial sites.
The center will stand across from SOWELA's main campus on land once occupied by a trailer park. "The SOWELA campus is impressive," Robb says. "SOWELA is vital not only to Chennault, but to the region. If you go around to any of the plants around here, you'll find SOWELA graduates."
Increasing the number of graduates via the new facility is important, since area training efforts are currently falling short of demand. "There is an A&P Mechanic Certification program there that services Northrop Grumman's MRO operations here, but they've been graduating only about 35 a year," Robb adds. "They need much more."
Another non-aviation tenant, Louisiana Millwork Inc., has utilized two of the airpark's existing buildings for the manufacture and storage of custom-made doors and frames for 16 years. Setting up shop at the airpark was a no-brainer. "They didn't have to build anything, so there was no capital cost," Robb says. "They can't find this kind of facility anywhere in the world for the kind of rent that they pay here."
Chennault plots a course
With an eye on the future, Chennault recently released its 2016 Master Plan to map out a course for development over a 20-year period, in collaboration with airport management, federal and state agencies, local officials, businesses, and airport users/stakeholders.
The most immediate goals outlined in the plan are the land purchase and new air cargo facility announced this summer. Robb has big plans for the land. "We are talking about warehousing. We are talking about air cargo. The possibilities here are endless," he says. The master plan also outlines other key, strategic goals for the airport, such as a dedicated airport entrance, support facilities for MRO operators, development of a large scale airport manufacturer and alternate access routes to I-210 and local roads.
Meanwhile, Robb and the Chennault Airport Authority continue to seek out new industry and job opportunities, with the hopes that the airpark will eventually become self-sufficient and not be dependent upon parish property taxes to operate.
---
Originally published in the fourth quarter 2016 edition of 10/12 Industry Report.