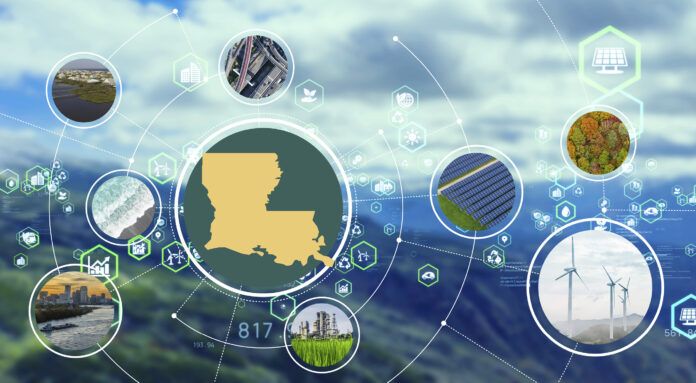 While there is some uncertainty with current economic conditions, experts say Louisiana is still well-positioned to take advantage of top-dollar investment opportunities as the energy industry continues to transition away from fossil fuels toward renewables.
Louisiana has seen a flurry of investment decisions within the last four to six months, with billions of dollars of investments are being funneled into opportunities relating to energy transition and decarbonization, according to Louisiana energy consultant David Dismukes, former executive director of the LSU Center for Energy Studies, who spoke during last week's Louisiana Energy Outlook webcast—hosted by 10/12 Industry Report. Also participating in the webcast were ExxonMobil Baton Rouge Refinery Manager Dave Oldreive and Amy Chronis, an energy and chemicals leader and Houston managing partner for Deloitte LLP.
Driven by the post-pandemic economic recovery of fuel markets, the state's existing refineries saw record production rates last year, says Oldreive, who is optimistic about Louisiana's energy future.
"Louisiana has the ideal geography and existing pipelines that can be repurposed for carbon capture," Oldreive says. "And that same workforce can build new facilities in the energy transition space."
Dismukes identified decarbonization, globalization and politicization as the three top energy trends, or the "pot of gumbo," currently influencing the industry. Investments into energy transition projects for Louisiana have increased 27% since October, he says.
Russia's war in Ukraine will also continue to impact the Gulf Coast energy industry, according to Chronis.
"We're seeing a long-term shift away from Russian gas—the U.S. has become more of a strategic player," Chronis says.
She also expects more investment into the region as refineries are forced to adapt to worldwide energy demand and repurpose their existing infrastructure for renewable fuels.
"The next five to eight years will look different as the industry moves toward digitalization," says Chronis, pointing to data analytics, computer and system analysis, carbon analysis and risk prevention as areas with potential employment growth in the local energy sector.
Oldreive thinks there's a robust upside for skilled labor in the next couple of years.
"Even though unemployment rates are low in Louisiana and Baton Rouge, there are still workers getting on planes to go to Texas for work. We think there's an opportunity to bring those workers home."