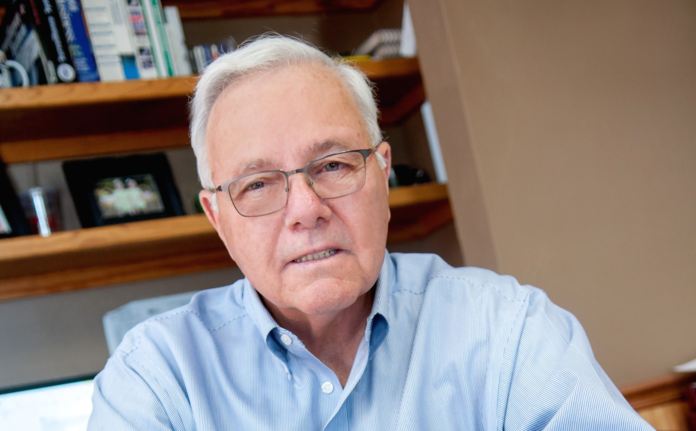 ---
For more than three decades now, George Lockhart's business has been transporting industrial waste.
The Livingston Parish businessman can remember when it was a niche business. He faces a lot more competition these days.
Lockhart got into the business in 1984, when he bought POCO Environmental and moved it from north Louisiana to Baton Rouge. He says the company worked all over the country, doing remediation, digging out waste and hauling it to landfills. Along with his business partner and cousin, John Ellis Lockhart, he sold POCO to All Waste Services of Houston in 1990. It wasn't a cash deal; the partners received stock and employment contracts with All Waste.
"It took a while to get our money back," George Lockhart says of the sale. "Within three months, the stock had lost 75% of its value. … It did recover after about seven years."
He worked for All Waste for five years. While he prefers not to go into detail about why the relationship ended, Lockhart says it became clear that it was time to move on.
"The CEO is a very good person," he says. "We just felt it was best that if I was the problem, I needed to leave. I'm not saying I was, but I can say it was just best I go on down the road."
Lockhart stuck with what he knew. In January 1996 he formed Custom Ecology Inc., better known as CEI, with two business partners. During the 1980s and 1990s, there were only three or four companies in the area that did the same kind of work. "Industrial waste hauling was a niche business back in those days," he says. "There's no telling how many do it now."
By 2011 Lockhart had bought out his partners and turned CEI into a family business, running it with his sons Derk and John (better known as "Hootie"). It was then that they were contacted by Kinderhook Industries, the New York City-based private equity firm that manages more than $1.25 billion in committed capital. Kinderhook, which targets management-led recapitalizations of entrepreneur-owned companies, bought CEI and combined it with two other companies under the CEI name. Today, George and Derk Lockhart manage the company's Gulf Coast division.
CONSTANT CHANGE
Only about 10% to 20% of the waste being transported nowadays is considered hazardous, a much lower proportion than in Lockhart's early years. Hazardous waste is expensive to dispose of and carries potential legal liability.
"When you haul a load of hazardous waste to a landfill or an incinerator, I've always said there's 10 or 20 people in the background trying to figure out how not to ship the next one," Lockhart says. "If you don't generate it, you don't have to ship it."
There's still plenty of waste to be hauled, however. CEI's clients include plants along the Mississippi River industrial corridor from Baton Rouge to New Orleans, and the company runs trucks from an office in Lake Charles. It also handles municipal waste in Louisiana, Mississippi and Alabama.
As with most companies in the heavy industrial sector, workforce is a big concern for CEI, specifically, hiring and retaining qualified drivers. CEI only hires experienced drivers, and competition for them is fierce.
Last year CEI installed electronic logs and cameras in the trucks, which Lockhart says led to the departure of some drivers who consider the new technology an invasion of their privacy. The Federal Motor Carrier Safety Administration will require electronic logging by late 2017 in hopes of preventing hours-of-service violations and improving safety by ensuring commercial drivers have adequate rest.
"It's all issues that are going to be completely mandatory next year," he says. "We just chose to go to them early, and it has cost us some employees."
While he's still in the business of transporting waste, Lockhart has diversified in recent years. He's involved in a construction and demolition debris landfill business in Carencro that Hootie manages.
EXPANDING INTO GOLF
The Lockhart family made news in 2013 when it bought the Greystone Golf & Country Club development in Denham Springs.
Derk Lockhart says the property, which had 90 homes when they purchased it, has room for 250 to 300 additional home sites. He says 21 new lots are ready, and work is about to begin on 70 more. And while many golf courses are struggling, Derk says the Greystone course is making money. "We didn't know anything about golf or country clubs," he says. "None of us are even good at golf."
Derk attributes the success to changes made at Greystone, including going from selling hot dogs, hamburgers and pizza to building a new clubhouse with a comfortable lounge and restaurant serving Cajun cuisine. He describes the golf course as "semi-private." The family hopes to make it fully private once they can attract enough members.
While George Lockhart remains president of the CEI Gulf Coast division and has a seat on the board of directors, Derk manages most of the day-to-day affairs.
It doesn't sound like he's in a hurry to retire from the business he's been involved in since the 1980s.
"I imagine I'll be here in some capacity," he says.
---
Originally published in the first quarter 2017 edition of 10/12 Industry Report.