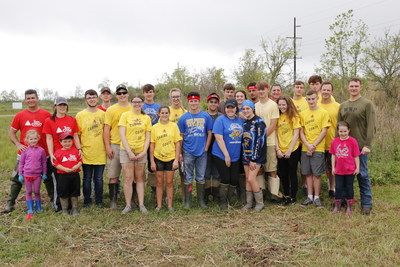 Gray-based Danos has appointed Daryl Rousse, a 30-year industry veteran, as vice president of production services, the company said in a news release. The announcement comes after Danos' recent acquisition of Shamrock Energy Solutions, where Rousse served as chief operating officer for three years. Prior to joining Shamrock, Rousse spent 26 years with Royal Dutch Shell, where he worked as the Gulf of Mexico pipeline operations manager for 16 years and later operations readiness and assurance lead for special projects.
---
ExxonMobil Baton Rouge was honored with two safety awards from  the American Fuel & Petrochemical Manufacturers association. ExxonMobil Baton Rouge Polyolefins Plant received AFPM's highest Distinguished Safety Award, and ExxonMobil Baton Rouge Refinery received AFPM's Elite Silver Award.
---
State Sen. Norby Chabert, R-Houma, and three other legislators were recently honored by the Louisiana Oil and Gas Association at its annual meeting in Baton Rouge as Heavyweight Champions for their support of the state's oil and gas industry. Other legislators honored were House Speaker Taylor Barras, R- New Iberia; Rep. Neil Abramson, D-New Orleans; and Rep. Jim Morris, R-Oil City.
---
The World Trade Center of New Orleans has named James McCall "Jimmy" Baldwin Jr., founder of Southern Sails of Louisiana LLC and senior vice president of sales and marketing for the Coastal Cargo Group, as its 2019 C. Alvin Bertel Award recipient. The award is being presented posthumously May 22 due to Baldwin's death in late March. The award recognizes significant contributions to the Louisiana port and maritime community. Baldwin sat for six years on the New Orleans Public Belt Railroad board and previously served as chairman of the board of commissioners of the Port of New Orleans.
---
CITGO Petroleum Corporation has been honored as the 2018 Corporate Conservationist of the Year by the Louisiana Wildlife Federation. In remembrance of Hurricanes Katrina and Rita, CITGO launched Caring for our Coast in 2014 as an environmental campaign focused on Gulf Coast conservation and restoration. Originally intended as a year-long effort, the initiative has evolved into an ongoing, large-scale environmental restoration program. For two years, CITGO Lake Charles Refinery and The Nature Conservancy joined forces with community volunteers to help restore the Cameron Prairie National Wildlife Refuge. CITGO also partnered with Restore the Earth in 2018 for the third year to plant Cypress trees in Terrebonne and Lafourche parishes. To date, CITGO has invested a total of more than $4.7 million in Louisiana conservation efforts.