The new terminal at Louis Armstrong International Airport will be a "shot in the arm" for the New Orleans' economy, but it also highlights a statewide need for infrastructure funding, says 2020 GNO Inc. chairman Guy Williams.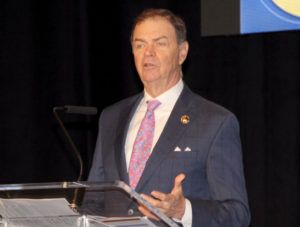 Williams addressed a crowd of some 1,200 New Orleans area business and civic leaders at GNO Inc.'s annual luncheon last week. "We know that we have infrastructure needs," he says. "When we drive from here today it won't take 5 minutes to get to a street, bridge or road that needs repair. We have to streamline the bureaucracy, we have to make our system efficient, and with a valid plan we can get voter approval (for funding)."
Williams says uncompetitive wage rates are also handicapping the New Orleans economy. "We've tried being a low-wage city. That didn't work. We want to pay competitively. We want to pay for the best; then we can expect the best results.
"For too many years, we've been OK being 49th as long as Mississippi was 50th," he adds. "Instead, we should measure against the best. I challenge you to measure your individual businesses against the very best. Our objective is to compete at the top level."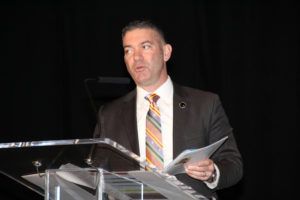 Michael Hecht, GNO Inc. president and CEO, says the "foundational" industries of energy, advanced manufacturing and trade will be critical to the organization's new 10-year strategic action plan, GNOfuture. He adds that a handful of key economic victories will serve as the catalyst for future economic growth: South Louisiana Methanol's $2.2 billion St. James Parish project, power designer/contractor Ampirical's new 400-employee headquarters in St. Tammany Parish and industrial designer/contractor Bernhard's new 250-employee national headquarters in Jefferson Parish.
"We also have an opportunity to build wind turbines here in Louisiana (through LM Wind Power at the Michoud Assembly Facility) and export them around the world," Hecht says. "One of these blades is 170 meters long. Their operation is absolutely incredible."
Workforce development will play an integral role, through GNO Inc.'s workforce development initiative, GNOu. Recent successes include a newly-launched mechatronics apprenticeship program, in collaboration with area universities, and various work-based learning and apprenticeships through partnerships with area technical colleges. Another success story is Operation Spark, founded at youth community centers in New Orleans to teach young adults how to build simple mobile video games and apps.
"We have to leverage our strengths," Hecht says. "What are our advantages that nobody else can take away? Where can we use partnerships to gain sustainable competitive advantages?
"We talk about incentives, but that's not economic development. Economic development is about creating the conditions where people want to invest their capital. If you do that, companies will come and thrive."