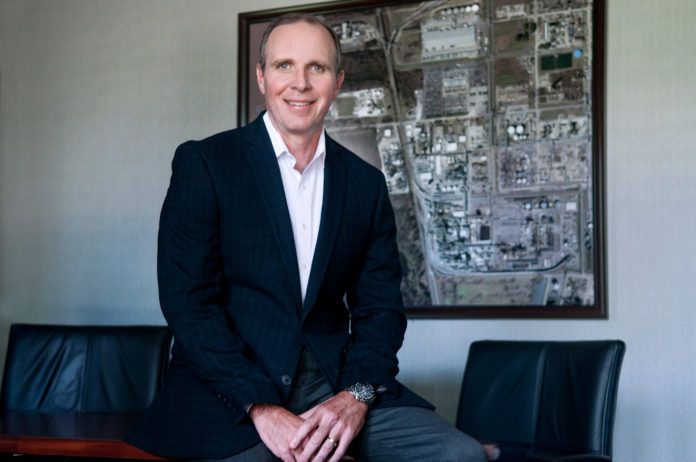 Mark Dearman
Senior Operations Director, Huntsman Polyurethanes Americas;
General Manager, Rubicon LLC
Age: 51
Hometown: Gonzales
Education: East Ascension High School and LSU
---
Mark Dearman leads Rubicon, a joint venture of Huntsman and Lanxess. Huntsman is the majority owner of the Rubicon assets, hence Dearman's dual role.
Rubicon's Geismar facility is a leading manufacturer of polyurethane chemicals, which go into everything from composite wood products to spray foam insulation to car seats. He's been with the company for almost 30 years, and he's something of a rarity in the Ascension Parish chemical sector: a hometown boy managing a major plant.
What sparked your interest in the chemical industry?
My dad worked in the fertilizer industry in Donaldsonville. Back then, in the early '70s, you could actually take your kid to the plant. You couldn't get past the front gate today with anybody under 18. I made up my mind in 9th or 10th grade to be a chemical engineer.
How do you start your day?
I'm up at 4 o'clock every morning. I have a global role, so I'm communicating with people in Europe and Asia. They've been up for a long time, so I check my emails and get a feel for whether there's something that I need to be aware of in another part of the world. Before I even leave to go to the gym in the morning, I have a grasp of what went on the night before.
How important is morning exercise for you?
Working out puts you in an excellent frame of mind to tackle the day. You've got the blood flowing, and you're ready to tackle your work day in a very positive light.
What is your greatest professional accomplishment?
What I'm most proud of is having the opportunity to earn this role that I'm in today. Being a site leader of 750 people for a $2 billion site is a tremendous amount of responsibility, but you take a lot of pride in captaining the ship.
What is the key to successful leadership?
You're in the people business. You're no longer doing engineering or orchestrating a project. Your business is trying to get people to do their best, while focusing on the things that you're uniquely qualified and empowered to do.
You ask yourself: Did I contact enough people today? Did I go and visit with enough people today? Did I listen to enough people today? Was I seen enough out in the plant today? In any leadership role, you have the ability to make people feel good about what they're doing, which ultimately leads to them doing an even better job.
How do you attract and retain good employees?
For us, it all comes down to the culture of your organization. You create an environment where you allow people to be the best that they can be, where people are encouraged to communicate and get involved, and you don't have a rigid hierarchy where you have to go through eight layers of management to talk to somebody. In our organization, everybody's on a first-name basis and the door is always open.
Will low natural gas prices continue to give American plants a competitive advantage?
Over the past few years in Europe and Asia, the cost of manufacturing has come down, so we're not sitting here with this huge advantage. We do have an advantage, but they're catching up.
What are some other industry trends worth watching?
At a plant my size, we're retiring 15 to 20 people a year. We have to do a better job of training new workers on the front end, accelerating their knowledge throughout their first couple years, and augmenting where we can with experience.
Developing frontline leadership is an area I'm extremely passionate about. It's a challenge to become a true leader, and not just one of the pack. The most influential person to anybody is that person's direct supervisor.
What are you passionate about outside of work?
I'm on the board of directors for St. Elizabeth Hospital, the Ascension Chamber of Commerce and the Louisiana Chemical Association. Other than that, I like to spend good quality time with family and friends and do a little travel to explore new places.