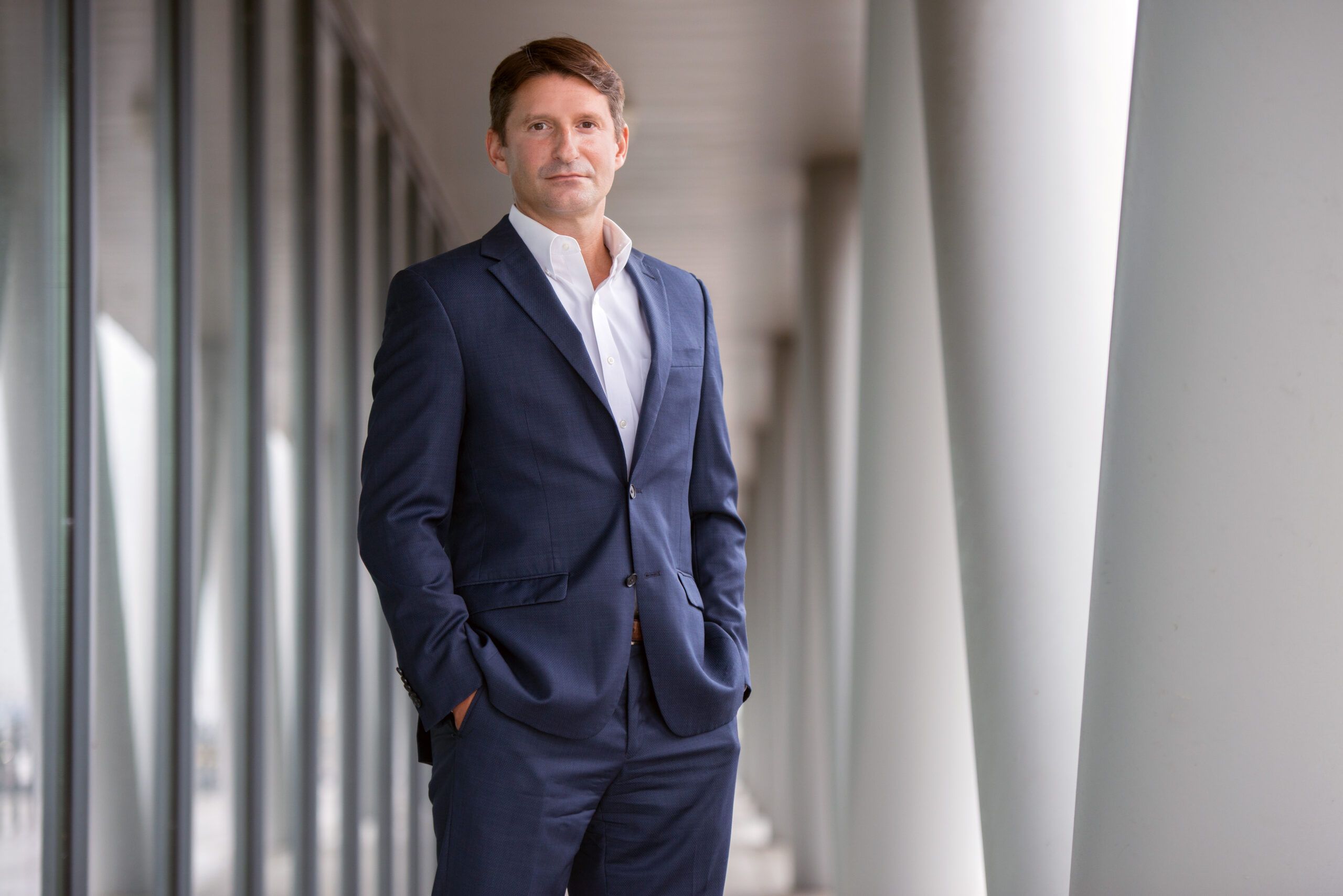 In a way, everything came full circle for Justin Ehrenwerth when he landed at The Water Institute of the Gulf nearly five years ago. For a while, though, it was hard to predict the direction his life might take.
It seemed the Pittsburgh native was destined for a career in civic engagement or politics in his younger years. He first earned a bachelor's degree in philosophy from Colby College in Maine, then a master's degree in in philosophy, politics and economics at Oxford University in England. He even found time to complete a fellowship in civic engagement in Pittsburgh.
"I thought I was going to become an academic philosopher or work in some civil rights capacity," Ehrenwerth says. Instead, he chose to pursue a juris doctorate at the University of Pennsylvania's Carey Law School, then landed a gig after graduation as an attorney for the U.S. Department of Commerce in Washington, D.C.
That's when the currents of life began to steer him south. Much of the department's funding goes to the National Oceanic and Atmospheric Administration, so he soon began working issues impacting NOAA and the National Weather Service. Then, following the Deepwater Horizon disaster in 2010, he became the point person for litigation pertaining to the spill.
His professional and personal lives started to overlap. He began dating his future wife, a native of Opelousas, and found himself going back and forth to Louisiana for two reasons. "I have since discovered that when you marry a girl from south Louisiana, you will live here forever," he says. "And that's a good thing."
Then, in 2013, he volunteered to help establish a new federal agency in New Orleans: the Gulf Coast Ecosystem Restoration Council, funded by the RESTORE Act following Deepwater Horizon.
"As it turns out, there's no manual for doing that," he says. "I'm proud of what we accomplished there. We built a team and were able to find consensus on a variety of issues among five states and six federal agencies."
While there, he also learned to appreciate programs that encourage "actionable" science in a politically charged environment. The Water Institute in Baton Rouge, he found, was a prime example of such a program. When his predecessor at the institute, Chip Groat, announced his retirement, Ehrenwerth was tapped as president and CEO in 2017.
He has since overseen a period of rapid expansion in scope and geography at The Water Institute. In 2020, the institute completed a large-scale resiliency study and plan for the City of Houston. They've also worked for the U.S. Corps of Engineers in Galveston and the City Charleston, South Carolina, and were recently asked by the state of Virginia to assist with the state's first coastal master plan and resiliency strategy.
Ehrenwerth has also come to recognize a common thread in his academic and professional journey of the last two decades. "We at the institute spend a lot of time helping the most vulnerable communities and historically under supported deal with flooding and various other challenges," he adds. "I do appreciate that I have the opportunity to work on some of these issues that motivated me some 20 years ago."
OF THE CURRENT WORK AT THE WATER INSTITUTE, WHAT ARE YOU MOST EXCITED ABOUT?
We have a partnership, the Partnership for our Working Coast, that is a collaboration between Shell, Chevron, Danos, Port Fourchon, the National Fish & Wildlife Foundation and others that has taken on even more meaning in the aftermath of Hurricane Ida.
The port plans to ultimately dredge the channel to 50 feet … the question we're trying to answer is what to do with that material? To our sediment-starved coast that's a gold mine.
We're using some of the most advanced numerical models that have been created to look at where we can get the biggest bang for the buck. Where can we put that material to build wetlands, ridges and terraces to protect the infrastructure of the port for it become part of the multiple lines of defense from storms.
It's not only good for the environment, it's good from a community resilience perspective. And it has carbon capture benefits. The wetlands in Louisiana do a better job of capturing carbon that anywhere in the world. In fact, the Governor's Climate Initiatives Task Force has instructed The Water Institute to quantify the amount of carbon that the wetlands capture.
We're hopeful to unlock the potential of Louisiana's wetlands in the carbon capture market. There's been more excited about that subject in the last six months than in the last 10 years. And it doesn't stop there.
We're now in discussions about doing the same thing in places like Venice and the Calcasieu ship channel. A great deal of the industry has a stake in it, so a partnership works best in incorporating built infrastructure and natural infrastructure.
WHAT'S YOUR BIGGEST PROFESSIONAL CHALLENGE?
That has been ensuring that The Water Institute plays an appropriate role in what the Dutch call the "Golden Triangle."
The three points of the triangle are the government, academia and private sector. To work on this set of issues, you have to bring everybody to the table. It's something that we've struggled with, but we've also made so much progress.
In 2020, Gov. Edwards called the Water Institute the Coastal Innovation Collaboration Hub, and that speaks to who we are. There's a lot of work that needs to be done. Some of it is work for the Water Institute, but some of it is work for our private sector or university partners.
Figuring out what that right balance is has been a challenge, but an extremely satisfying process over the last couple of years.
WHAT'S MOST REWARDING ABOUT WHAT YOU DO?
The opportunity to work with so many brilliant people who are far less interested in seeing their name in lights than delivering actionable solutions. If we make our decisions based upon who is the most powerful, has the most political clout etc., we're going to have deep structural challenges. But if science can inform the issues, we see decisions made that are thoughtful. Maybe everyone doesn't agree with the decisions, but everybody understands the "why."
LOOKING AHEAD, WHAT DO YOU SEE AS THE BIGGEST CHALLENGE FACING THE WATER INSTITUTE?
The threat of indigestion rather than starvation. There is so much need and so much work to be done. We have to be thoughtful about the projects we take on and the manner in which we are continuing to grow.
Unfortunately, the environmental stressors are only increasing. We're seeing more frequent and more powerful storms, and more flooding, so the need for our work is growing dramatically. How do we continue to make the most meaningful impact without stretching ourselves too thin?
In our role on the Climate Initiatives Task Force, we were asked to do two things: quantify the amount of carbon that our wetlands sequester, and facilitate the entirety of the process. In that vein, we're using a science-based method called structured decision making. When you have a group as diverse as the task force, we have to find a way how to take that group, deliver the mandate and offer recommendations to the governor.
Ultimately, that's what the Water Institute was created for. We're not going to "crank out" a solution for the decision maker. We're here to inform a decision. Ultimately, it's up to the task force to determine what they present to the governor and up to the governor to decide what he's going to act upon.