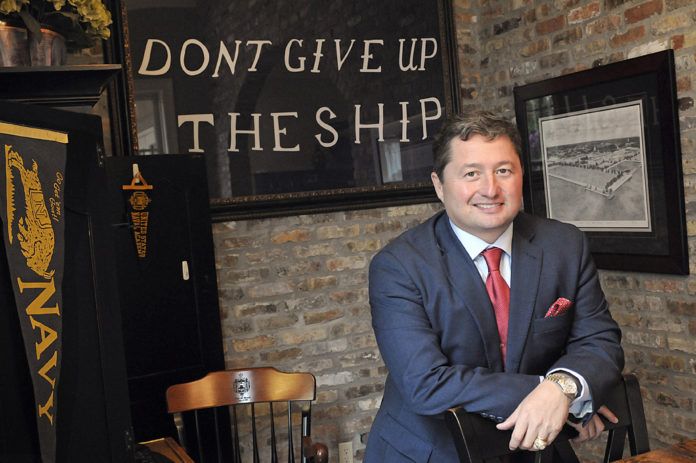 Erick Knezek, Founder & Managing Partner, Truston Technologies Inc. Photography by Terri Fensel
---
Where did your career start, and how did you get to where you are today?
I served in the Navy for six years after Annapolis as a U.S. Navy Seabee and Diver. My last two years in the Navy were after the USS Cole bombing in Yemen and the attacks of 9/11. I was thrust into the new industry of port security. I traveled the world implementing port security measures and quickly became one of the leading experts on port security barriers. This led me to take a chance in business, providing ocean engineering services to the U.S. Navy and other domestic and foreign customers. Our business has grown to providing design, fabrication and installation services to the defense and marine markets worldwide.
What are your responsibilities at Truston Technologies?
Along with my business partner, I handle the strategic vision and direction of the company. My primary focus is developing our long-term business opportunities.
What is your secret to leadership and advancing in your field?
To me, leadership is making the right decision for the long-term benefit of your organization. Leadership decisions are not always popular and require courage. Good leaders possess the vision to recognize the direction they need to move their organization and the courage to make the tough decisions to do so.
What is your favorite part about what you do?
My job is adventurous. Each job is in a different location and has a slightly different scope. We are typically working on the water or near the water. I could be in Virginia one week, Italy the next and Japan the following.
What do you see for the future of your industry?
I am always pushing for more innovation in my industry. These could be innovations in safety, corrosion resistance or new patents. We recently were awarded two new patents. One is a mooring system that increases the efficiency of deep draft vessels performing lightering operations, and the other involves using lightweight concrete as a part of coastal protection solutions.
What are your next goals both professionally and personally?
I enjoy the excitement of growing business. Outside of Truston, I am working to develop Anytime Fitness franchises in the country of Panama. My kids are entering college, so I hope to help them get the education and experience to achieve their goals.
I recently suspended my campaign for the Louisiana 3rd congressional seat. I enjoyed the experience and learned a lot. Serving in the House of Representatives to improve our state and nation is definitely still a long-term goal of mine. I'll consider another run when the time is right for me.
What is your most satisfying professional accomplishment?
Becoming a Navy Diver was quite an accomplishment for me. My training was four months long and put me through extreme physical and mental challenges.
What is your favorite way to spend your time?
Time with my kids is my favorite way to spend my time. My daughter is 19, and my son is 17. They are my two best friends. I love hanging out with them, no matter what we are doing.
What is an item on your "bucket list"?
Go into space. I dreamed of becoming an astronaut, and that was my motivation to prepare for and attend the Naval Academy. I actually applied to NASA as a lieutenant in the Navy while at my last command. Although I wasn't selected then, I was proud to have qualified to apply.
What is your go-to spot in Lafayette?
La Pagua Mexican restaurant. The food is the real deal. My grandparents were Mexican, so I grew up eating real Mexican food at all of my family events. La Pagua is the closest thing to my mom's and grandmother's cooking.
---
Originally published in the third quarter 2016 edition of 10/12 Industry Report.