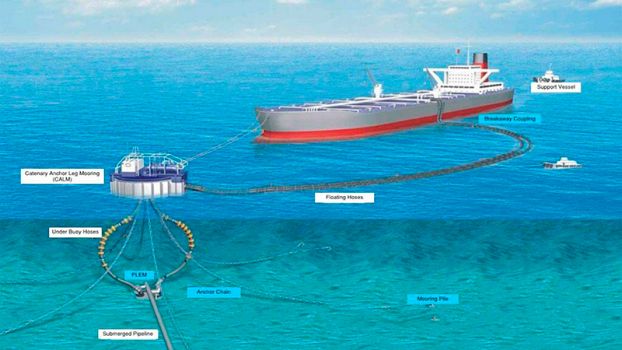 A decision on a deepwater port proposed for nearly 100 miles off the coast of Cameron Parish is expected in September, with construction following in the fourth quarter of 2021.
Public scoping meetings took place last week on Blue Marlin Offshore Port LLC's application to the Maritime Administration and the U.S. Coast Guard for the project, which includes an approximately 37-mile long, 42-inch diameter crude oil pipeline to connect the Nederland, Texas terminal owned by Energy Transfer through Orange County to a 36-inch Stingray Pipeline at Station 501 in Cameron Parish. The port would be designed to transport crude oil and load it for export.
If approved, construction is planned for the fourth quarter of 2021 with project in-service beginning by the third quarter of 2023.
The Coast Guard, in coordination with MARAD, is preparing an Environmental Impact Statement for the proposed project in accordance with the Deepwater Port Act, National Environmental Policy Act and applicable regulations. A draft is scheduled for completion by March 2021, followed by a public meeting. A decision will be made in September.
Blue Marlin plans to convert two above-ground stations in Cameron Parish from natural gas to oil service along the existing Stingray Pipeline, as well as the pipeline itself from natural gas to oil service (including an interim platform), and a platform complex from natural gas to gas and oil service. The facilities will be designed to move 80,000 barrels per hour, capable of exporting light to heavy crude oil, monitored around the clock from operation staff at a Cameron Parish platform complex and the control center in Nederland, and load out as many as 365 crude oil carriers per year.
CALM Buoys will be anchored to the seafloor via an engineered mooring system capable of accommodating mooring forces exerted by a VLCC or other large seafaring vessel during the loading operations.
Two 24-inch diameter floating hoses will be connected to each CALM Buoy. The hoses will be approximately 1,500 feet long and used for loading operations. The hoses will connect to two crude oil loading pipelines three feet below the natural seafloor.