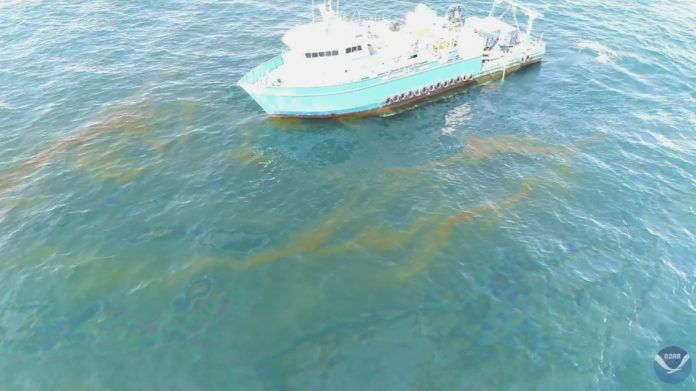 Behind the cleanup of the longest-running offshore oil spill in American history is the Couvillion Group, a Belle Chasse maritime services firm.
The leak started in 2004, when an oil platform belonging to the Taylor Energy Company was damaged by a mudslide after Hurricane Ivan hit the Gulf of Mexico. A bundle of pipes and wells sank to the ocean floor and became partially buried under mud and sediment.
To respond to the leak, Taylor Energy tried to cap nine of the wells and place containment domes over three of the plumes in 2008. But after local activists observed more oil slicks near the site of the Deepwater Horizon Spill in 2010, the Taylor Energy oil spill started getting national attention. And last May, the U.S. Coast Guard installed a containment system that has been collecting 30 barrels, or about 1,260 gallons, a day to help catch the oil that's continuing to surge in the ocean.
As detailed in a story in The Washington Post, Couvillion Group—hired by the U.S. Coast Guard for one of its biggest jobs—conceived and designed the containment system weighing more than 200 tons, built it in shops all over southern Louisiana and pieced it together deep underwater. The system has recovered about 63,000 gallons since March, according to Couvillion—virtually eliminating a rainbow-colored slick that has stretched as far as 21 miles.
"I'm extremely happy with the work the Couvillion Group has done," U.S. Coast Guard Capt. Kristi Luttrell tells the newspaper. She called the containment "unlike anything I have seen."