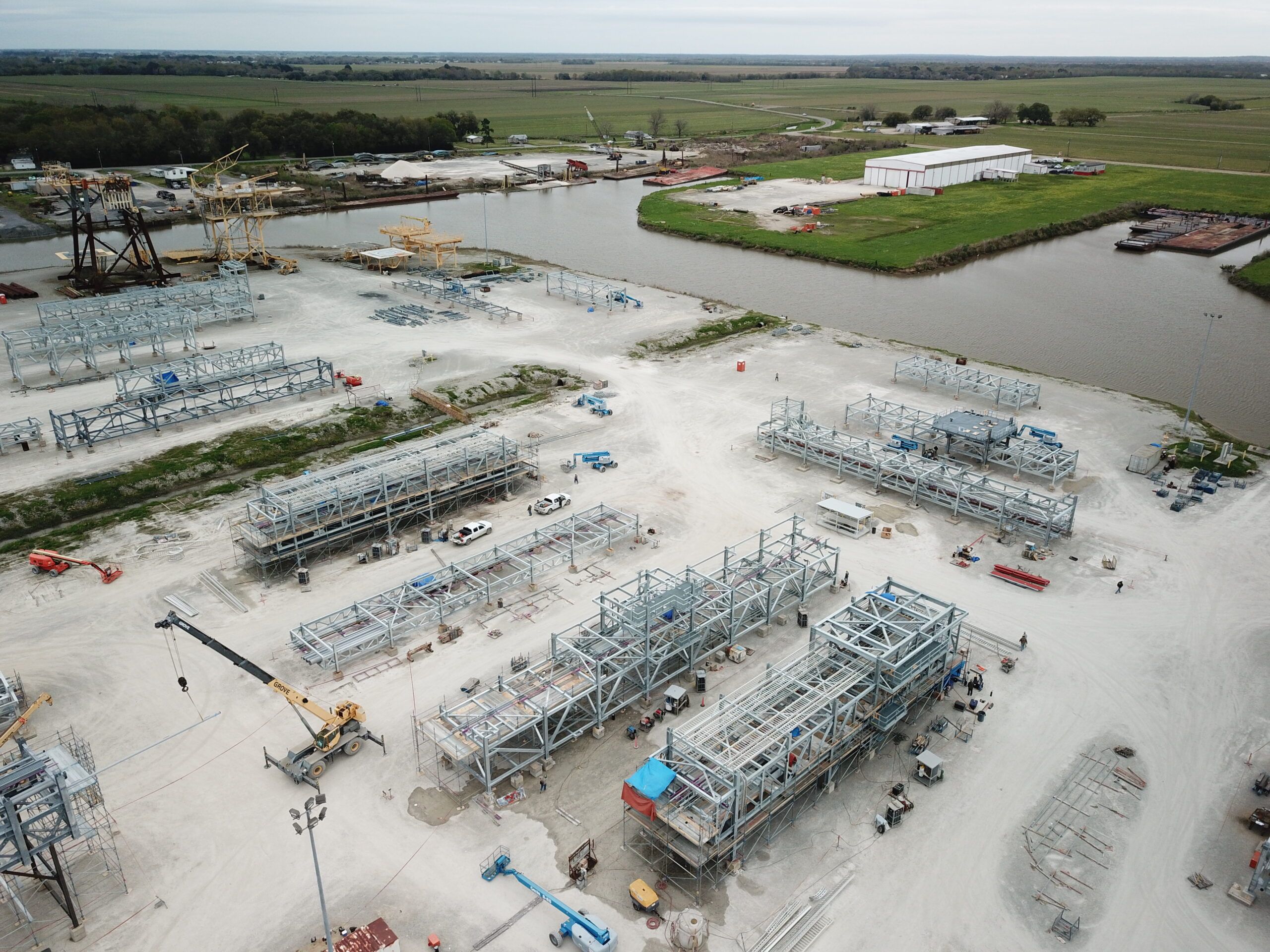 The proof is in the numbers. 
In just the last four years, Turner Industries has racked up nearly 900,000 manhours at its Port Allen and New Iberia module fabrication yards without a single OSHA recordable. 
It's perhaps a lesser publicized benefit of modularization, given the increasingly popular construction method's enhanced control over productivity, cost and schedule. 
By integrating more modular components into construction projects, the petrochemical industry is effectively lowering the occurrence of injuries and fatalities by transferring a significant amount of work away from the traditional construction site to a safer environment. 
Modularization shifts much of the labor-intensive field construction activities from the field to an offsite fabrication facility to mitigate or reduce the inherent risks associated with field construction. 
Typically, a modular system includes complete process units that are fabricated remotely. The systems are built in a controlled indoor or outdoor environment in assembly-line fashion, horizontally as opposed to vertically, which helps minimize the amount of work and resources needed versus field construction. 
Carlos Guidry, senior vice president of construction at Turner Industries in Baton Rouge, says most large industrial projects come with a modular component these days. That's a far cry from when Guidry began managing Turner's Port Allen module yard in 2011—dubbed internally as the "415 Yard." At the time, he was having to sell clients on the benefits of modularization. 
Owners were hesitant to adopt the methodology because it represented a seismic shift from traditional "stick-built" construction. 
They aren't on the fence anymore. Today, nearly every RFQ, or request for quote, contains a modular component, and Turner averages some eight to 10 modular packages at any given time. 
"In the past, a large module project might have consisted of 20 to 30 modules; now we get packages for 200-plus orders," Guidry says. The orders are also getting larger, with many of them specifying modules that are 85 feet tall or higher. 
That prompted Turner to begin looking for larger facilities in 2019, since its existing Port Allen yard could only handle 55-foot modules due to height limitations beneath the LA 1 overpass. "We saw the wave coming," he says. "We were seeing larger modules and were beginning to miss opportunities." 
At 100 acres, Turner's New Iberia yard, which began operating in 2021, is nearly three times the size of its Port Allen facility and with no height restrictions. The new yard is also ideally positioned to service the offshore market.
IT'S JUST SAFER
Modularization's biggest safety benefit is that it reduces the need for a contractor to work from heights. "It's one of the most dangerous things you can do in construction," Guidry says. "Typically, the lowest section of a pipe rack is maybe 20 feet … so instead of starting at 20 and perhaps going to 40 or 50 feet in the air, with modularization your base elevation is at grade. You're not having to go nearly as high."
Additionally, a modular contractor isn't having to work within an operating industrial facility. "There are no hydrocarbons or chemicals, and you don't have to worry about any operating units running next to you," he adds. "That means we don't have to wear flame retardant clothing, which can be problematic during a typical south Louisiana summer." 
Manhours are also reduced since the modular contractor is working more efficiently, and they can work several modules at a time. The need for scaffolding is also minimized.


Guidry says an owner will typically monitor Turner's safety both in the module yard and the field, and the contractor will present safety statistics, along with progress reports, during weekly meetings. They also post dedicated safety supervisors—the number dependent upon manpower levels—and a safety manager on site, who in turn report to the corporate manager. 
"Industrial construction is about safety, and we begin all of our meetings with safety topics," Guidry says. "We're happy to get the owner's input."
Owners are no doubt attracted by the typically low TRIR (Total Recordable Incident Rate) that results from a modularized construction project. Ryan Varnado, plant manager at Honeywell Baton Rouge, says his company has a capital projects group with its own project managers and engineers, and they'll request quotes from contractors for both modular and traditional stick-built construction for most of their projects.
In fact, Honeywell Baton Rouge recently completed the modularized construction of a new product column during an expansion project. "Safety is one of the big advantages, but there's also quality control since a lot of the equipment is manufactured in a shop environment versus within an operating plant," Varnado says. "You're also less impacted by weather since much of the fabrication can be done inside a shop." 
That translates into reduced schedule risk and a more measured construction pace, which create additional safety benefits. It's ideally suited for greenfield projects, Varnado says. "We use modularization more when we're erecting taller equipment such as a distillation tower, or if it has a lot of ancillary equipment," he adds. "If it's ground up construction, I feel it's advantageous."
One thing is clear: Reducing the volume of on-site construction work during a capital construction project can significantly improve safety at the plant. Some 140 Honeywell employees and 110 nested contractors work at Honeywell's Baton Rouge site. 
Varnado says modularization is undoubtedly the wave of the future. "If it's a viable option, it's usually the best approach because it's a safer and less expensive ways of doing things," he adds. "If the type of construction allows for it, I see people going that way more and more."
LNG LIKES MODULAR
The LNG industry has a particular preference for modular work. That's because LNG projects are typically high-speed, fast-tracked endeavors in remote locations with limited access to materials and labor. 
In March, Venture Global awarded Baker Hughes in Houston a contract to provide a modularized LNG system for the first phase of its Plaquemines LNG project. The efficient liquefaction train system supplied by Baker Hughes is modularized, helping to lower construction and operational costs with a "plug and play" approach that enables faster installation. 
Baker Hughes is manufacturing and testing the pre-assembled and fully integrated modular turbomachinery units from its manufacturing and assembly facilities in Italy. As part of the scope, Baker Hughes will also provide field services to assist in commissioning of the supplied equipment.

The order builds on an award in the Fourth Quarter 2021 for Baker Hughes to provide power generation and electrical distribution equipment for the comprehensive power island system of Venture Global LNG's Plaquemines LNG project.
"The Plaquemines LNG project is another example of our extensive experience with modular LNG to provide fully integrated compression and power solutions," says Rod Christie, executive vice president of Turbomachinery & Process Solutions at Baker Hughes, in a press release.
In 2021, Baker Hughes successfully completed delivery of the ninth and final block for Calcasieu Pass; all shipments were finalized ahead of schedule. Calcasieu Pass holds the global record for the fastest construction of a large-scale greenfield LNG project, moving from FID to first LNG in 29 months. Much of that was made possible by its modular approach.