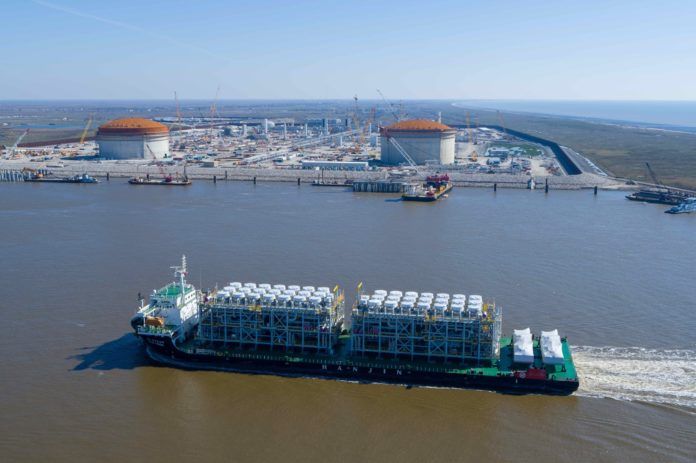 Venture Global LNG has issued a tender seeking vessels that could pick up commissioning or test cargoes from its Calcasieu Pass LNG export plant, which is under construction, Reuters reports.
The tender seeks vessels as soon as October, but Reuters reports the first train at the $4.5 billion facility isn't expected to produce its first liquefied natural gas until December. It's also ahead of an autumn 2022 commissioning date Venture Global has posted on its website. LNG plants typically begin producing test or commissioning cargoes about three months before they officially enter service or are commissioned.
Calcasieu is one the first big projects to use modular liquefaction trains—Venture Global is installing 18 trains at the plant. Reuters reports that the plant coming online ahead of its autumn 2022 schedule could demonstrate that modular construction is efficient and results in cost savings.

In November, the company announced the arrival of its first two liquefaction trains at the company's Calcasieu Pass LNG export facility—less than 15 months after the project's final investment decision, hailing it as "not only a major project milestone but also a step-change in LNG construction."
The two midscale, modular liquefaction trains and mixed refrigerant compressor skids were shipped to Louisiana from Baker Hughes's manufacturing facility in Avenza, Italy more than two months ahead of the contractual delivery date.
Each train, delivered complete and ready to install, was successfully unloaded, transported onto the Calcasieu Pass site and positioned on its foundations in less than a day. The first and second of the project's eighteen identical trains will now be connected to their respective Chart brazed aluminum heat exchangers, or cold boxes, eight of which are already installed on site.
Calcasieu is expected to produce about 10 million tonnes per annum (MTPA) or 1.5 billion cubic feet per day of natural gas.