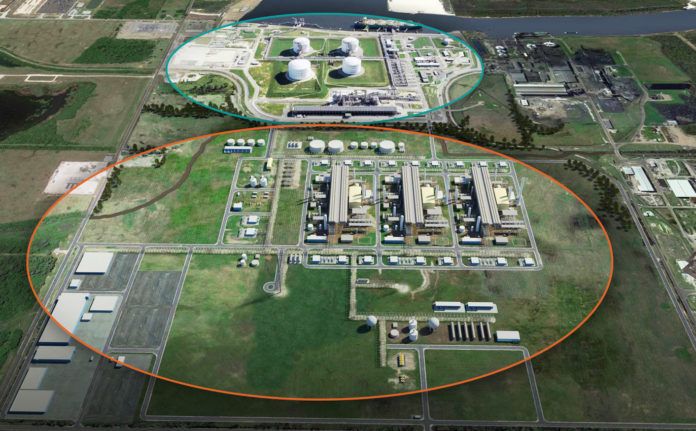 The developers of the proposed Lake Charles LNG have gotten another five years to build and start up export facilities in Calcasieu Parish.
The Federal Energy Regulatory Commission issued the extension last week as the project moves toward a final investment decision—planned for next year—giving partners Shell US LNG and Energy Transfer LP more time to execute their 240-acre expansion plans at Lake Charles LNG, a former import terminal.
Bids for engineering, procurement and construction are expected in the second quarter of 2020.
The new export facility would include three liquefaction trains with a combined capacity of 16.45 million metric tons per year, or about 2.19 Bcf/d. According to the arrangement between the two companies, Shell would manage construction and operate the facility.
Energy Transfer initially partnered on the project with BG Group plc, which was acquired by Royal Dutch Shell three years ago. In August, the companies requested a five-year extension to complete the export project, citing the "complex international merger" that required the renegotiation of agreements.
Under the terms of the new agreement, subsidiaries of ET and Shell each would own 50% of Lake Charles LNG Export Co. LLC and each could subscribe for one-half of the capacity. Under the original project approved by FERC in 2015, BG Group subsidiaries were to subscribe for 100% of capacity, while Energy Transfer would enjoy full ownership. The Department of Energy has also granted Lake Charles LNG the approval to export LNG worldwide.
"This is an important step in the continued development of this LNG project with Shell," Energy Transfer LNG President Tom Mason said in a statement. "This project capitalizes on repurposing existing brownfield regas assets to achieve cost savings in the construction of the liquefaction facility."
Natural Gas Intelligence has the full story. A subscription may be required.