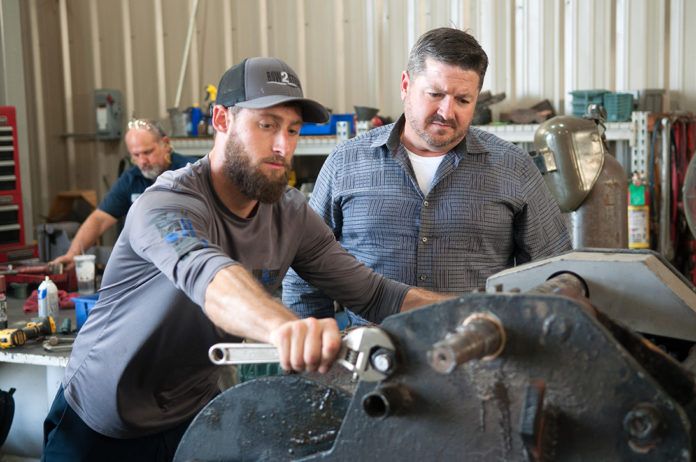 ---
What started as a hobby for Shane Thibodeaux had become a small business success story by 2014. His boat engine service company, Bow2Stern Services Inc. in Houma, had peaked at $7 million in annual sales and 33 employees, and he was taking on new product lines and distributorships.
At the time, about 40% of Thibodeaux's work was in the offshore "blue water" market and the future looked bright.
Fate, however, had other plans. The price of a barrel of oil dropped precipitously in late 2014, sending catastrophic shock waves through the area and irrevocably changing the offshore oil and gas paradigm. By 2016, Thibodeaux's annual revenue had dropped to less than $3 million and eight employees remained on staff—even his business partner was taken off the payroll. Customers went bankrupt and bad debts had to be written off.
"All I wanted was to see bottom, because it just kept going down and kept going down," he says. "At least at the bottom, we would know we were at the bottom."
The bottom finally came in early 2018 as the offshore market stabilized, albeit at a decidedly depressed level of activity. Thibodeaux then shifted his attention to rebuilding, and a new federal marine requirement came along in the nick of time. As part of its "Subchapter M" regulations, the U.S. Coast Guard began requiring the inspection of all inland vessels, prompting vessel owners and operators to refurbish their fleets and fabricate new boats, en masse.
"When the Coast Guard initiated the deadline, we really began to shine because it covered just about everything that we did," Thibodeaux says. "Everything that needed to be done, we were the team to go in and do it. That really worked in our favor."
That changed Thibodeaux's customer mix to about 90% brown water and 10% blue water, with much of his work now on river tugboats, push boats and line haul boats. Still, he misses the heady days of oil and gas. While the Corps work might be a great addition to his portfolio—he's back up to 23 employees—it's not his core business.
CRASHING HARD

From 2015 to 2017, the direness of the employment situation played out in broad swaths across south Louisiana. Houma, Thibodaux, Lafayette and other oil and gas communities suffered sharp increases in unemployment, with rates almost doubling.
As for Houma, it lost some 17,500 jobs, a decline of 17.5%. That was three times worse than the U.S. employment decline during the Great Recession of 2008-09, according to economist Loren Scott of Loren C. Scott & Associates in Baton Rouge.
The hammer fell on a number of companies in the aftermath, resulting in sizeable layoffs at Edison Chouest Offshore, Morrison Energy, Baker Hughes and Hercules Offshore Inc., among others. National Oilwell Varco in Houma and CCHI Aviation in Galliano shuttered their facilities entirely. Moreover, fabrication yards once filled and backlogged became ghost towns.
"When you drive through the east side of Houma, you'll see the impacts … boarded up buildings and lots of 'for sale' signs," says Lori LeBlanc, executive director of the Gulf Economic Survival Team, an offshore oil advocacy group. "The downturn in offshore has had a significant impact on our economy."
Vic Lafont, president/CEO of the South Louisiana Economic Council, says there's been a noticeably steep outmigration of jobs. That's largely due to the blue-collar nature of the labor force, as many workers didn't have family roots and left town when things got bad. "When you lose talent, you don't just get it back the next day," Lafont says.
Unfortunately, there are more than a few obstacles preventing a significant offshore resurgence anytime soon. Apart from lower oil prices, a seismic shift to the shale plays of Texas and Louisiana and a less-than-ideal regulatory environment also stand in the way. LeBlanc says while regulations have been streamlined somewhat during the Trump administration, more needs to be done to make the Gulf attractive.
"Royalty rates need to be more competitive," she says. "These global companies have a choice … they can drill in the Gulf of Mexico or they can go to places like Guiana. And right now they're seeing a higher return on investment elsewhere."
Cory Kief, president of Crosby Tugs LLC in Houma, agrees that adjusting royalty rates would be a step in the right direction, but says increased federal bond requirements have had an equally depressive impact – all happening in tandem with the oil decline. "That's when the slide started," Kief says. "Companies started filing for bankruptcy, and the ones who could pay for the bonding didn't have money left over for drilling programs."
He feels there's still potential in the Gulf of Mexico, although nowhere near pre-2014 levels. In 2005, when Hurricane Katrina hit, there were 170 shallow water drilling projects in the Gulf; today, he points out, there are only eight.
TURNING THE CORNER?

Scott says good news could come sooner rather than later and gives a decidedly optimistic take on Houma employment numbers in 2020-21. He predicts 1,500 new jobs—a 1.8% growth rate—in 2020 and a robust, extraction-driven bump of 3,000 jobs in 2021. He also predicts that an expanding rig count will generate new jobs at Grand Isle Shipyard, Danos and Morrison, among others, and that shipbuilders in the region will begin hiring due to diversification and the improving offshore environment.
Not everyone is in agreement with that scenario, however. The Louisiana Workforce Commission recently announced that Houma's non-farm employment fell during the first seven months of 2019 by a hefty 2.8%. And both Lafont and LeBlanc say they've seen little evidence of a resurgence—yet.
Nonetheless, Scott says his research contradicts the recent LWC numbers. "Our phone calls to major firms in the region indicate slight additions to their workforce, not layoffs," he says. "Secondly, local sales tax collections in Terrebonne Parish for the first seven months of 2019 are up slightly, not down sharply as one would expect in the neighborhood of losing 2,400 jobs."
He points to other signs of progress. Port Fourchon—a "coincident indicator" of renewed activity in the Gulf—continues to expand its footprint. Next year, $20 million will be spent to complete the expansion of the port's "Slip C" and $8 million will be spent to dredge "Slip D."
Chett Chiasson, executive director of the Greater Lafourche Port Commission, says the port is readying itself for a pickup in activity, "but we're not going to get too far ahead of ourselves."
He is most excited about the impending development of a $250 million deepwater draft facility, which has the potential to create up to 1,300 jobs. That would enable the port to better support the service and fabrication sector. "Currently, there's not enough capacity to adequately service what we have in the Gulf of Mexico," he adds. "A lot of business leaves and goes to other ports, sometimes halfway around the world. We want to keep that business here."
The port plans to push the authorization through Congress as part of the next Water Resource Development Act in 2020 and begin dredging in 2021.
Also on tap is the port's planned Energy World LNG project, an $888 million LNG export facility sited on 150 acres on the west side of Belle Pass. While water depths are good enough for Fourchon LNG's first phase (2 million tons per annum), additional depth will be needed for Phase 2 (5 million tons per annum) to support larger, higher-capacity vessels.
Energy World is currently leasing 140 acres at the port and has a "right of first refusal" on another 12 acres. "It's moving along, slowly," Chiasson says. "The Waterway Suitability Assessment will be completed within six months and then submitted to the Coast Guard for review." Upon approval, the report will go to the Federal Energy Regulatory Commission.
TALES OF RESILIENCE

When the oil bust happened, those that survived did so by embracing a new reality, either shifting to brown water work, moving to the inland shale plays or diversifying into entirely different markets.
Many south Louisiana oil patch companies followed their owner-
clients to the shale plays and/or broadened their client base. Danos in the community of Gray is a case in point, as the company made a radical shift from offshore to inshore and grew its business in the process. In just the past six months, the company's employment numbers have increased from 2,000 to 3,000. It's also in acquisition mode, having recently purchased Shamrock Energy Solutions in Houma.
Much of Danos' work today is in the Permian Basin. "Our risk profile has changed because our work is now primarily land-based," Owner-Executive Mark Danos says. "That means we now have people on the road, not over water. It's not unusual to have someone drive three hours to check a site and then another two hours to another site. In just the last year, we've driven a couple of million miles."
Danos also strives to be vertically integrated and offers more than a dozen different services that are interconnected and complementary. "We're not just operating the facility or building the facility, we can do both. We don't design it, but we can build it, install it and operate it."
That's not to say, however, that Danos didn't experience some challenges in the wake of 2014's downturn. The company lost some major contract opportunities as projects were cancelled or were moved elsewhere, but the company pivoted quickly. "Today, we're better and stronger because we have a more diverse base."
Gulf Island Fabrication Inc. has also demonstrated an ability to roll with the punches. A decade ago, GIFI was almost entirely focused on fabricating components for tension-leg platforms, or TLPs. Today, the company supports fabrication, shipbuilding and services divisions.
According to Scott, Gulf Island's shipbuilding unit has the largest backlog of work, enough to take it through 2020 and 2021. The firm has two new contracts to build car ferries for two state departments of transportation and is working on three Regional Research Class Vessels (RRCVs) for Oregon State University. It also has two contracts to build T-ATS (military sealift command ships) for the U.S. Navy, with options for five more.
"They had to diversify to offset the downturn from the offshore industry," GEST's LeBlanc says. "Boats are used in many other sectors of our economy; not just oil and gas. They're actually in the process of converting a riverboat casino to a floating hotel."
Crosby Tugs also saw the need to adapt and subsequently purchased 10 dredges so it could tap into the growing coastal restoration market. The company lost about a third of its workforce after 2014; today, they employ about 1,100 employees at offices in Galliano and Houma. "Things are changing and you have to change with the changes," Kief says. "Once you get afraid of changing, it's going to pass you up and you're gone. If you don't want to accept that, well then you're not going to last long."
As for the future, LeBlanc is optimistic that the area will bounce back through sheer tenacity. The evidence, she adds, is everywhere. "These companies are resilient and will survive by working elsewhere until the Gulf comes back to where it was … if it does. We've seen it time and again."
---
This article was originally published in the Q4 2019 issue of 1012 Industry Report.