The second of three carriers built to transport LNG from Cameron LNG in southwest Louisiana to markets in Japan and other countries has been completed.
The ship, named Marvel Heron, is Mitsubishi Shipbuilding's newest carrier that achieves significant improvements in both LNG carrying capacity and fuel performance through adoption of a more efficient hull structure and an innovative hybrid propulsion system.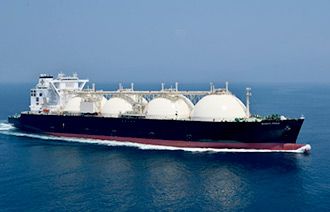 The first carrier—named Marvel Eagle—was the first vessel equipped with the high-performance ship operation data collection device. Detailed voyage and engine data on actual voyages will be collected from the vessel during operation and stored in a cloud-based data platform to develop applications. It was completed in October 2018.
Both carriers will sail under charter contracts signed with Mitsui & Co. in September 2014 and January 2015. The order for the MARVEL HERON was received through MI LNG Company Limited, a joint venture established by MHI and Imabari Shipbuilding Co., Ltd. to design and market newly constructed LNG carriers. Construction was undertaken by Mitsubishi Heavy Industries Marine Structure Co., Ltd., a Nagasaki-based MHI Group company.