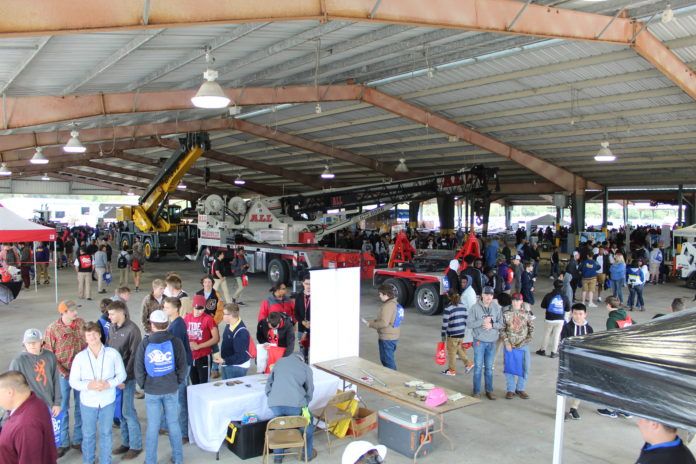 More than 1,000 high school students from across south Louisiana gathered at the Lamar Dixon Expo Center in Gonzales in September to learn about career possibilities in construction and industry.
It was the largest Build Your Future Day the ABC Pelican Chapter has hosted.
Some 60 construction and industry companies were on site with construction-related demonstrations and exhibits. Students in grades 9-12 safely interacted with various pieces of heavy equipment and simulators to better the types of work opportunities that are available.
2019 ABC Pelican Build Your Future Day
Sarah Varner of Brown and Root Industrial Services represented her company at Build Your Future Day 2019. "Ultimately the future of industry in Louisiana is dependent on this up-and-coming generation. This event allows them to see how industry can be done from a craft all the way to the engineer."
Hoyt Ponder, a welding, electrical, agriculture and core teacher at Albany High School, said he brought his students to the event to raise their awareness of available job opportunities.
"At Albany, we focus on welding and electrical," Ponder said, "At Build Your Future, my students get to see firsthand pipefitting, instrumentation, scaffolding and heavy equipment demonstrations, so that they can get a well-rounded view of what construction is."
Austin Heap, an eleventh-grade student at Dutchtown High School, hopes to be part of the construction workforce in the future. "I don't know what craft I want to go in to," he said, "but I hope to find out today."
In addition to the demonstrations, several local contractors set up on-site performance verification trailers to show students the various components to crafts such as electrical, instrumentation and pipefitting.
ABC Pelican is a nonprofit trade association of contractors, subcontractors, suppliers and industry professionals.