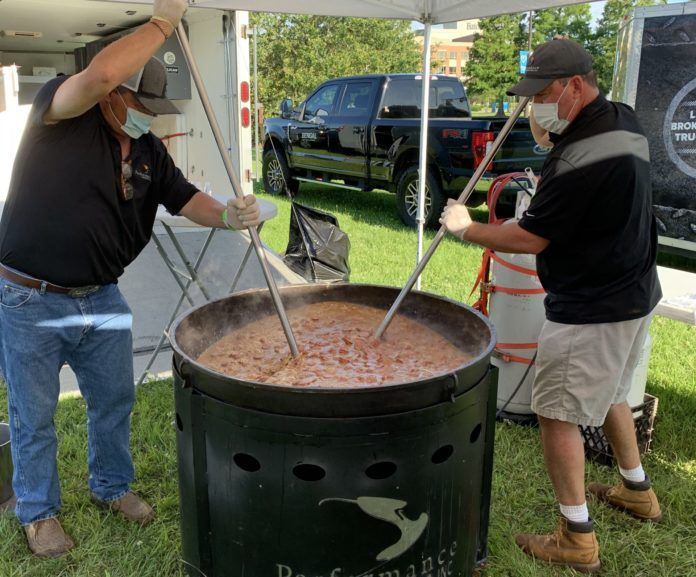 The Pelican Chapter of the Associated Builders and Contractors last week hosted Workforce Feeding Frontlines, a community event for the Merit Shop construction workforce and other ABC Pelican Member companies to show their appreciation to local frontline healthcare workers and nonprofits by preparing and delivering them meals.
The nearly 40 ABC Pelican companies that participated in Workforce Feeding Frontlines, which took place in the open lot of the Baton Rouge General's Bluebonnet Campus, served meals to healthcare workers and custodial staff on the campuses of Baton Rouge General, Ochsner Health, Our Lady of the Lake and Woman's Hospital as well as local nonprofits focused on feeding those in need.
Erik Showalter, president of the Baton Rouge General Foundation, said the frontline workers at the Baton Rouge General are grateful for Workforce Feeding Frontlines.
"It means everything to them," Showalter said. "To not only to receive the food, but to see the community out here supporting what they do, feeding them and showing them the support, it means the world to them. It gives them so much morale and it keeps them going."
These nearly 40 ABC Pelican Member companies participated in the form of donations, cooking, volunteering, assembling, transporting and delivery the meals: 24HR Safety, ACE Enterprises, Arkel Constructors, Arthur J. Gallagher, Baker Gulf Coast Industrial, Beard Construction, Barriere Construction, Bengal Crane and Rigging, Better Pumps and Solutions, Brown & Root Industrial Services, Bottom Line Equipment, Cajun Industries, Catering Cajun, The Cook Hotel at LSU, Eastern Services, Eustis Engineering Services, EXCEL Group, Five-S Group, Great River Industries, ISC Constructors, LaPorte CPAs & Business Advisors, Merit Electrical, MMR Group, On-Site Medical Solutions, Patriot Construction, Performance Contractors, Prime Occupational Medicine, Primoris Services Corporation, Rauch-Milliken International, Sochem Solutions, Safety and Environmental Management Systems, Southern Earth Sciences, Tiger Industrial Rental, Trillium Construction, Turner Industries, Westgate, Wood Group, and Workbox.
Stephen Toups, president of Turner Industries and former chair of ABC Pelican, said events like Workforce Feeding Frontlines are a powerful reminder that while we are all in this pandemic together, the healthcare community is charged with the enormous task of beating this virus.
"This is a way to give back," Toups said. "A whole bunch of great volunteers got together and decided to do what we know how to do, and that's get together in a crisis situation, figure out the logistics and serve where we are needed most."
Safety was a priority and focus of the event. Each volunteer and participant had to visit a wellness tent upon arriving, where they were assessed by medical services providers who also took their temperature. Attendees were also required to wear face coverings and specific PPE if they came in contact with the food.
"Today, we were privileged to bring together many of our members in a safe environment to show thousands of frontline healthcare workers how grateful we are for their service," said David Helveston, President and CEO of ABC Pelican. "ABC Pelican is voice of the Merit Shop Construction Industry across much of Louisiana, and we used that unified voice today to say, 'thank you' to the true heroes of the pandemic."
The day began early for our cooks as they prepped thousands of servings of Cajun cuisine for the heroes. Dozens of volunteers then arrived to assemble the entrée, sides and desserts and then load them on to trailers, SUVs and pickup trucks. Delivery volunteers then drove all over the Baton Rouge area to provide lunch for and to thank the health care heroes.
Celebrating its 40th year, the Pelican Chapter of Associated Builders and Contractors (ABC) represents the merit shop construction industry in 52 of the 64 parishes in Louisiana. It is a diverse, non-profit, trade association of contractors, subcontractors, suppliers and industry professionals who have joined together to advance the construction industry by promoting and protecting the Merit Shop Philosophy and the principles of the free enterprise system.