---
Success can come in various forms, but most of Louisiana's fastest growing private companies share a common strength born out of adversity. A couple of them opened their doors right before the oil market went bust, then had to pivot quickly into different markets. Others began their business as a "side gig" and navigated their way to success against the odds, while another sketched out plans on a kitchen table and sunk every available dime into the company.
Regardless of their inauspicious beginnings, those industrial-specific service companies qualifying for the 2019 Inc. 5000 ranking earned a combined revenue of more than $100 million last year, with some rather remarkable year-over-year growth. Case in point: the list's highest-ranking Louisiana-based industrial service company, Blast Tech of Broussard, grew its revenue by a whopping 857% in just three years.
The business magazine ranked the companies according to their percentage of revenue growth from 2015 to 2018. There were some 37 companies from Louisiana that earned a spot on the list. Of those, seven provide services primarily to the industrial market. Here are their stories, by order of rank.
---
BLAST TECH (pictured above)
Broussard
Growth rate: 857%
Overall rank: No. 509
2018 revenue: $10.3 million
In 2014, Brandon Chatham and Andre Fontova founded Blast Tech to fill a need for dependable blasting and coating services in the oil and gas market.
It seemed like a good idea at the time, given that oil prices were well over $100 a barrel. "Oilfield work was our primary focus and right out of the gate we had to cut that down from 90 to 40 percent," says Chatham, vice president of operations.
Nothing could have prepared the team for the challenges that would bring, as the oil industry quickly went from feast to famine. Blast Tech brainstormed for ways to reduce inefficiencies and overhead, and looked for new opportunities.
They diversified into new markets, opened an indoor facility in Broussard—the largest of its kind in south Louisiana—began a site services division and began working ship hulls, salt mines and pipelines. "We had to diversify quickly, and that's what we did," says Fontova, vice president of commercialization.
They weren't alone, as everyone in the area found themselves in the same boat. "The whole community pivoted together," Fontova says. "We all said, 'Let's make adjustments and execute.' I think that's something that the people of Acadiana do better than anywhere else."
Despite the initial setback, Blast Tech of Broussard has grown to 75 employees. No doubt Chatham's background played a huge role in the company's success. After graduating from University of Louisiana at Lafayette with a bachelor's degree in land and resource management, he brought his "get things done" mentality to multiple companies, including PetroQuest Energy, Green Field Energy Services, Chem Rock Technologies and Rapid Drilling.
Chatham has an innate ability to create efficient processes and procedures, and uses the latest technology and software to get it done. The proprietary software crafted for Blast Tech's indoor facility helps communicate schedules in real time to customers. "We can communicate down to the minute about when we blasted it, who blasted it, how long it took, etcetera—all through iPads," Chatham says.
This real time communication service is one of the ways Blast Tech differentiates itself. It recognizes that time is money in the industrial sector, and that literally millions of dollars could be lost when equipment is down.
Blast Tech forecasts 20% growth year over year, much of that made possible by a 10,000-square-foot addition to its indoor facility in Broussard, to be completed by mid-2020. The company's current footprint stretches across the Gulf Coast.
---
SRP ENVIRONMENTAL
Shreveport
Growth rate: 206%
Overall rank: No. 1948
2018 revenue: $14.4 million

A native of Nova Scotia, SRP Environmental CEO Keith Sampson launched his Shreveport company in 1996, not long after graduating with degrees in toxicology and environmental planning from the University of Wisconsin and LSU.
The company quickly tapped into the burgeoning environmental market and has since grown into 18 offices across 13 states. At each location, SRP provides a broad array of services to clients across all industry sectors, including environmental compliance, assessment and remediation, industrial hygiene consulting, safety management services and comprehensive environmental, health and safety training solutions.
Locally, the company has offices in Baton Rouge and New Orleans, and projects scattered across the state. 10/12 Industry Report sat down with Sampson to ask about his future plans.
When you founded SRP, did you have a clear vision of your goals for the company?
I had a vision and it started to gain traction. I planned to get my degree and start something on the side for extra income. It just kind of grew from there. Within three or four years it went from being operated out of my house, to me having an office, to having an office in another state, to making acquisitions. It just kept growing.
What makes you stand out in a rather crowded field of competitors?
One of the biggest things that separates us is that we don't just do environmental or just industrial hygiene or just safety. We do all of them. Our client base is very diversified, so we want to be diversified. We're vertically integrated and offer a single source for many services. Most clients don't want to have to go to three or four different vendors.
Are there any challenges to managing such a large geographic footprint?
At times, we've organically created a presence in another location and hired someone local or promoted from within the company. In many cases, we've acquired an existing business in the area. It's definitely a challenge to try to keep everyone on the same page, but we've incentivized the offices by having them share in the profits they generate from their operations. We have a strong team that understands the client's and SRP's goals, and delivers our vision. Having good people around you is crucial to success.
How do you envision the future?
There are currently three more acquisitions that we're evaluating. Our business plan is to expand our national footprint in the U.S. and perhaps internationally. Right now, we do work internationally, but on an as-needed basis. There are a lot of areas where we could expand. For example, there are engineering companies out there that are good acquisition targets. When you acquire them, you're also acquiring their expertise, cash flow, client base, reputation and quality employees.
---
MODERN AMERICAN RECYCLING SERVICES
Gibson
Growth Rate: 165%
Overall rank: 1948
2018 revenue: $67.8 million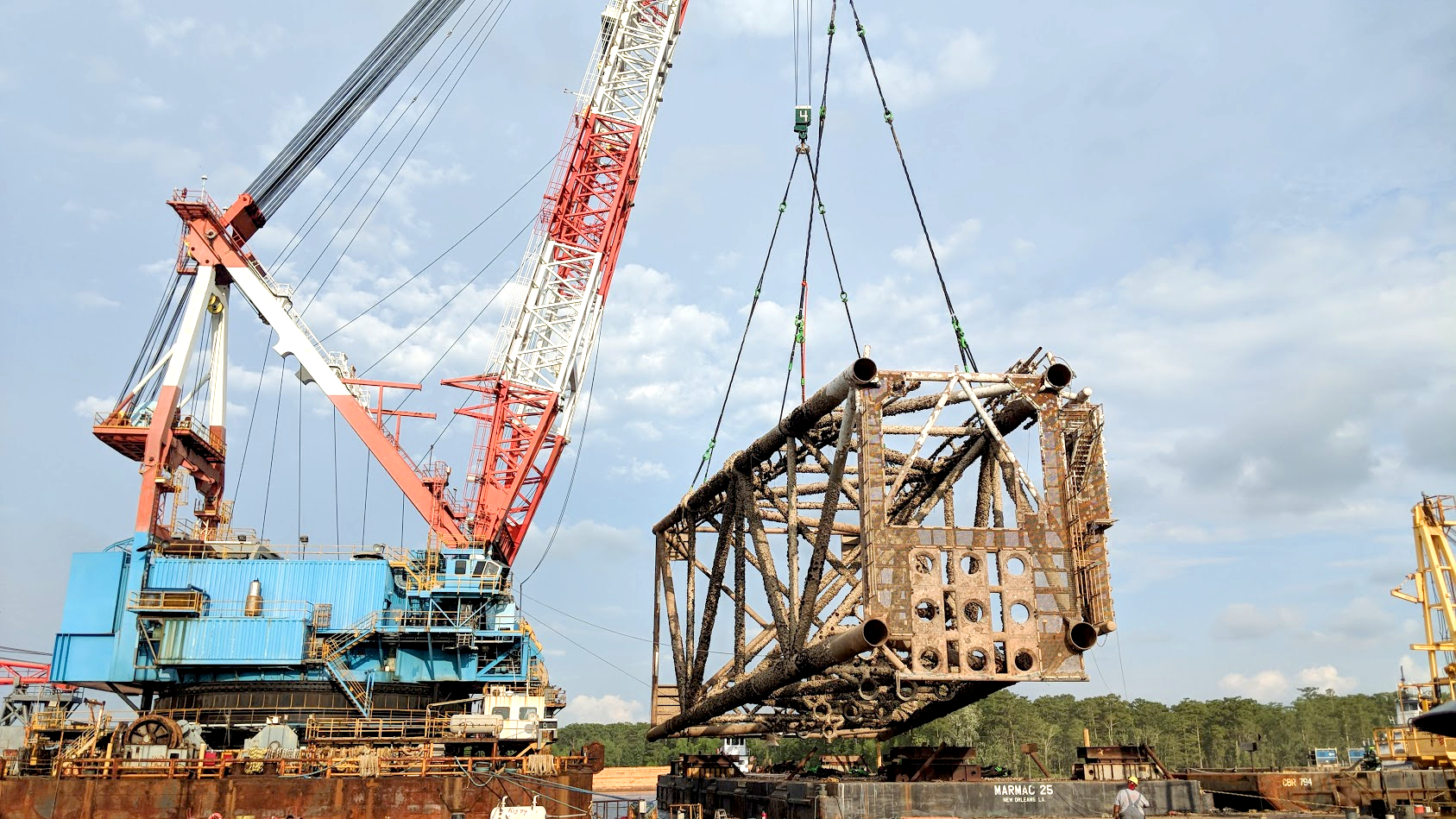 No matter how bad it gets in the topsy-turvy world of oil and gas, one thing is certain: The decommissioning of abandoned offshore rigs will continue, per federal mandate.
Recognizing the opportunity some 15 years ago, Modern American Recycling Services offered up its Gibson recycling yard and today is the largest barge dismantler and offshore decommissioning provider in the U.S.
The 49-year-old company, founded by "Butch" Dwight Caton, decommissions rigs and dismantles retired barges, vessels, bridges and buildings, then recycles and sells the resulting scrap metal and concrete.
The company recently leveraged its success by expanding into Mobile, Alabama, and cut the ribbon on its first international facility in Denmark—a 200-person facility that will decommission platforms and ships of various sizes from the North Sea. The Mobile and Denmark facilities have deeper-draft ports capable of handling larger platforms.
"The largest fixed platform that we've recycled to date is 4,000 tons and they're only going to get bigger as they come in from the deeper water," says Vice President Kristi Caton. MARS has already been awarded a large 7,000-ton platform that will arrive at its Mobile facility in 2020, and in Denmark some of the platforms could reach 50,000 tons.
As for MARS' Gibson location, the peak season for the decommissioning process is April through October.
"We receive the platforms on a material barge, then perform an assessment of any hydrocarbons or possible contaminants," Caton says. "Once they're clean and prepped we start taking down the sections into manageable pieces." A 25-person crew uses cutting torches to cut the pieces into smaller sections for recycling.
Up to 130 platforms are decommissioned at the facility in a given year. "Our methodology enables the dismantling in a timely fashion that's not costly for the client," Caton says.
---
HOSS INDUSTRIAL LLC
Sulphur
Growth rate: 134%
Overall rank: No. 2807
2018 revenue: $2.6 million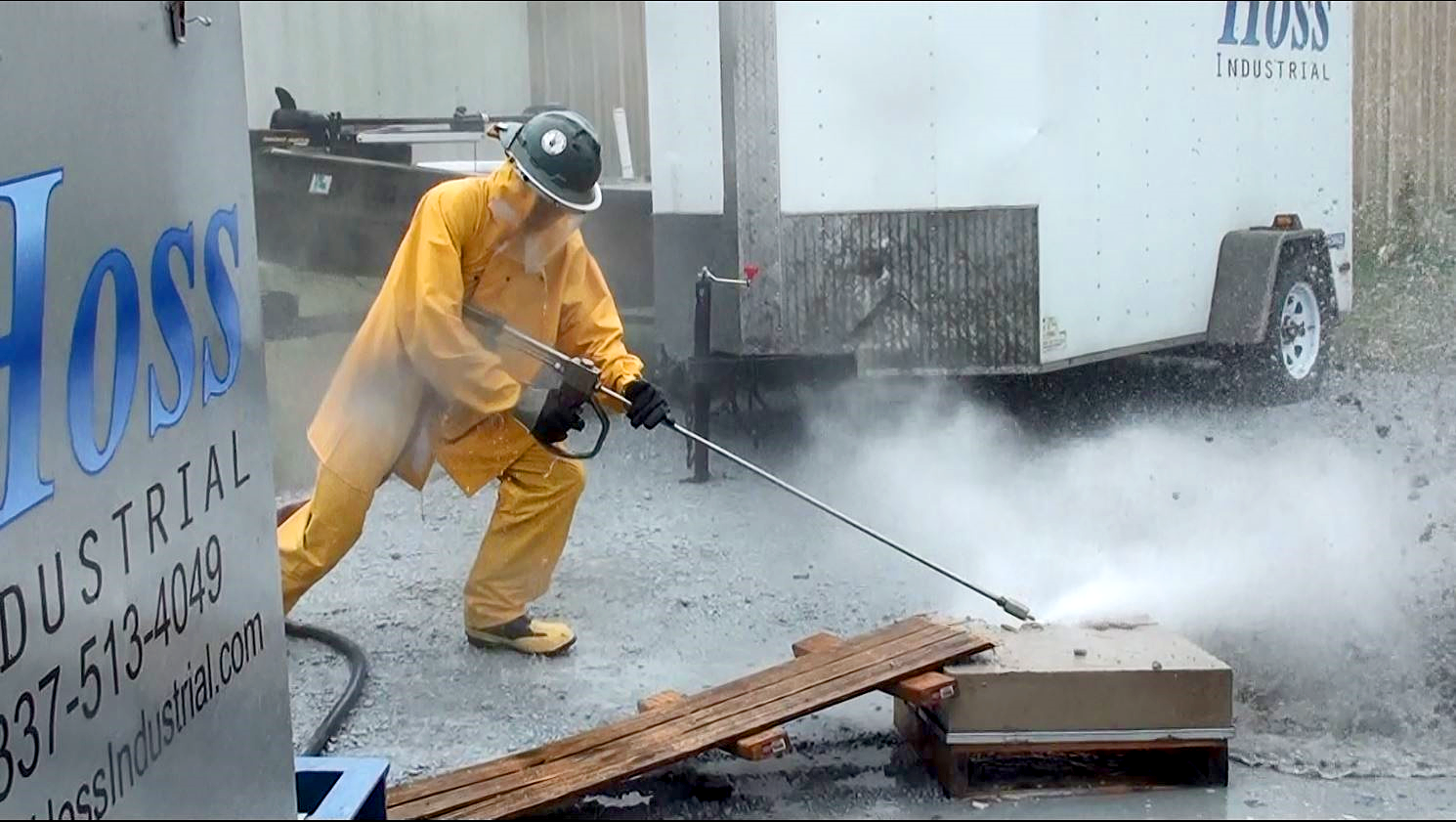 Hoss Industrial LLC in Sulphur takes a slow, measured approach to growing its business—one that stresses quality over quantity.
The majority woman-owned company has grown steadily since its founding, and its portfolio has expanded to include hydroblasting, tank cleaning, boiler washing, wet/dry vacuuming and other industrial cleaning services across Louisiana and Texas.
10/12 Industry Report asked the company's team of owners and partners about their secrets to success.
Tell us about Hoss Industrial's origins and how that has molded your work ethic.
Co-Owner Jason Kleven: In the beginning, we had to police ourselves and turn down work because we just didn't have the cash flow. Today, it's more about what our people can handle. What can we do well with what we have? How fast can we grow our people, and can we afford it? We, as owners, are also more involved in the day-to-day operations of our business than others might be. We're heavily involved in the field, making sure things get done to our expectations. We probably have just as many billable hours on our big days as our hourly people. Start to finish, we own it. From the time the customer calls us until we're done, wrapped up and cleaned up, we own it.
Partner/Manager Christina Gauthreaux: Jason and Desi (Gauthreaux) started this basically at a kitchen counter, and here we are today with significant growth, and projected growth. Just the fact that they started it out of their own pockets is impressive to me.
Kleven: We're young enough so that if we lose everything it will be OK.  We'll just start over and go do something else. It really wasn't that much that we were risking. In the grand scheme of things, it wasn't that much.
What differentiates you from others that do what you do?
Kleven: The knowledge we possess about our customers' systems is probably the biggest thing that we offer. Because of that, we're able to help them control their costs. We've been invited to enter into national contracts and have secured single source agreements.
Partner/Manager Desi Gauthreaux: We're all about team building. In some businesses, you might have four or five people with good skillsets, but they can't work together. Our employees train together and they work together. It's a real team effort. Training is a continuous process, and it's more coaching than training.
How are your future goals shaping up?
Partner/Manager Erica LeJeune: I think the plan is to scale the business model and reproduce it as efficiently and at the highest level of customer satisfaction. We have a ton of work right here in our back yard. Long-term, we've got to figure out how to bottle that somehow and reproduce it in other areas. But right now, there's so much here locally to keep our attention.
Kleven: Our customers are going to drive that. But there are times we have to turn work down. Last year, one client invited us to negotiate work for 36 mills across the nation and in Canada, and we literally had to turn it down. We don't have any investors, so financially we couldn't sustain that type of growth that quickly.
---
QUALITY ENGINEERING & SURVEYING
Port Vincent
Growth rate: 131%
Overall rank: No. 2869
2018 revenue: $5.7 million

President Derek Murphy founded Quality Engineering & Surveying in 2008, working designs at night after wrapping up his day job. It wasn't long before an increasing volume of work turned his design work into a full-time endeavor.
Jamie Seal, vice president of operations/project manager, joined the company to help Murphy with infrastructure and drainage improvements projects.
"We got some pretty significant jobs throughout the state that led the way for us to get into more drainage infrastructure and municipal type projects," Seal says. Today, QES' licensed and support staff of engineers, surveyors, grant specialists, landscape architects and planners provide complete civil engineering design services from preliminary concepts to final construction for projects of all sizes and complexity.
Crossing over into the industrial market brought some challenges, Seal says, as there aren't many engineers who make that move. Nonetheless, QES is continuing to grow its work in the industrial space, offering surveying, civil site design, layouts, etc. To make it happen, as well as serve other markets, QES increased the size of its staff from 20 to 60 employees in just the last two years, and has plans to hire 10 more.
Through it all, the firm strives to keep overhead down, and instead sinks money into employee benefits and improved pricing for customers. "Our growth has always been a natural process," Seal says. "We keep our overhead down so that we can expand into new markets when needed."
There's one way QES hasn't skimped on cost—the design firm always makes sure it has the latest version of AutoCad. "That's our 'shovel' … our main tool," Seal says. "If we don't have a good shovel, then we're not going to remain competitive." The firm has also invested in surveying drones and 3D scanners.
When it comes to technology, QES is careful to blend the old with the new. "Three of our field crew guys have been surveying longer than I've been alive," Seal says. "They know everything there is about surveying and they're able to teach the younger people. I think that's probably one of our biggest strengths."
There's also a big emphasis on "work-life balance," as QES encourages its employees to get involved in the local community and attend family functions. "We always stress priorities—if your child is having a play or some type of program at school, you need to be at your child's school, not here at the office. That work-life balance is important to us."
---
ABADIE-WILLIAMS
Metairie
Growth rate: 87%
Overall rank: No. 3825
2018 revenue: $2.5 million

Abadie-Williams CEO Tyler Abadie founded his firm at a mere 26 years of age and touts his youth as an advantage. In fact, his firm actively pursues young professionals and pairs them with seasoned veterans. "Louisiana hadn't had a young engineering and consulting group to come along in the last decade or so," Abadie says, "and we fit a nice little niche in that market."
The strategy is paying off, as Abadie-Williams has doubled in size each year, growing from a tiny two-person office to 36 employees. The full-service midstream EPC firm provides the Gulf Coast with engineering, consulting, project management, and construction expertise to oil and gas companies throughout Louisiana, Texas and Mississippi. "Our clients range from multibillion-dollar corporations to small family-owned, private equity funds that invest in small developments," Abadie says.
Half of Abadie-Williams' employees come from the owner-operator market, where they worked for refineries, petrochemical, and oil and gas companies.
That enables the firm to offer a more holistic approach to client problems. "There are very few groups that have that holistic understanding of an industrial facility from a capex and operational costs standpoint," Abadie says. "We understand their systems, we understand the project life cycle, and we know the internal checks and balances they have."
In the last seven years, the firm has grown exponentially, losing very few employees in the process. Abadie credits the firm's commitment to cross-training for the low turnover.
"It has allowed us to keep our employees busy," he says. "If there's an area where there's not enough civil engineering work, that individual is also trained in project management so he/she can fill in somewhere else. It also gives them an additional skill set that can open up more opportunities."
Looking ahead, Abadie-Williams plans to open two new offices—one on the north shore of Lake Pontchartrain and the other in The Woodlands, Texas.
---
RED GROUP
New Orleans
Growth rate: 81%
Overall rank: No. 3998
2018 revenue: $2.2 million

For the first few years of its existence, Remont Engineering & Design Group experienced only sluggish growth, and was even beginning to turn down work due to a lack of resources. That's when owner Kyle Remont decided something needed to change. In 2011, he made several critical investment decisions and ramped up his office staff.
It proved to be a wise move, as the control systems and electrical design firm's growth accelerated quickly and has remained that way ever since. RED Group doesn't simply offer a cookie-cutter approach for its clients' problems, but develops dynamic solutions based upon specific needs. To find out more, 10/12 Industry Report sat down with Remont to discuss his business model.
To what do you attribute your rapid growth? 
There was a lot of client demand, and we had to decide whether we would start turning down business or begin ramping up our staff. That was actually the first time we opened a brick and mortar office. At the same time, we opened a panel shop and hired more staff. From there, we really started to grow and fill that demand. Today, we actually assemble industrial control panels.
This allows us to perform turnkey solutions—a big part of what was missing. Before, we would design these systems and program them, but someone else would have to build them. That always presented challenges with communication, testing and quality control.
Tell us more about your company's unique niche.
We're probably a little more technology focused than others. I think "innovative" best describes us. We're open to trying different strategies around all facets of the business. We're also equally open to killing them off if they don't mesh with our other goals or generate value for our customers. I think our team also separates us. They're all self-starters and problem solvers. We're very passionate about developing control systems and we bring that every day to our clients.
One of the things we have focused on over the last few years is developing some of our own technology. As a result, we've developed a remote monitoring and control product called RED Alert. In 2016, we released the first version of it to select customers. Our new version 2.0 is in beta testing right now and will be released late this year. It comes 75% ready and we program the last 25% to customize it to exactly what the client needs.
Proudest moment since founding the company?
It would be seeing our team members grow over the years. For every one of them I can see the path they've taken, from where they started to where they are now.
---
This article was originally published in the Q4 2019 issue of 1012 Industry Report.